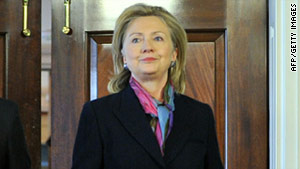 The cable in question, which was signed with Clinton's name, is routine, a U.S. official said.
STORY HIGHLIGHTS
U.S. officials insist U.S. diplomats are not spying on U.N. diplomats
Official say Secretary of State Hillary Clinton did not order State staff to spy on diplomats
WikiLeaks founder Assange says Clinton should resign if such espionage occurred

Washington (CNN) -- U.S. officials came to the defense of the secretary of state Tuesday, insisting that Hillary Clinton did not order State Department staff to spy on United Nations diplomats, as suggested by a diplomatic cable published by WikiLeaks.
The defense came as WikiLeaks found Julian Assange told Time magazine, a sister publication of CNN, that the she should quit.
"She should resign, if it can be shown that she was responsible for ordering U.S. diplomatic figures to engage in espionage in the United Nations, in violation of the international covenants to which the U.S. has signed up," Assange said.
U.S. officials insisted Tuesday that American diplomats are not being transformed into intelligence officers or doing anything out of the ordinary, and State Department spokesman P.J. Crowley pointedly responded to Assange's statement.
"This is ridiculous and ill-informed," Crowley said. "The leak of these documents is something we have strongly condemned, but what these documents demonstrate is the tremendous work being done by diplomats around the world, led by Secretary Clinton."
The leaked papers include an purported order from "SECSTATE WASHDC" signed "CLINTON" to American diplomats to engage in intelligence gathering.
In the July 2009 document, Clinton directs her envoys at the United Nations and embassies around the world to collect information ranging from basic biographical data on foreign diplomats to their frequent flyer and credit card numbers and even "biometric information on ranking North Korean diplomats." Typical biometric information can include fingerprints, signatures and iris recognition data.

Many questions in case against Assange

Clinton slams document release

Holder blasts WikiLeaks for latest leak

Woodward reacts to WikiLeaks
The State Department said its officers are not spies.
"Diplomats are diplomats. And their job is to interact with people, gather information, gain perspective on events around the world and report those findings in a way that helps inform our policies and form out actions. They are not intelligence assets," spokesman Crowley told reporters Tuesday.
Crowley called the directive a "wish list" from "outside" agencies that did not require diplomats to do anything.
"Nothing in any document that allegedly is in the tranche or WikiLeaks or in possession of WikiLeaks changed the role of any diplomat, anywhere in the world," Crowley said at his daily briefing.
A U.S. official familiar with diplomatic reporting said, "This kind of cable is routine and is not unique to the United Nations. It's a list of priorities that are of interest to the American government," said the official.
A senior administration official said the intelligence community does communicate to the State Department and other agencies what it is interested in finding out about foreign officials.
"The intelligence community managers communicate to us what they are interested in," this official said. "That message did not change or require diplomats to do anything."

Where is the WikiLeaks founder?

Anti-American or pro-democracy?

Should secret documents be made public?

WikiLeaks dump: Putting lives in danger?
When asked whether U.S. diplomats are carrying out those directives, this official said, "It's one thing for someone to say, 'Hey, if you come across this kind of thing, we'd be interested.' It's another thing to say, 'Go out and do it.'"
The official added, "I'm not even sure how many people even saw that message. Diplomats are free to ignore that kind of message, and I'm told virtually all of them do."
A former senior intelligence official who was not directly familiar with the Clinton cables agreed such a request is basically a wish list which most diplomats don't carry out.
When the intelligence community is pursuing information needed by the policymakers, it decides on what has to be collected and how best to do it.
"It's a detailed matrix of what is needed to go forward," said the former official. That could include obtaining phone numbers, providing talking points to diplomats and seeking other information.
In a case like this, an office such as Intelligence and Research at the State Department would put together a message which would be sent under the secretary's name, asking diplomats to pursue certain information "if they have an opportunity to do so, if they get access to a particular foreign official," said the official who quickly added, "diplomats don't usually do it."
The former intelligence official noted that diplomatic reporting is considered the baseline for the intelligence community.
"Diplomatic reporting has an intelligence dimension. The process starts with what the diplomats tell us and we move from there," said the official, "but the down in the weeds, clandestine work is done by intelligence collection officers."
FOLLOW THIS TOPIC