STORY HIGHLIGHTS
Jenn Friberg and Rob Quigley bought their first home in March
Five days later, their neighbors told them it used to be a meth house
They suffered from headaches, sore throats and breathing difficulties
Pennsylvania laws do not require testing for methamphetamine
Bristol Borough, Pennsylvania (CNN) -- Jenn Friberg makes her way down the upstairs hallway to the master bedroom. The clacking of her high-heeled boots against the hardwood floor echoes throughout the two-story house.
She sits down on the edge of a faded yellow chair and taps the window while her boyfriend leans on the doorframe.
"We found out that one of the telltale signs of a meth house is frosted windows," said Friberg, 30.
Friberg and Rob Quigley bought their four-bedroom house on Jefferson Avenue in March. The 108-year-old house had everything they were looking for in a starter home: old world charm, a backyard and plenty of space for a nursery in the future.
The location outside Philadelphia, Pennsylvania, was ideal -- equal distance from their jobs, near the Delaware River and within the city's historic district.
Priced at $190,000, the house was within their budget and the independent home inspection gave the all-clear.
The couple also received a certificate of approval from the borough inspector stating that a general inspection revealed "no imminent hazards" and the home was "in compliance" with borough codes.
The couple thought they had done everything right.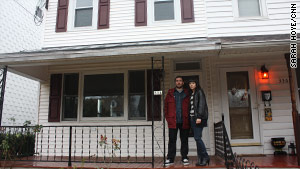 Days after buying their first home together, Jenn Friberg and Rob Quigley found out it used to be a meth house.
But there was one thing missing from the to-do list for the first-time homebuyers: a test for methamphetamine.
"It's horrifying," said Quigley, 31. "This is the worst possible thing that could happen to a homebuyer. Period."
Routine home inspections generally do not include searching for signs of meth labs, according to David Tamny, president of the American Society of Home Inspectors.
"That would be well beyond the scope and well beyond states' statutes for home inspectors," he said. "There are certain trainings or awareness seminars, but there's never been much more than voluntary participation."
Tamny, who owns a property inspection company in Columbus, Ohio, said the burden is on the buyers to find out whether the home they are interested in may have been used as a drug lab.
"If there's a special concern, ask the inspector," he said. "The stereotype [for a meth lab] isn't accurate anymore. It's not specific to rural areas."
Roughly five days after they moved in, Quigley learned from a neighbor that the house had been a meth lab.
Shocked, he retreated indoors and typed his new address into a Google search bar. There it was in black and white: Their home was listed on the U.S. Drug Enforcement Administration's National Clandestine Laboratory Registry, a list of addresses where local authorities have reported finding drug manufacturing facilities or dumps.
The couple complained of having headaches, sore throats and difficulty breathing after moving in -- all symptoms of possible methamphetamine exposure.
"It was really odd," Quigley said. "I would go to work and it would go away. I would come home and it would just start again."
They went to a doctor, who confirmed they had inflamed lungs and nostrils, he said. A test of the house revealed it had low levels of methamphetamine.
The house originally belonged to a couple who passed away and gave it to their four sons as part of their estate.
It was listed on the DEA's registry after items were found in the house in March 2004.
No one has been charged with operating an illegal drug lab out of the home, according to public records.
In March, the couple bought the home from the estate, executed by one of the brothers, Francis Giagnacova. During the purchasing process, the couple was not made aware of the DEA listing.
None of the Giagnacova family members could be reached for comment on the discovery of drugs or drug equipment at the house. Giagnacova's real estate agent refused to comment when contacted by CNN.
Friberg and Quigley's real estate agent said he was as blindsided as his clients.
"I have never seen anything like this in the 20 years I've been in the business," said Ellis Harrison, who also helped Quigley's parents buy their home.
"It's ugly and I wish I had the solution. Anything that could be done for these kids would help."
Harrison called the district attorney's office for answers after learning of the home's history from Quigley. The DA's office confirmed the home had been used to manufacture methamphetamine.
There is nothing in Pennsylvania's state disclosure laws that specifically addresses having knowledge of meth labs, said Henry Lerner of the Pennsylvania Association of Realtors.
"The law does not have a question about meth labs for the seller disclosure form," Lerner said, adding that there are broader questions that refer to knowledge of hazardous substances or environmental concerns.
I have never seen anything like this in the 20 years I've been in the business.
--Ellis Harrison, real estate agent
Friberg and Quigley contracted Bio-Clean of New Jersey, a blood-borne pathogen cleaning and crime scene restoration company, to test the house for methamphetamine.
Six rooms were tested, and five swabs tested positive for low levels of methamphetamine. The highest concentrations were found in the master bedroom, where it is presumed meth was being smoked, and the basement, where it is thought the meth was cooked, according to Bio-Clean's results.
Pennsylvania does not regulate home meth lab contamination testing. Bio-Clean uses Colorado's methamphetamine regulations, because that state has the most stringent "clandestine decontamination guidelines" nationwide, said the company's president and CEO, Andrew Yurchuck.
The highest level found in the couple's home was 0.3 microgram. In Colorado, 0.1 microgram is considered safe while 0.5 is considered to be dangerous, leading some homes to be deemed uninhabitable, Yurchuck said.
"Not every state, and no state close to Pennsylvania, has meth lab laws," Yurchuck said. "The chemicals used to make meth are nasty. Personally, I would not want my children living in that house."
Quigley and Friberg don't want to live there either. They have since moved into a room at Quigley's mother's house in Newtown, Pennsylvania. The majority of their belongings were put into storage.
Anything they couldn't clean with an all-purpose cleaner, and any porous items -- couches, mattresses, upholstered chairs -- had to stay behind or be discarded.
What the couple discovered next was just as crushing: They would have to pay $61,000 for a professional cleanup.
The process requires a thorough surface cleaning, application of decontamination chemicals using a specialized machine and a final severe scrubbing "on every square inch," Yurchuck said.
Quigley and Friberg said they can't afford the cleanup or a lawyer. They are paying nearly $2,000 a month for the mortgage, utilities and storage fees.
The thought the house being foreclosed makes them sick. They've started the blog Our Meth House to vent their frustrations and seek help.
"We never would have imagined in a million years that this could have potentially been a meth house. It's totally unreal to us," Friberg said. "I want justice."
FOLLOW THIS TOPIC