No prosecution for destruction of CIA tapes, Justice Department says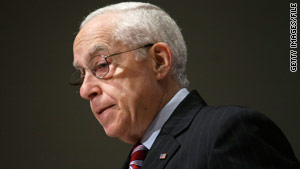 In 2008, then-Attorney General Michael Mukasey appointed a special prosecutor to investigate the tapes' destruction.
STORY HIGHLIGHTS
Justice Department says there is not enough evidence, a senior department source says
A special prosecutor has been looking at the case since 2008
Officials have acknowledged the destruction in 2005 of more than 90 videotapes
Washington (CNN) -- Criminal charges will not be brought in the Justice Department's long-running investigation of the destruction of CIA videotapes of terrorism detainee interrogations, the Justice Department announced Tuesday.
Special prosecutor John Durham has been investigating the circumstances of the destruction of the tapes since he was appointed by then-Attorney General Michael Mukasey in 2008.
"As a result of that investigation, Mr. Durham has concluded that he will not pursue criminal charges for the destruction of the interrogation videotapes," said Matthew Miller, director of the Justice Department Office of Public Affairs.
Durham, federal prosecutor from Connecticut, and his team determined there was not enough evidence to bring an indictment, and time was running out under a statute of limitations, according to a senior Justice official.
Officials have acknowledged the intentional destruction in 2005 of more than 90 videotapes, including some showing images of the use of enhanced interrogation techniques.
News of the tape destruction two years later created a partisan firestorm, with Democrats demanding an investigation into whether crimes were committed by CIA agents and contract personnel. Leading Capitol Hill Democrats expressed anger that harsh tactics, including waterboarding, were used against al Qaeda figures Abu Zubaydah and Abu al-Rahim al-Nashiri.
A prime target of the investigation was former CIA executive Jose Rodriguez, who approved the destruction because the tapes could have inflamed Muslim sentiments as the release of Abu Ghraib prison photos had done.
An attorney for Rodriguez, Robert Bennett, said he was pleased the Justice Department had decided not to prosecute his client.
"This is the right decision because of the facts and the law. Jose Rodriguez is an American hero, a true patriot who only wanted to protect his people and his country," Bennett said.
Durham's investigation has not concluded. It remains possible that he could bring related charges for obstruction of justice in the case.
FOLLOW THIS TOPIC