Space shuttle Discovery crew ready for final mission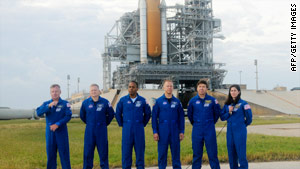 The crew of the shuttle Discovery is scheduled to take off November 1.
STORY HIGHLIGHTS
Flight scheduled for November 1 will be the last for shuttle Discovery
A NASA official said the crew is focused and not distracted by changes at the space agency
One mission for another shuttle is scheduled, with one more likely before the program ends
(CNN) -- Astronauts set to launch into space early next month are focused on their mission, NASA officials said Thursday, blocking out "distractions" over layoffs and changes at the space agency and sentimentality as the shuttle program nears its end.
The space shuttle Discovery is scheduled to take off November 1, returning to Earth the morning of November 12 after what NASA flight director Bryan Lunney described as a "very busy mission."
"After we fly around the Earth about 170 times, Discovery will come home for its last flight," Lunney said Thursday during a news conference in Houston, Texas, detailing the mission. "The crew is ready to go."
The six-member crew, led by Cmdr. Steven Lindsey, will install a new "permanent multipurpose module" called Leonardo on the international space station.
This will be the 133rd space shuttle mission and the final one for Discovery. The shuttle Endeavour is set to launch February 26, and Congress passed a bill this month authorizing another, final space shuttle mission.
On October 1, more than 900 NASA workers were laid off ahead of the shuttle program's retirement. More than 8,000 NASA workers could see their jobs eliminated as the last shuttle launches next year. The agency is moving to shift to commercial manned rockets and develop new technologies.
"Yes, we know the end is coming," Lunney said. "And we are dealing with those distractions."
FOLLOW THIS TOPIC


Part of complete coverage on

What is a "Shweeb?" Why did Google award its inventor $1 million? Can it "change the world?"

2010's most exclusive cars from the Paris Auto Show and the Automobile X Prize competition include some new practical considerations.
In as soon as 18 months, the space tourism industry could skyrocket. Private firms are poised to rocket people and space stations into orbit.

New electric vehicles are about to hit the market. But where can EVs get a charge in a nation full of gas stations?


Most popular stories right now