Former Blackwater employee won't be charged in shooting of Iraqi guard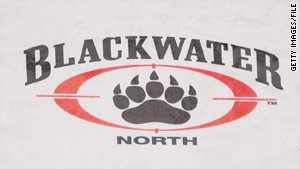 The private security company Blackwater changed its name to Xe in February 2009.
STORY HIGHLIGHTS
NEW: Employee admitted he shot guard while drunk but claimed self defense, prosecutor says
Iraqi guard Raheem Saadoun was fatally shot on Christmas Eve 2006
Blackwater employee Andrew J. Moonen was later fired
A congressional memo said Moonen had been drinking
(CNN) -- Federal prosecutors won't file criminal charges against former Blackwater USA employee Andrew J. Moonen, who was accused of fatally shooting an Iraqi security guard in Baghdad on Christmas Eve in 2006, a U.S. attorney announced Monday.
After more than three years of investigation, authorities determined there wasn't sufficient evidence to obtain a conviction beyond a reasonable doubt in the death of Raheem Saadoun, who was shot three times while on duty near the Iraqi prime minister's compound, authorities said. Saadoun was a security guard for the Iraqi vice president.
Federal prosecutors notified Moonen's attorney of their decision in a letter Monday.
"We do not do this lightly," U.S. Attorney Jenny A. Durkan of Seattle stated in the letter. "There is no question that the shooting death of Mr. Saadoun by your client was a tragic event."
The letter to attorney Stewart Riley also stated: "As you are aware, on December 25, 2006, shortly after the incident, your client admitted that he shot Mr. Saadoun while he was intoxicated, but asserted he was acting in self defense."
A congressional memo said Moonen had been drinking at a Christmas Eve party in Baghdad's high-security Green Zone and fled the scene after the shooting. Moonen then told a guard that he had been in a gunfight with Iraqis who were chasing and shooting at him.
Prior to joining Blackwater, Moonen was in the Army's 82nd Airborne Division from April 2002 to April 2005.
After the 2006 shooting, Blackwater fired Moonen, but he was hired two months later by another defense contractor to work in Kuwait, because the State Department and Blackwater kept the incident out of Moonen's personnel records.
Blackwater later paid $20,000 in compensation to the Iraqi victim's family.
In 2007, the New York Times identified Moonen as the then-unnamed suspect in the shooting, and the Times identified him as a Seattle resident.
In February 2009, Blackwater changed its name to Xe.
Federal prosecutors from Seattle, joined by U.S. Justice Department attorneys and FBI agents, went to Iraq and interviewed witnesses and reviewed all available evidence, "which unfortunately, but understandably, did not include the kinds of forensic evidence often available outside a war zone," the prosecutor's letter said.
Saadoun's family is to receive a copy of the prosecutor's letter, and U.S. Ambassador to Iraq James Jeffrey has informed Iraqi officials of the decision.
FOLLOW THIS TOPIC