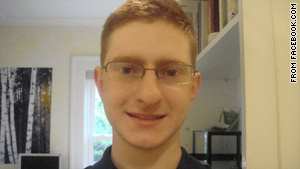 Tyler Clementi jumped to his death from the George Washington Bridge last month.
STORY HIGHLIGHTS
NEW: Sen. Frank Lautenberg: "We are going to try to fix it"
Legislation comes after Rutgers student committed suicide when sexual encounter was posted online
Proposed law would required schools receiving federal aid to create anti-harassment policies
Lawyers for Rutgers student charged with invasion of privacy say she's innocent
New York (CNN) -- Two weeks after the suicide of a Rutgers University student whose sexual encounter with another man was broadcast online, Sen. Frank Lautenberg, D-New Jersey, has introduced legislation to combat harassment on campus.
"Tonight we call on one another to stamp out the bigotry and the harassment that [caused] this young fellow to take his own life at 18 years of age," Lautenberg said Wednesday at an anti-bullying town hall at Rutgers. Fellow New Jersey Democrats, Sen. Robert Menendez and Rep. Frank Pallone joined Lautenberg and Garden State Equality, a gay rights group that organized the event.
The body of Tyler Clementi, 18, was recovered from the Hudson River last Thursday, more than a week after he jumped from the George Washington Bridge. The bridge spans the river between New York and New Jersey, which is home to Rutgers. Clementi jumped from the bridge after two other Rutgers students allegedly videotaped a sexual encounter between him and another man and streamed it online.
The proposed law would require schools that receive federal student aid "to create policies prohibiting the harassment of any student," Lautenberg said in a statement Wednesday.
The legislation also classifies cyber bullying as a form of harassment, according to the statement.
Lautenberg said that federal funding would be provided to colleges and universities to deal with harassment and bullying against lesbian, gay, bisexual and transgender students.
"Where can any of our children or our loved ones be safe from the force that drove [Clementi] to his death if you can't be safe on the college campus?" Lautenberg asked a crowded Rutgers student center room Wednesday. "It's an outrageous condition, and we're going to try to fix it," he said.
Clementi's roommate, Dharun Ravi, 18, and Molly Wei, 18, have been charged with invasion of privacy. The pair allegedly placed a camera in Clementi's dorm room without his knowledge and then streamed his sexual encounter online, according to the Middlesex County, New Jersey, prosecutor's office.
On Tuesday, lawyers for Wei asserted her innocence.
"This is a tragic situation," said the statement, from New Jersey lawyers Rubin Sinins and Eric Kahn. "But this tragedy has also unfairly led to rampant speculation and misinformation, which threaten to overwhelm the actual facts of the matter.
"Those true facts will reveal that Molly Wei is innocent," the statement continued. "Molly committed no crime. Her remarkable reputation is being unjustly tarnished by uninformed and incorrect assumptions."
New Jersey prosecutors are working to determine whether additional charges, including bias, may be brought against Ravi and Wei.
Lautenberg's Wednesday statement said that "the suicide of Tyler Clementi is a tragic reminder that college dormitories, dining halls and classrooms are not always safe places for students. We need to increase efforts that ensure all students have the opportunity to learn in a safe and secure environment."
On Wednesday evening, Lautenberg is hosting an anti-bullying town hall at Rutgers with two fellow New Jersey Democrats, Sen. Robert Menendez and Rep. Frank Pallone.
Garden State Equality, a gay rights group, organized the event.
Rutgers held an emotional vigil for Clementi Sunday evening.
On Friday, the university's president pledged to meet with members of the university's gay community. In a letter to the Rutgers community, President Richard McCormick praised what he called the school's "strong history of social activism on behalf of diversity."
However, he said, the university "is an imperfect institution in an imperfect society."
Clementi's family has remained largely quiet, except to say that their personal tragedy has raised a host of legal issues for the country.
"Regardless of legal outcomes, our hope is that our family's personal tragedy will serve as a call for compassion, empathy and human dignity," the family said in a statement.
In addition to the college campus harassment bill, Lautenberg is co-sponsoring an anti-harassment bill focused on public schools.
The Student Non-Discrimination Act, or SNDA, would forbid harassment at schools "based on a student's actual or perceived sexual orientation or gender identity," Lautenberg's statement said.
FOLLOW THIS TOPIC