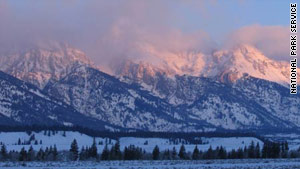 A missing climber went out of sight over a cliff during a storm in Grand Teton National Park.
STORY HIGHLIGHTS
NEW: Body of climber found on Grand Teton mountain Thursday
NEW: Unknown whether climber died from fall or lightning
Rangers rescued 16 climbers on the Grand Teton mountain Wednesday
The climbers were injured during an afternoon lightning storm
(CNN) -- The body of a missing climber was found on towering Grand Teton mountain in Wyoming Thursday, a day after 16 other climbers were rescued.
The hiker was identified as Brandon Oldenkamp, 21, of Sanborn, Iowa. Officials were not sure whether he died from a fall or was killed by lightning.
Bobbie Visnovske, a public affairs specialist for Grand Teton National Park, said Oldenkamp's body was spotted at about 12,700 feet by a helicopter Thursday morning as several dozen park rangers and mountain guides scoured the area.
The body was discovered on an area of the mountain known as the Lower Saddle. It was brought down the mountain by helicopter Thursday afternoon and transported to the Teton County coroner's office.
Oldenkamp had been in a party of eight climbers when he went over a cliff during the storm. The seven were rescued Wednesday, along with nine other climbers in two other groups.
The rescued climbers were treated for a variety of ailments, from minor burns to numbness and temporary paralysis. Four are still being treated in a Jackson, Wyoming, hospital and remain in fair to good condition, Visnovske said.
Grand Teton, which soars into the sky at 13,770 feet, attracts thousands of climbers each year. They usually hike into the upper backcountry, camp and then climb to the summit the next day. The climb starts in the valley at an elevation of 6,700 feet, and it can be between eight and 10 miles to the summit.
The climb is considered a serious, technical climb, encompassing sheer cliffs and requiring full climbing gear. It's rated 5-4 on the technical climbing scale that ranges from 5-0 to 5-14.
Located in northwestern Wyoming, the national park's signature is the abrupt vertical rise of the jagged Teton Range. Nearly four million people visit the park each year.
"As climbers go, it's a coveted mountain to climb," said park spokeswoman Jackie Skaggs. "It has a cachet among the climbing community. It's gorgeous and accessible."
Visnovske said she was not in a position to comment on Oldenkamp's level of skill, adding, "We don't here at Grand Teton monitor climbing activity, as to who can go. That's not part of our mission." But she noted that lightning storms can affect anyone from casual hikers to climbers.
She said authorities will try to determine whether Oldenkamp died from a fall, from lightning or some other cause.
Outdoor enthusiasts say the best course when a lightning storm approaches is to try to descend below the treeline. If that's not possible, hikers and climbers can move from exposed areas toward any shelter they can find, while making sure they don't touch any metal in packs or gear.
The 16 climbers were rescued Wednesday at the pinnacle of Grand Teton during a complicated eight-hour rescue operation, authorities said. They were in three separate groups on three different locations close to the mountain's summit when the storm hit.
Rangers were forced to hang from hovering helicopters and perform ledge rescues during Wednesday's rescue, Skaggs said. The rescue, which was interrupted by continuing storms Wednesday, included more than 20 rangers and two helicopters.
Skaggs said rangers rescue climbers from the Grand Teton every summer, but rarely such a large group at once.
The climbers were in full gear with ropes, helmets and harnesses and many were in good physical shape, she said.