U.S. citizen believed to be writing for al Qaeda website, source says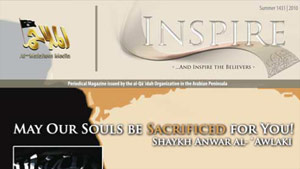 Al Qaeda's online magazine "Inspire" featured an article called "Make a Bomb in the Kitchen of Your Mom."
STORY HIGHLIGHTS
A new online al Qaeda magazine appeared last week
Its principal author is believed to be an American citizen who left for Yemen, a U.S. official says
The source identifies the man as 23-year-old Samir Khan
Khan previously lived in North Carolina
(CNN) -- A senior U.S. law enforcement official has told CNN that U.S. intelligence believes the principal author of the new online al Qaeda magazine is an American citizen who left for Yemen in October 2009.
The magazine -- called "Inspire" -- appeared last week. Running to nearly 70 pages online, it included articles on bomb-making and encrypting electronic messages, as well as an interview with fugitive Yemeni-American cleric Anwar al Awlaki.
The source has identified the driving force behind "Inspire" as 23-year-old Samir Khan, who previously lived in North Carolina and was involved in radical Islamist blogs, including one he ran called "Jihad Recollections." The source says Khan traveled to Yemen on a round-trip ticket but has not come back to the United States.
Before moving to North Carolina, Khan lived in the New York area. U.S. law enforcement officials say he attended meetings of the Islamic Thinkers Society, but was not a central figure in the group. The Islamic Thinkers Society says its mission is to achieve the ideal Islamic society. On its website, it says: "Our struggle is always intellectual [and] political non-violent means."
Khan's online name was inshaAllhashaheed (Arabic for "God willing a martyr"). On his various blogs he distributed English translations of al Qaeda propaganda and links to videos produced by Iraqi insurgent groups and others. In a profile in 2007, the New York Times described him as "a kind of Western relay station for the multimedia productions of violent Islamic groups."
Khan was born in Saudi Arabia, and moved to Queens, New York, with his family when he was 7. The family later moved to Charlotte, North Carolina.
FOLLOW THIS TOPIC