STORY HIGHLIGHTS
Rig survivors say Deepwater Horizon thrashed so violently it was like a real-life monster
Chief mechanic says rig's engines revved up and trip mechanisms never went off
Many feared death while boarding lifeboats; some jumped overboard
When survivors made it to nearby boat, rig continued to explode; flames lit up the night
Editor's note: This account of the night the Deepwater Horizon oil rig exploded is based on exclusive interviews with five survivors and three of their wives conducted by CNN's Anderson Cooper and the CNN Special Investigations Unit. The interviews paint perhaps the most detailed picture yet of what happened -- and the possible causes of the explosion. Additional reporting for this story was done by CNN producers Scott Bronstein and Wayne Drash.
(CNN) -- Daniel Barron III was on the drill floor when the hissing began, a sound that grew so loud, it enveloped the offshore oil rig. A thunderstorm of goo rained down on him: a dirty, slippery mix of oil, saltwater and mud.
It was 9:30 p.m. April 20, and Barron was working to control a drill that descended 5,000 feet below the muddy waters of the Gulf of Mexico, cutting a path to a mother lode of crude deep below the ocean floor.
The high school wrestling star from Mooresville, North Carolina, had worked on Deepwater Horizon for a year, mostly as a roustabout doing support jobs. Now he toiled in the heart of the rig, on the drill floor, directly under the derrick.
This was his first 21-day rotation in that role, and it was almost over. The father of two was an hour and 45 minutes from going home.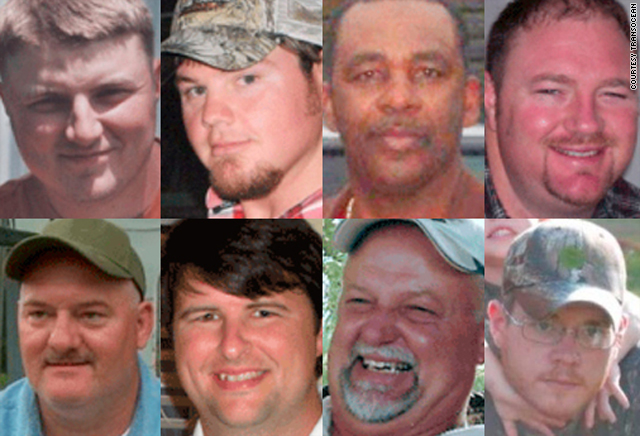 Gallery: Victims of the Deepwater Horizon blast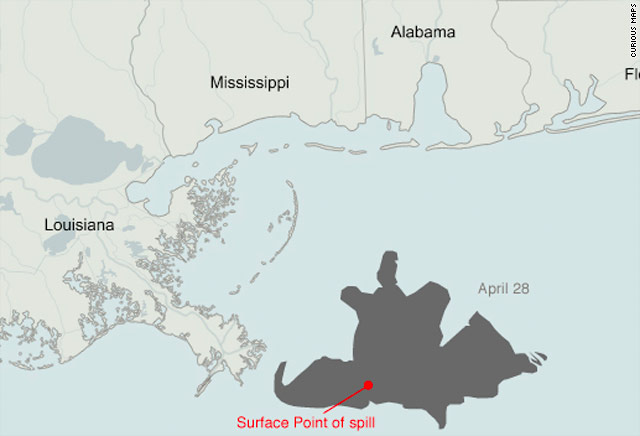 Tracking the spill

Video: Survivors of oil rig explosion speak
Life on an oil rig is one of solidarity. You always have the backs of your co-workers. You work 12-hour shifts, you eat together, you bunk together. Barron loved the camaraderie at sea, and he was thrilled to be so close to the action.
But now, something was terribly wrong.
On the main deck floor, Aaron Dale Burkeen perched 50 feet in the air in one of the rig's two cranes. A giant man with a round face and shaved head, the 37-year-old had done that job for nearly 10 years and was a father figure on Deepwater Horizon. Colleagues and relatives called him "Bubba." And when he donned his Dickies overalls, the Mississippi native with a boisterous laugh fit the part.
On the rig, he bragged about his daughter and son. Nothing was more important than family, and the riggers were his second family.
He always had time for the guys.
As the well hissed, Burkeen stood his ground high above the deck.
Down below, the sound roused Christopher Choy from his bed. At 23, he was among the youngest on the rig but had five years of experience. Once a member of his high school power-lifting team in Tyler, Texas, Choy was trained to fight fires.
Tired and hoping to sneak a few more hours of sleep before duty called again, Choy placed his head back down on his bunk.
Nearby, Matthew Jacobs, a 30-year-old father of two from Thornton, Arkansas, had just taken a shower when he heard the hissing sound. It kept getting louder and louder.
"Man," he said "something ain't right."
In the engine room, Doug Brown -- the chief mechanic who, at 50, was one of the rig's most experienced veterans -- stood in front of the control panels.
A mechanic for more than 20 years, Brown had traveled with Deepwater Horizon from South Korea, where it was built in 2001. But he'd dreaded this hitch on the rig.
An occasional "kick" of gas is normal on rigs that drill so deep into the ocean; small amounts of methane gas and mud come back up from the well. But this well had dealt the crew problems since the day they began drilling in January.
Now, many of Brown's worst fears were coming true.
It was hissing so loudly, it was almost sounding like the beginning roars of a creature.
--Doug Brown, rig survivor
One by one, alarms signaling gas problems started going off. Two engines revved so fast. it was like somebody mashed a car accelerator's pedal to the metal.
Brown waited for tripping mechanisms to stop the engines. Instead, they hit full-tilt.
Back on the drill floor, riggers scrambled to get the well under control. Nothing was working. Suddenly, they were plunged into darkness.
At 9:55 p.m., Barron and a more experienced co-worker picked up a phone to try to get more details. Suddenly, the man looked at Barron.
"Man, I smell gas!"
"What do we do?" Barron responded.
"Run!"
Covered in oily mud and saltwater, the pair leapt through a nearby door and out onto the main deck.
Less than 30 seconds later, Deepwater Horizon erupted in a fireball. Flames shot more than 15 stories into the air.
It was the start of the worst environmental disaster in U.S. history, one that continues to unfold 60 days later. The 126 workers on board began a fight for survival.
Their foe was formidable: At times, the rig thrashed so violently, it was like a fire-breathing monster.
Argument hours before the blast
In the pre-dawn hours that morning, according to the surviving workers, a BP executive and an official with rig owner Transocean argued over how to proceed with the drilling, already running five weeks behind schedule.
The BP official wanted to push the process faster. Among the things he wanted to do, the rig workers said, was replace heavy mud, used to keep the well's pressure down, with lighter seawater. Doing so would allow production crews to move in quickly and begin siphoning oil. Far down below, there was a reservoir of black gold: tens of millions of barrels of crude. If tapped, it could flow for years and years.
Deepwater drilling can cost up to $1 million a day, and this well -- with its numerous delays -- was racking up the costs.
The Transocean official didn't think it was a good idea to experiment with a well that had fought back so much during drilling, according to rig workers. The BP official remained unswayed.
"Basically, he ended up saying, 'Well, this is how it's gonna be,' " Brown later recalled.
BP and Transocean have said they won't comment on specific allegations, but they maintain that safety is their top priority. Transocean also says any rig worker has the authority to order a halt if a problem is suspected.
On the drill floor, chief driller Dewey Revette expressed concern and opposition to the new plan. Recalled Barron: "He didn't feel it was the right way to have things done."
'This is my time'
The force of the blast was like a freight train. It picked Brown up from behind and tossed him into the engine room control panels, fracturing his left leg. The elevated floor collapsed, and Brown fell inside.

Video: BP shortcut led to blast?

Video: 'I want my brother's life back'

Video: Attorney: BP's 'conduct is criminal'

Video: Wives of survivors tell their story
Sprawled on his back, out of breath, Brown struggled to his hands and knees. Then -- boom! -- a second explosion jolted the rig.
The massive structure swayed.
"This is my time," Brown thought. "I'm gonna die."
Daniel Barron had just jumped through the door off the drill floor. He sprinted toward the lifeboat deck.
The rig was completely dark, except for the orange glow of flames. He turned around, then froze. The fire stretched so far and so high, he couldn't believe his eyes.
He prayed to God that the other guys on the rig floor had gotten out.
He could see Aaron Dale Burkeen, high up on the crane. The Philadelphia, Mississippi, native struggled to exit the crane cabin. In the light of the flames, Barron watched him run down the stairs, holding onto the handrail.
An explosion "literally picked him up ... like a child would throw a toy," Barron said.
He landed on the deck.
As Barron stood in a daze, a rigger shoved him and shouted:
"Go! Run! Get out of here!"
In the bunks where the men off-duty slept, ceiling tiles fell. Walls collapsed. A walkway was ablaze.
Jostled a second time from his bed, Christopher Choy rushed to his designated fire station. Nobody was there. He turned and saw the derrick, the giant tower-like structure, for the first time. Flames shot more than 150 feet in the air.
Choy made his way to a second fire station. It too was empty, except for one colleague who told him Burkeen was down. The man had tried to pull the injured crane operator to safety, but he was too big for one person to move.
Choy quickly put on a fire suit. They set out after Burkeen.
Boom! Another explosion.
The deck wasn't just on fire -- it was like a giant torch.
Choy was distraught. Burkeen, the bear of a man whom everyone confided in, was just within reach.
But flames blocked the way.
Chaos at lifeboats
Deepwater Horizon had four lifeboats, each equipped to hold about 75 passengers. The explosions blew two off the rig. Workers from all across the burning rig made their way to the remaining two, dangling 50 feet above the sea.
Every Sunday, the crew took part in evacuation drills. But now, as bloodied survivors stumbled aboard, some realized they'd never actually sat in the boats before. Some didn't know how to buckle the seatbelts. They hoped the motors worked.
Rig leaders tried to take a "muster," a headcount. It would tell them: How many were present? How many were not?
People screamed. "Put it in the water! Let's go!'"
They feared that the entire derrick would collapse and crush them.
Arriving on the scene, Doug Brown found co-worker Brent Mansfield dazed, barely functioning, a gash to his head. Brown helped him board a boat.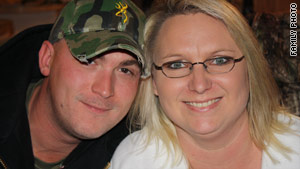 Matthew Jacobs prayed for his wife, Angela, and two children as explosions went off around him.
On the deck, Matthew Jacobs stopped and looked up. "This can't be happening," he thought. "It looked like you was looking at the face of death. ... You could hear it, see it, smell it."
Amid the chaos, men were ordered off one lifeboat so a more accurate headcount could be taken. "Man, we ain't got time for this!" a voice shouted.
Another explosion went off.
"Abandon ship" rang out over the PA system. Panicked, some men jumped overboard into the oil-slicked sea.
Jacobs thought of his wife, Angela, back in Arkansas, and their two sons, Brent and Jordan. He bowed his head and prayed.
Anxious at home
More than 2,500 miles way, in Vancouver, Washington, the ring of the telephone woke Doug Brown's wife in the middle of the night. It was Transocean.
"Your husband has been injured. He's being transported to a hospital."
There was no other information.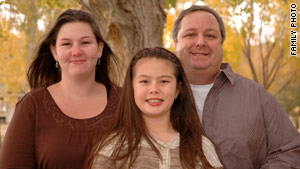 Doug Brown was one of the most experienced workers on the rig the night it exploded.
Meccah Boynton-Brown felt helpless, imagining the worst and not even knowing where to begin. She called emergency rooms across the South.
"Are oil rig workers being brought there?" she asked.
Hours passed without word -- no phone call from her husband, no e-mail. Though she and Brown had been together since 2003, they'd been married only four months. Ten-year-old Kirah was worried sick about her stepfather.
On the other side of the country, in Mooresville, North Carolina, the wife of Daniel Barron would not hear from Transocean until 2 that afternoon. It was her brother, calling at 7 a.m., who delivered the news.
"What rig does Dan work on?" he asked.
"Deepwater Horizon, why? What's going on?"
"His rig has exploded."
Amanda Cooper-Barron could not reach Transocean. As the hours ticked by and friends gathered at her house, glued to the TV news, she tried to relieve the tension by baking.
She thought about what she would tell her children when they arrived home from school. She didn't know whether their father was dead or alive.
Finally, at 2 p.m., Transocean called.
"We have great news for you," she remembers the woman saying. "Your husband's okay. But that's all we know."
"You don't' know if he's injured?"
"Well, we don't know. But he's on one of the lifeboats."
In Philadelphia, Mississippi, the family of Aaron Dale Burkeen learned that he was among the missing. Burkeen was a beloved figure in the town of 8,000. His family roots are planted there like a giant southern oak.
Family members called Burkeen's lifelong friend, Barry Fulton. They had grown up riding horses together and playing football in the countryside. Fulton had become a minister.
"Will you pray for Dale?" they asked.
Fulton had seen Burkeen just a few weeks earlier in a catfish joint. "Barry, I've been telling my wife I want to hear you preach," he said.
Now the pastor bowed his head.
Impossible to watch
After 30 long minutes, the lifeboats finally descended into the sea. They bobbed through the water, guided by the bright orange glow of the raging fire.
Their destination was the Damon B. Bankston, a support vessel nearby when the well first hissed. Covered in mud, it had become a rescue boat.
The lifeboats slammed into the Bankston, and riggers worried a hole would get punched into the sides, that they would plunge to their deaths so close to being safe.
The injured were unloaded first. A new muster was taken: One hundred fifteen were present. That meant 11 were missing.
"I just remember looking back at the rig," Matthew Jacobs recalled. "It was awful."
After a while, he found a spot to sit alone. "I couldn't watch it knowing that we had left those 11 guys on that rig."
Christopher Choy couldn't bear staring at the fire either. He turned his head away and looked up at the Bankston's wheelhouse.
There was no escape.
In the reflection of the vessel's windows, he could see the flames.
Nightmares and grief
Aaron Dale Burkeen never heard his childhood friend preach.
Instead, the Rev. Barry Fulton of the Pentecostals of House church officiated at Burkeen's memorial service. "He had so many good characteristics, it wasn't hard to find something good to say about him," Fulton says. "He was a protector. Whoever was around him, he would protect them in any way."
I just remember looking back at the rig. I couldn't watch it knowing that we had left those 11 guys."
--Matthew Jacobs, rig survivor
Dewey Revette, the chief driller who had expressed concern about pumping seawater, was also among the dead.
Some survivors have filed lawsuits against BP and Transocean. They say they suffer from nightmares and flashbacks. Little things, like hearing the hiss of water being turned on in the shower, send them into a panic. Brent Mansfield, who suffered a concussion, bears a two-inch scar on his left temple. He can recall few details of that night.
None has immediate plans to return to offshore rigs, a decision their families support.
"I'll go out and get five jobs and do what I have to do to support our family before I would ever let him set foot on another helicopter to get to an oil rig," says Barron's wife, Amanda.
Barron was one of only two workers from the drill floor to survive. He had been so excited to be working his first shift there.
He struggles with the loss. "All the guys I loved were on that rig."
He can't help but recall the ominous feeling they all had about this well since the first drill bit burrowed into the Earth.
"This well did not want to be drilled," he says. "It just seemed like we were messing with Mother Nature."
FOLLOW THIS TOPIC