STORY HIGHLIGHTS
Oil in the Gulf of Mexico has moved into the inland waterway along coastal Alabama
U.S. Coast Guard closed Perdido Pass, the main water access route to the Gulf
Businesses in the area are hurting, one business owner said
(CNN) -- Oil from the massive spill in the Gulf has moved into the inland waterway along coastal Alabama, prompting the U.S. Coast Guard to close Perdido Pass, the main water access route for fishermen and boaters in the popular resort town of Orange Beach.
BP and the government have tried to protect the pass for weeks with thousands of feet of boom, but thick waves of oil have seeped into the pass and down the waterway, coating the marshy shoreline as it moves through.
People in the community are frustrated, watching the massive oil spill ruin, not only the once pristine beaches and turquoise water of the Gulf, but their livelihood, as well.
Chris Ybarra owns Cotton's Restaurant on Orange Beach Boulevard, the main drag through the seaside resort town that should be bustling with tourists and activities this time of year.
The beach is only about 200 yards from his building, but Ybarra said his business is dwindling.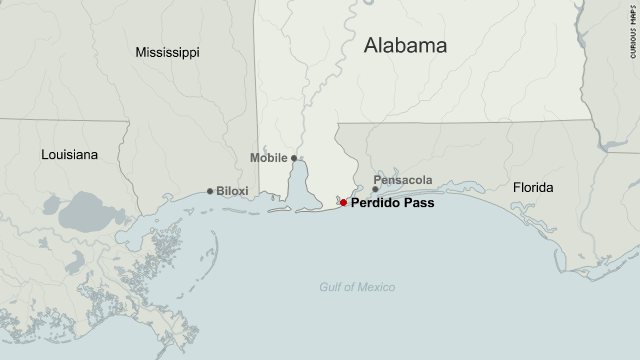 Oil in inland waterway

Video: 'Deadliest Catch' captains visit gulf

Video: What are oil plumes?

Video: Gov. Bobby Jindal not waiting for BP
"It's definitely on the decline. People are canceling their reservations and it's definitely beginning to hurt more than it did a month ago," he said.
Ybarra has been in business for 25 years, specializing in surf and turf, fresh seafood and steak. But that's a potential problem now that 33 percent of the Gulf in his neck of the woods is off-limits for fishing.
Ybarra said he's more fortunate than many of his neighbors, and he can easily diversify.
"If I have to go to selling freshwater catfish or primarily serving steaks or chickens, then that's something that I'm going to certainly look at to try and maintain the stability of my business," he said.
Ybarra says his friends, neighbors and fellow business owners have all faced adversity before, primarily from the devastation of hurricanes, but have always come out on top, always rebuilding and moving forward. However, he said the oil crisis is very different.
"The problem we're having with this is the uncertainty. It's very exasperating because it's like an emotional roller coaster," he said.
Ybarra said BP and the government don't seem to know how to respond to the ongoing disaster.
iReport: Track the oil disaster
"Some days they're saying it's been pushed out and it's not coming, then other days they're saying it's here," he said. "So from a resident standpoint, it's like an emotional roller coaster.
"It is taking its toll on people emotionally because a lot of folks are really attached to this community and have put their whole life and livelihood in a lot of different businesses to be able to live her and stay here and create an environment they can work in and prosper from."
FOLLOW THIS TOPIC