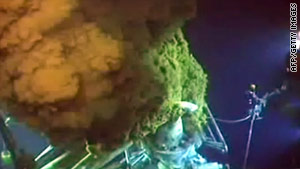 BP's plans to fully seal the leaking oil well could be distrupted by hurricanes in the Gulf.
STORY HIGHLIGHTS
BP's estimate to plug oil leak by August doesn't include possibility of hurricanes
Hurricanes would force a shutdown of relief well operations
Weather service predicts "active to extremely active" hurricane season
Environmentalists want to know why relief wells aren't more readily accessible
The situation in the Gulf is dire, and so far, there's no end in sight. Anderson Cooper reports live from the region as BP continues to try to stop the leak. For the latest, watch "AC360°" tonight at 10 ET on CNN.
(CNN) -- Hurricanes in the Gulf of Mexico would force the shutdown of BP's relief well operations, further hampering what BP has said is the best sure-fire way of plugging the massive oil leak.
"How much time you could potentially lose when you shut down for a hurricane is more or less controlled by the circumstances," said Dave Rensink, the incoming president of the American Association of Petroleum Geologists.
BP has said it hopes to have a relief well in place in August to permanently cut off the gusher. But that's based on the "assumption there's no major tropical disturbances in the Gulf," BP spokesman Ray Viator told CNN.
"It would take three months with no disruptions" for a relief well to work, he said. "We are making contingency plans should a tropical storm arise so we could minimize the down time ... and then be back on the scene as quickly as possible."
The National Oceanic and Atmospheric Administration has predicted an "active to extremely active" hurricane season with eight to 14 hurricanes. It does not predict how many of those might enter the Gulf.

Video: Obama on hurricane, oil spill damage

Video: Phillips: 'Panic' on rig workers' faces

Video: Did battle against flames sink oil rig?

Video: La. family mourns loss to oil disaster
Yet those monitoring the situation are concerned about what the storms could bring.
The biggest problem when shutting down relief well operations, Rensink said, is that the bored hole typically collapses when the drill bit is removed. "Wherever this hole collapsed, you've got to start drilling from there," he said.
That means workers have to redrill hundreds of feet. "It delays you, but it's not an insurmountable delay."
Any delay, he said, would be in terms of days, not weeks. But if there were multiple hurricanes, those delays could add up.
BP chief Tony Hayward on Thursday said the oil giant would be able to make the August forecast. "The relief wells continue on plan," he told reporters.
Relief wells have been used to plug two other large blowout spills. In 1979, it took nearly 10 months to seal the world's largest spill in Mexico's Bay of Campeche. More recently, an Australian accident last year, known as the Montara spill, was plugged after nearly four months.
In both cases, efforts such as those used to try to stop the Deepwater Horizon spill -- containment domes and junk shots -- were fruitless. And it took multiple tries before the relief wells reached the original wells.
Rensink said workers drilling the current relief wells are fortunate because the original well's casing "gives them something to focus on." But, he said, even when the relief wells start nearing the original pipe, it will take many tries to intersect it.
"This is going to be a trial-and-error thing, and it's certainly going to take three, four, maybe more tries," he said. "There's virtually no way they can hit it on the first shot. I mean that would truly be like winning the lottery."
The relief wells are being dug to about 18,000 feet, just above the oil reservoir. Once one hits the original pipe, just 7 inches in diameter, drilling mud will be shot into it to stop the spewing oil. Cement will then be used to permanently seal it.
It's costing BP roughly $1.5 million a day to operate the two relief wells, Rensink said.
Why does it take so long to get there?
"Drilling down to 18,000, in any event, is a time-consuming process," Rensink said. "Even under the best possible conditions, you don't drill those things more than an average of a few hundred feet a day."
BP has not disclosed how much oil it believes is in the reservoir. Rensink said there could be tens of millions of barrels there.
If left unplugged, he said, the oil leak would go on for years and years. "If it's flowing at 10,000 barrels a day, you're talking about 3.65 million barrels a year," he said. "At those flow rates, just to deplete a 10 million-barrel reservoir would take three years."
But, he said, he's confident BP will be able to plug it with one of the two relief wells being dug -- most likely by August. "If this thing is still going on at Christmastime, I'll be absolutely shocked," he added.
The BP well erupted after an explosion and fire on the leased Deepwater Horizon drilling rig on April 20 that killed 11 people. The rig sank two days later, leaving up to 19,000 barrels (798,000 gallons) of oil pouring into the Gulf every day, according to federal estimates.
Environmental groups are now raising questions about why relief wells -- the only proven method to stop a massive blowout -- aren't more readily accessible when things go awry.
"We think that's one thing Congress should take a look at: requiring relief wells either to be drilled simultaneously or at least have equipment nearby so you can drill quicker than three months," said Athan Manuel, director of lands protection for the Sierra Club.
"BP, I'm sure, in hindsight they'd love to have a relief well handy so they could've done that sooner rather than later."
Added Richard Charter, a senior policy adviser for Defenders of Wildlife: "This is just off the charts. It created a spill so big, we don't have the tools to respond. You have to ask yourself: Wouldn't it have been better to prevent this?"
The oil industry, he said, has long ignored calls from environmental groups to modernize response equipment. Using booms and skimmers to clean up oil, he said, is primitive.
"The industry has spent tens of millions of dollars lobbying Congress to 'Drill, baby, drill,' " Charter said. "If those tens of millions of dollars had been spent on backups to blowout preventers in deep water, obviously we wouldn't be in this mess today."
"Now, we're just in it through at least August, and it's just tragic."
Rensink with the American Association of Petroleum Geologists said the notion that oil companies should dig relief wells for every offshore platform is misguided.
"There's no way you could justify development in these waters," he said. "It would be a situation where the costs would not offset the risk of it. ... You only resort to a relief well when all other options are exhausted."
Earlier this year, BP, Chevron, Imperial Oil and others sought a change to a long-standing policy in Canada that requires oil companies to have a viable "same season" relief well plan in place in case of a blowout.
The policy applies to Canada's Beaufort Sea in the Arctic. There aren't any offshore wells in the Beaufort Sea now, but the companies were looking into exploring there.
The Canadian policy was established in the 1970s because the region becomes so icy that if a blowout occurs, companies have to respond quickly to prevent a major catastrophe, said Bharat Dixit, a team leader with Canada's National Energy Board.
In urging a change to the policy, the oil companies said that the law was antiquated and that modern technology was so advanced that a blowout could be plugged without the need for relief wells. Canada has postponed a decision on the policy.
Transocean, the rig owner in the Gulf accident, supported changing the policy. In doing so, the company touted its expertise and new methodologies "that can demonstrate a satisfactory degree of compliance and greater level of reliability than offered by the current 'same season relief well' requirement."
Now, the world is watching whether the largest oil spill in U.S. history can indeed be plugged in August.
"Any way you look at this thing, it's an incredible catastrophe," said the Sierra Club's Manuel. "Hurricanes could disrupt the efforts to cap the well, which would be bad enough. But they could make things even worse by pushing all this oil onshore."
FOLLOW THIS TOPIC