Ex-Los Angeles Police Chief Gates dies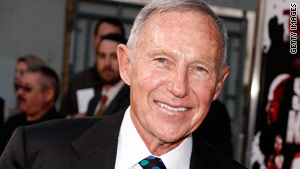 Former Los Angeles Police Chief Daryl Gates joined the force in 1949. He stepped down as chief in 1992.
STORY HIGHLIGHTS
Former Los Angeles police chief dies after battle with bladder cancer

Daryl Gates, 83, was city's top police official from 1978 to 1992

Gates resigned in the wake of turmoil from the Rodney King police beating

Gates credited with creation of Drug Abuse Resistance Education or DARE program

Los Angeles, California (CNN) -- Daryl Gates, former chief of the Los Angeles Police Department, has died at age 83 after a battle with bladder cancer, Los Angeles police said.
Gates was the city's top police official from 1978 through 1992 when he resigned in the wake of the turmoil from the 1991 Rodney King police beating and the riots that followed.
"Daryl Francis Gates was a one-in-a-million human being," Los Angeles Police Chief Charlie Beck said. "He inspired others to succeed and, in doing so, changed the landscape of law enforcement around the world."
Gates' 14 years as chief was a time of change, growth and turmoil in Los Angeles, as the city passed Chicago, Illinois, to become the nation's second largest.
His reputation was tarnished by racial gaffes, including one highly publicized remark when he defended officers' use of carotid chokehold that sometimes led to injuries or death.
Gates suggested that blacks had arteries that "do not open up as fast as on normal people." He later said he intended "normal" to mean all healthy people.

Video: Former LAPD Chief Daryl Gates dies
His department was credited with keeping the 1984 Summer Olympics safe.
A native of the Los Angeles area, Gates joined the force as a rookie in 1949.
Gates called the rise of drug trafficking a "deadly plague invading our shores" and made it a priority in the 1980s.
"More than half of all murders and bank robberies were narcotics-related" in 1987, according to a statement from the Los Angeles police.
Gates is credited with the creation of the Drug Abuse Resistance Education program, which was based on his belief "that the present generation had already surrendered to drug dependency and that the country's future lies with the readiness of our children to resist involvement," Los Angeles police said.
The DARE program has spread throughout U.S. law enforcement agencies over the past two decades.