Inquiry finds large gas release before deadly explosion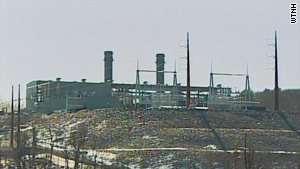 The Kleen facility will be a 620-megawatt gas-fired power plant, the manager says.
STORY HIGHLIGHTS
Enough gas to fill basketball arena released before Connecticut blast
Explosion in Middletown killed six people this month
Investigators focus on safety rather than ignition source
(CNN) -- Enough natural gas to fill a professional basketball arena was released into a "congested area" before an explosion this month at a power plant under construction in central Connecticut, federal investigators said Thursday.
U.S. Chemical Safety Board Lead Investigator Don Holmstrom said the February 7 blast at the Kleen Energy Systems site in Middletown, which killed six people and injured at least a dozen, occurred during a planned cleaning of debris from natural gas pipes at the plant.
"This cleaning practice is known within the natural gas power industry as a 'gas blow,' " Holmstrom said.
"At the same time gas blows were under way, there were potential ignition sources present in the surrounding area, including inside the power plant building," he added.
He said that approximately 400,000 standard cubic feet of gas was released into the atmosphere near the building in the 10 minutes before the explosion, enough to fill a professional basketball arena. The gas was released into a "congested area," he said.
"The gas built up ... and was ignited by an undetermined ignition source," he said.
The U.S. Chemical Safety Board is not focusing on determining what ignited the gas, as there are so many potential ignition sources at such sites, he said.
Rather, the group -- which is appointed by the president and confirmed by the Senate -- is concentrating on safety.
Holmstrom said the practice of gas blows, common within the industry, is "inherently dangerous."
"The safety issues raised by this accident are not limited to Connecticut," he said. "These issues are larger than any particular company, facility, or individual. The U.S. has embarked on an ambitious construction effort for new natural gas power plants. Thousands and thousands of workers across the country will be involved in constructing these plants.
"The safety of these workers and the nation's energy independence are at stake as these gas-fired plants are built over the next 20 years."
The plant, which Kleen Energy said would be gas-fired but would be able to use other fuels, had been expected to go online this summer, Middletown Mayor Sebastian Giuliano said. Kleen Energy said on its Web site that the plant is expected to produce 620 megawatts of power and will be one of New England's largest power plants.
The explosion prompted Connecticut Gov. Jodi Rell to announce that she is assembling a panel of agencies to identify the cause of the explosion and forming a second group of state agencies, local officials and subject-matter experts to determine whether state law should be changed.
The dead were identified as Peter Chetulis, Ronald J. Crabb, Raymond Dobratz, Roy Rushton, Kenneth Haskell and Chris Walters.