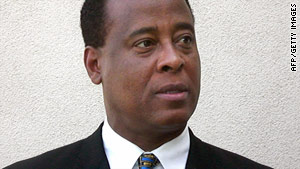 Dr. Conrad Murray says he administered drugs to pop star Michael Jackson to help him sleep on the day Jackson died.
STORY HIGHLIGHTS
Michael Jackson's doctor to surrender to police, lawyer says
Tea Party movement kicks off first national convention
NBA star apologizes for locker-room gun incident
Editor's note: Every weekday, CNN focuses on a handful of people in the news. This is a chance to find out more about what they've done -- good or bad -- what they've said or what they believe, and why we think they're intriguing.
(CNN) -- Dr. Conrad Murray: CNN has confirmed that the physician at the center of the homicide investigation into singer Michael Jackson's death is expected to surrender within the next 24-48 hours. Lead defense attorney Ed Chernoff said Murray is "more than ready to surrender and answer to any charges."
Jackson died on June 25, 2009 at his $100,000-a-month rented mansion in Los Angeles, California. Murray was hired to be Jackson's personal physician last spring as the entertainer prepared for his comeback concerts set for London, England, starting in July.
The doctor told Los Angeles police investigators that he was with Jackson through the early morning hours of June 25 in an effort to help the pop star fall asleep, according to a police affidavit. He administered various sleep aids, and after Jackson finally began sleeping in the late morning hours, Murray said, he left the bedroom for "about two minutes maximum."
When he returned, "Murray noticed that Jackson was no longer breathing," the affidavit said. The Los Angeles County coroner ruled Jackson's death a homicide resulting from a combination of drugs, primarily propofol and lorazepam.
CNN: Lawyer says Michael Jackson's doctor to surrender
Lori Christenson: The first National Tea Party convention begins tomorrow in Nashville, Tennessee and continues through Saturday, featuring keynote speaker Sarah Palin, the former Alaska governor. There's already been considerable media coverage about which high-profile guests would attend and which would not, the steep price of tickets, and how the money from the event will be used. There are also those within various Tea Parties around the country who want to keep the movement at a grass-roots level.
CNN has reported that the Tea Party movement erupted on April 15, 2009 -- tax day -- over criticism of President Obama's economic policies and what organizers called big government out of control. The movement, made up of local, state and national groups, continues to protest what it considers fiscally unsound policies. While anger over economic issues sparked the movement, it has come to represent anger in general -- from anger over health care reform to just anger against politicians.
One of the presenters at this week's convention is Lori Christenson, who organized the Evergreen/Conifer Tea Party in Evergreen, Colorado. She's scheduled to give a seminar on how to establish a local tea party "on a shoestring budget" and recruit new members.
She writes, "I had never had any political interest other than voting my party line. I felt well informed because I read up on the issues and even discussed them at the dinner table. Then something changed, and I found myself at the April 15th Tea Party in Denver. I knew I couldn't let the momentum die, yet I didn't want to drive all the way to Denver, 45 minutes away, to be involved." So she and her husband started a group right where they lived. She told CNN yesterday that after 10 months, her local tea party now has 155 members. She said, "We just want to see big government slow down."
National Tea Party Convention :Lori Christenson
Meetup.com:The Evergreen Conifer Tea Party
CNN: Tea Party movement threatened by internal rifts
Gilbert Arenas: After bringing a gun in the team's locker room, the guard for the Washington Wizards was suspended last month by the NBA without pay for the rest of the season. The Washington Post suggested that Arenas write a letter to young fans and here are some excerpts from yesterday's posting:
"I am grateful for the opportunity to do something good in the face of the very bad situation I created. I have done a number of things wrong recently. I violated D.C. gun laws and the NBA's ban on firearms on league property, and I damaged the image of the NBA and its players. I reacted badly to the aftermath and made fun of inaccurate media reports, which looked as though I was making light of a serious situation. And I gave Commissioner David Stern good reason to suspend me from the game, which put my teammates in a tough position and let down our fans and Mrs. Irene Pollin, the widow of longtime Wizards owner Abe Pollin.
"I understand the importance of teaching nonviolence to kids in today's world. Guns and violence are serious problems, not joking matters -- a lesson that's been brought home to me over the past few weeks ... The relationship I have with young fans is very important to me. I realize now how easily I can damage it. I have to earn that respect and work to deserve it each and every day."
Washingtonpost.com: Learning to be a better role model
Rhiannon O'Donnabhain: The U.S. Tax Court in Boston yesterday ruled that the former construction engineer's sex-change surgery qualified as medical care under Internal Revenue code, and therefore was tax deductable. O'Donnabhain was represented by attorneys with Gay & Lesbian Advocates & Defenders, and according to the GLAD website, she was born biologically male, and after years of conflicted feelings, was diagnosed with gender identity disorder (GID) in 1996. Following therapy, she had sex reassignment surgery in 2001.
GLAD says that O'Donnabhain paid some $25,000 out-of-pocket for her care, including therapy, hormone treatment, and surgery, but only took a $5,000 tax deduction. The Washington Post reports that O'Donnabhain, who came from a devout Irish Catholic family and also served as a Coast Guard reservist, was later audited and the IRS ruled the surgery was "cosmetic," so she had to return the $5,000 refund check.
"I'm overjoyed, not only for me, but for other transgender people," said O'Donnabhain. "We deserve respect, equal treatment for our medical care, and fair treatment by our government." The newspaper reports that 1,000 to 2,000 Americans a year undergo sex-change operations.
Glad.org:GLAD Wins Case vs IRS on Sex Reasssignment Deductions
Washingtonpost.com:Woman Suing IRS Over Sex-Change Tax Claims
"The Situation": That's Michael Sorrentino's nickname. Well, the nickname he has given to his famous abdominal muscles. You may have seen his abs and heard his remarkable way with words on the MTV reality show, "Jersey Shore," which chronicles the charming antics of eight housemates as they search for the meaning of life at various summer drinking parties. The program has also offended some viewers for its portrayal of Italian-American stereotypes.
TheSmokingGun.com found records at the U.S. Patent and Trademark Office indicating that there are now two applications to secure a trademark for the anatomical nickname. One comes from Sorrentino's brother, Mark, who operates Naughty Limited, a Las Vegas purveyor of adult web sites that wants to put "The Situation" on underwear and t-shirts. The Web site reports that the other application was filed by someone from south New Jersey named Matthew Hunter, who is targeting the name for bathing suits, tennis wear, and tracksuits.
TheSmokingGun.com: Trademarks sought for valuable nickname of "Jersey Shore" mook
What makes a person intriguing?

Video: Jackson's doctor to surrender
There are people who enter the news cycle every day because their actions or decisions are new, important or different. Others are in the news because they are the ones those decisions affect. And there are a number of people who are so famous or controversial that anything they say or do becomes news.
Some of these people do what we expect of them: They run for office, pass legislation, start a business, get hired or fired, commit a crime, make an arrest, get in accidents, hit a home run, overthrow a government, fight wars, sue an opponent, put out fires, prepare for hurricanes and cavort with people other than their spouses. They do make news, but the action is usually more important than who is involved in the story.
But every day, there are a number of people who become fascinating to us -- by virtue of their character, how they reached their decision, how they behaved under pressure or because of the remarkable circumstances surrounding the event they are involved in.
They arouse our curiosity. We hear about them and want to know more. What they have done or said stimulates conversations across the country. At times, there is even a mystery about them. What they have done may be unique, heroic, cowardly or ghastly, but they capture our imaginations. We want to know what makes them tick, why they believe what they do, and why they did what they did. They intrigue us.
FOLLOW THIS TOPIC