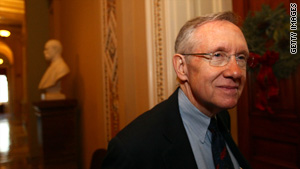 Senate Majority Leader Harry Reid apologized for remarks about President Obama revealed in a book on the 2008 race.
STORY HIGHLIGHTS
Democrats scoff at GOP calls for Senate Majority Leader Harry Reid to step down
Conservative litigator argues in favor of same-sex marriage
James Cameron's original "Avatar" script is available online
Editor's note: Every weekday, CNN focuses on a handful of people in the news. This is a chance to find out more about what they've done -- good or bad -- what they've said or what they believe, and why we think they're intriguing.
(CNN) -- Senate Majority Leader Harry Reid
Republican National Committee Chairman Michael Steele is suggesting that Reid should step down as Senate majority leader.
So did Sen. John Cornyn of Texas, chairman of the GOP's Senate campaign arm, in a statement released Sunday. Meanwhile, the Congressional Black Caucus said that it had accepted Reid's apology for making racially insensitive remarks about Barack Obama during the 2008 presidential campaign.
Journalists Mark Halperin and John Heilemann reported the comments in their new book, "Game Change," which goes on sale Monday. The authors quote Reid as saying privately that Obama, as a black candidate, could be successful -- thanks, in part, to his "light-skinned" appearance and speaking patterns "with no Negro dialect, unless he wanted to have one."
In a statement to CNN, Reid said, "I deeply regret using such a poor choice of words." He also said, "I sincerely apologize for offending any and all Americans, especially African-Americans, for my improper comments." The senator called the president Saturday to apologize.
Obama said, "I accepted Harry's apology without question because I've known him for years. I've seen the passionate leadership he's shown on issues of social justice and I know what's in his heart. As far as I am concerned, the book is closed."
Pundits on Sunday morning talk shows apparently weren't so sure. Reid, 70, already is facing an uphill re-election fight this year in Nevada.
CNN: Democrats dismiss Republican call for Reid to step down
CNN: Reid apologizes for racial remarks about Obama during campaign
More about 'Game Change' at HarperCollins.com
Theodore Olson
Do same-sex couples have the right to marry? Perry v. Schwarzenegger goes to federal court Monday in San Francisco, challenging California's Proposition 8, which bans same-sex marriage.
U.S. District Judge Vaughn Walker had ordered that the trial's proceedings be carried with a delay on YouTube. But attorneys supporting Proposition 8 asked the U.S. Supreme Court to prevent video coverage, and the high court on Monday temporarily blocked a plan to disseminate video. In a brief order, the justices stayed, at least until Wednesday afternoon, any distribution of the live video outside the San Francisco courthouse and any real-time or delayed posting on the Internet.
The case not only has drawn national attention because it deals with such a hot-button issue but also because conservative attorney Theodore Olson is leading the court challenge. Olson was an assistant attorney general in the Reagan administration's Office of Legal Counsel and also represented then-Gov. George W. Bush in the 2000 Supreme Court case Bush v. Gore. Olson later was solicitor general under Bush.
Philadelphia Inquirer columnist Michael Smerconish writes that Olson, together with attorney David Boies (who opposed Olson in Bush v. Gore) will argue that it violates the U.S. Constitution when states ban same-sex marriage.
"I think it's important in this country that we give people liberty of behaving in ways in compliance with the law, but to have the relationships that the rest of us have," Olson told Smerconish. "And to discriminate against people on the basis of their sexual orientation makes no sense with respect to marriage and their desire to live with one another in a peaceful, stable relationship. And it's good for our society to stop discriminating on that basis."
CNN: Courtroom showdown set to begin over same-sex marriage
Philadelphia Inquirer: A conservative's case for same-sex marriage
Staff Sgt. Megan Krause
The U.S. Army medic served in Afghanistan and Iraq with the 101st Airborne Division and then, while pursuing a degree at Penn State, had nightmares and flashbacks. She told the Armed Forces Press Service that she began "drinking her life away." She was suffering from post-traumatic stress disorder, according to the press service.
Friends and doctors got her help, and now the 27-year-old Illinois native is part of the "Real Warrior" campaign, sponsored by the Defense Centers of Excellence for Psychological Health and Traumatic Brain Injury. The goal is to remove the shame from post-traumatic stress disorder, and Krause appears in a public service announcement for the campaign.
A suicide prevention conference is taking place this week in Washington. Krause, along with Mike Mullen, chairman of the Joint Chiefs of Staff, and Veteran Affairs Secretary Eric Shinseki, will be a featured speaker.
RealWarriors.net: Staff Sgt. Megan Krause PSA
U.S. Army: Medic hopes her stress story can help others
Haison Jiang
On January 3, the Chinese biomedical graduate student allegedly caused a massive security scare at New Jersey's Newark Liberty International Airport when authorities say he snuck through a security checkpoint, causing hundreds of flight delays and thousands of passengers to become stranded.
The New York Daily News reports that friends said all Jiang wanted was to kiss his girlfriend goodbye before she returned to her home in Los Angeles, California. Jiang, 28, was arrested Friday and charged with defiant trespassing.
Jiang, who attends Rutgers University, will be arraigned this week and faces a sentence of up to 30 days in jail, according to the Daily News.
"This man is very romantic. He's a very good man," Andy Rui, 28, told the newspaper.
CNN: Suspect in airport security breach released
New York Daily News: Haison Jiang just wanted a hug from girlfriend
James Cameron
"Avatar," the blockbuster fantasy film that Cameron wrote and directed, has become the second top-grossing film of all time, reportedly taking in some $1.34 billion. Variety.com reports that Cameron now faces his own record to beat -- his 1997 movie "Titanic" made $1.8 billion worldwide.
This weekend, 20th Century Fox posted Cameron's original screenplay. This means true fans, in additional to painting themselves blue, can determine what Cameron included and deleted from the final cut.
The script begins:
"THE SOUND OF DRUMS, from a great distance, growing louder.
FADE IN: WE ARE FLYING through mist, a dimly glimpsed forest below.
VOICE (V.O.): When I was lying there in the VA hospital, with a big hole blown through the middle of my life, I started having these dreams of flying."
FoxScreenings.com: 'Avatar' original screenplay (PDF)
CNN: Audiences experience 'Avatar' blues
Variety: 'Avatar' awakens January B.O. with $48.5 million
What makes a person intriguing?
There are people who enter the news cycle every day because their actions or decisions are new, important or different. Others are in the news because they are the ones those decisions affect. And there are a number of people who are so famous or controversial that anything they say or do becomes news.
Some of these people do what we expect of them: They run for office, pass legislation, start a business, get hired or fired, commit a crime, make an arrest, get in accidents, hit a home run, overthrow a government, fight wars, sue an opponent, put out fires, prepare for hurricanes and cavort with people other than their spouses. They do make news, but the action is usually more important than who is involved in the story.
But every day, there are a number of people who become fascinating to us -- by virtue of their character, how they reached their decision, how they behaved under pressure or because of the remarkable circumstances surrounding the event they are involved in.
They arouse our curiosity. We hear about them and want to know more. What they have done or said stimulates conversations across the country. At times, there is even a mystery about them. What they have done may be unique, heroic, cowardly or ghastly, but they capture our imaginations. We want to know what makes them tick, why they believe what they do, and why they did what they did. They intrigue us.
FOLLOW THIS TOPIC