STORY HIGHLIGHTS
Crowded airports expected as people take flight to spread holiday cheer
Travelers rush by airport workers, the often unnoticed without tickets to fly
Shoe-shiner sees world through customers; shop worker introduces her "neighborhood"
A janitor sees and helps homeless: "When you give to someone, it feels good"
Across America (CNN) -- 'Tis the season for packed airports, when Americans take flight to spread holiday cheer.
Economy lots will fill. Stuffed shuttles and cars will wind their way to terminals. A sea of strangers will stream down concourses to flood gates.
Many travelers may reserve airport journeys for this time of year. But as they head to and pass through these sprawling buildings, en route to or from faraway destinations, they will move past the faces of those who come to airports daily, without boarding passes.
Beyond the airline and security employees, the ones everyone comes into contact with, these are some of the workers holiday travelers might not notice.
Miami International Airport, Florida
Standing at the jewelry kiosk where she's worked for three years, Maria Sevilla, 24, welcomes a visitor to her community.
From her "house" on Concourse H, she points out the tallest barista across the way at Starbucks. "He's like a little brother to me," she says. She mentions how she just became a godmother to her newsstand neighbor's baby and the TSA agent who, whenever he passes by, serenades Sevilla with her favorite song, Sam Cooke's "A Change is Gonna Come."
She was out for a couple of weeks and everyone asked about her. When others go on a break and she's working alone, they bring her lunch. Should someone be short a few bucks on any given day, they spot one another.
"It's like a little neighborhood," she says, before shouting "Bye, babe," to the waving Quiznos worker heading home for the day.
Read more about Jessica Ravitz's 5,900-mile odyssey through six airports in 64 hours
Strolling by with an empty wheelchair is Diana Misla, 39, who has been transporting passengers through this airport for five years. The job keeps her active -- she can't even guess how many miles she covers each day -- and exposes her to all kinds of people and stories. From the sick and elderly to the injured, young or disabled, she's meeting them all.
A crowd gathers at a gate from which travelers to and from Cuba often stream.
Misla says she's picked up people from those flights who haven't seen their relatives for decades or are meeting family members for the first time. It's hard to not be moved by the reunions she witnesses up close, right over people's shoulders.
"I cry right along with them," she says of such moments.
Philadelphia International Airport, Pennsylvania
Look for Latanya Spain on Christmas Day, when she'll be working behind a wheel with no complaints.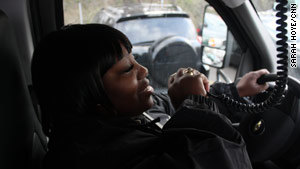 Latanya Spain drives to the airport in Philadelphia about 20 times a day.
Sixteen to 20 times a day, she drives a shuttle bus to the airport from an offsite parking lot, responding to dispatch calls, loading baggage sometimes bigger than she is and appreciating the passengers and her co-workers, who are like extended family.
It's a job she's been doing for four years, and Christmas is a workday she has yet to miss.
It may be the season of giving, but Spain, 36, says she doesn't expect special treatment or tips from travelers.
"You never know what someone's situation might be," she says. "If you have it, you have it. If you don't, you don't. I don't feel bad if you can't (tip). I'm still going to do my best."
Hartsfield-Jackson Atlanta International Airport, Georgia
An old boom box crackles, the sound of Michael Jackson's "Don't Stop Till You Get Enough" streaming through the air near Delta check-in. Right in front of it, finishing off a slice of pizza, sits Charles Sanders, 71.
He holds out his feet, showing off his gleaming black shoes and says, "Gotta keep them shined. That's advertisement!"
For 10 years Sanders has been polishing and buffing shoes at the Atlanta airport. It's not the job he dreamed of as a boy, but a bad record established in his younger years would dog him later and make the job search tough. And the truth is he loves the work and the customers he serves. They bring to the shoe-shining chair stories of places he'll never see, and that suits him just fine.
"A lot of people have to go around the world," he says. "The world comes around me everyday."
Phoenix Sky Harbor International Airport, Arizona
Every hour, on the half-hour, an announcement reminds travelers and employees of a resource tucked away in Terminal 4. A stained-glass window and small sign is about all that distinguishes the entrance to the airport's interfaith chaplaincy, around for 22 years.
Here a chapel serves as a place for reflection and makes available spiritual texts of all varieties, including a New American Bible, a copy of Alcoholic Anonymous' Big Book, a Quran, a Tanakh (Hebrew Bible) and a copy of the Bhagavad Gita.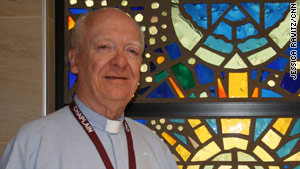 Rev. Al Young is the staff chaplain at the airport in Phoenix.
But staff chaplain, the Rev. Al Young, 72, explains that the work extends beyond these quiet walls. The chaplaincy exists to provide comfort for "all faith traditions, and even those who don't consider themselves of faith."
He helps oversee a team of roving volunteer chaplains, of various backgrounds, who wander the terminals, check in with employees who may be facing hardship, say hello to travelers and look out for "signs of distress." The chaplaincy, which subsists on donations and gets no state or federal funding, plans on-site memorial services when employees die and may be called to meet flights carrying the deceased or grieving. The office also keeps counselors and additional clergy on call to come to the airport, "in case there's an incident; we don't say crash."
It's not just about emotional or spiritual sustenance; it's about salvation of other sorts, too.
Through a traveler's aid program run out of the chaplaincy, a case manager serves those who are stranded at the airport or otherwise in trouble. Domestic violence victims, for example, are often identified -- and then helped with relocation to safe shelters -- when they arrive at check-in counters seeking last-minute tickets out of town.
Chaplaincy work at the airport provides "an opportunity for faith support and counsel in a workplace," says Young, who though technically retired has worked here for 17 years. "In the U.S., that's not the norm; that's the exception."
Chicago O'Hare International Airport, Illinois
The sun is just starting to rise as Donnie Morales, 49, mops a hallway beneath the airport.
He works at the Chicago Transit Authority station at Chicago O'Hare and for four years has been cleaning the floor, emptying trash cans, chatting up and helping the regulars -- people like Gabriel, a homeless man who hours earlier was seen slumped over and sleeping in a baggage claim seat upstairs.
As a street musician named Dawn -- Morales knows all their names -- begins to perform down the hallway, Gabriel limps over, tugs up his pant leg and shows Morales a deep-red and purple calf, swollen to at least twice its healthy size. In Spanish the two discuss what they see and Morales, who was born in Mexico, persuades Gabriel to go to the hospital.
He's seen Gabriel spiral downward over the years, but he does what he can to lift up the homeless, many of whom are war veterans, he says. He brings them clothes, gives them money when he can, simply notices and acknowledges them.
"The world can be so cold," Morales says, as early business travelers glued to their cell phones whisk by him and Gabriel, who is slowly lumbering down the hallway. "If I care about animals, how can I not care about people? When you give to someone, it feels good."
CNN's Sarah Hoye contributed to this report from Philadelphia.
FOLLOW THIS TOPIC