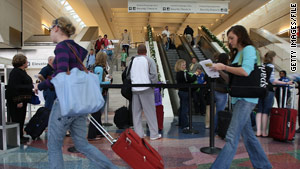 Airfares are more expensive than they were last year during the holidays, and they're unlikely to drop.
STORY HIGHLIGHTS
Search airports within a 90-mile radius of your departure and destination cities for deals

Shop now. Fares are likely to rise as the holidays approach

Flexible travel days are likely to save you money

(CNN) -- Have you booked your holiday air travel? It's time to stop dragging your feet. Shop now, if you haven't already.
CNN asked Jeanenne Tornatore, senior editor of travel booking site Orbitz.com, for five tips for travelers faced with rising airfares and slim wallets.
Stop procrastinating
"A lot of people may be procrastinating because they think there might be those last-minute deals or sales that pop up. We're not expecting to see that this year," Tornatore said.
Prices are more likely to go up as the holidays approach. Peak-day surcharges have been added around Thanksgiving, Christmas and New Year's and capacity cuts across airlines mean more competition for available seats.
Average domestic airfares were up 13 percent in the second quarter of 2010 compared with same time last year, according to a report released Monday by the Bureau of Transportation Statistics.
Expand your search
To get the best prices, include neighboring airports in your flight search. Tornatore recommends looking within a 90-mile radius of your departure and destination cities.
Sometimes competition with low-cost carriers at another airport will yield savings for travelers willing to drive a bit farther to catch a flight.
"A lot of people do think about those regional airports in their home city, but you should really also make sure that you're looking at and researching and finding out what the regional airports are in your destination city," Tornatore said.
Be flexible
The Wednesday before and the Sunday after Thanksgiving are typically the busiest travel days around the November feast. Thursday and Monday will be the least busy days around the holiday, according to Orbitz.com bookings.
Flying on Thanksgiving Day can yield some savings, Tornatore said.
"It could save you 30 to 40 bucks on your flight, and every bit can help when you're paying extra baggage fees and all of that these days."
December 23 and 26 are the key days to avoid over the Christmas holiday, Tornatore said. They're the busiest travel days during the holiday period and prices are slightly higher.
"The good thing about Christmas is that people, in general, are traveling over a little bit more spread out period of time, because a lot of people take their vacations around that time as well, so you don't have quite that compact weekend that you do over Thanksgiving," Tornatore said.
Consider a connecting flight (with caution)
Tornatore tries to avoid connecting flights.
"But if money is your main concern over the holidays, taking a connecting flight will definitely save you money," she said.
Flights with one connection can be more than $100 cheaper than nonstops, but it's a gamble during the busy holiday period.
"If for some reason your flight gets delayed and you miss your connecting flight, it's going to be very tough to get on another flight because they're all going to be full."
Leave at least an hour between flights if you do have a connection. Look carefully at each flight in your itinerary as you book; that hour is not automatically built into online flight search results.
Take the first flight of the day
This tip won't necessarily save you money, but it's likely to save you some time and aggravation.
Planes are usually sitting at the gate when you arrive in the terminal for the first flight of the day, and the earliest flights are statistically more on time than later flights, Tornatore said. And if there is a snag in your travel day, you have more time to resolve it before delays pile up in the system.
"If you're willing to get that 4 a.m. wakeup call, it can be really beneficial, especially over the holidays, to get out on that flight so that you don't get delayed later in the day."
FOLLOW THIS TOPIC