STORY HIGHLIGHTS
Jewel reconnects with the joy of traveling after learning how to ride a motorcycle
The singer-songwriter and her husband, Ty Murray, took a cross-country ride this summer
They spent almost two months on the road, visiting Colorado, Wyoming and Montana
"We have an amazing country," Jewel says
(CNN) -- After touring and performing all over the world for years, the last thing Jewel wanted on her time off was more travel.
But that all changed when the singer-songwriter learned how to ride a motorcycle.
Married to rodeo star Ty Murray -- who made many fans when he competed on "Dancing With the Stars" last year -- Jewel signed up for lessons when her husband announced that he wanted a bike.
"I just figured I would become one of those motorcycle widows where you're always at home and your man is always on the road, and I thought if I wanted to see my husband, I should probably learn to ride one myself," Jewel said.
The couple has been hitting the road together ever since, setting out on a memorable cross-country ride this summer.
They left their ranch in Stephenville, Texas, in late July and headed west to New Mexico, then north to Colorado, Wyoming and Montana before turning around and arriving back home in September.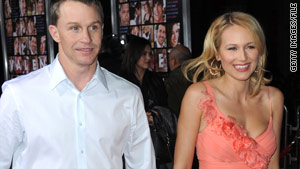 Traveling couple: Rodeo star Ty Murray and singer Jewel find serenity while riding their motorcycles.
(The trip was briefly interrupted twice: Once when Murray attended a professional bull riding event in Nashville, Tennessee, and a second time when Jewel was asked to sing at the Emmy Awards in Los Angeles, California.)
Jewel and Murray recently talked with CNN about their trip from Las Vegas, Nevada, where they were attending the Professional Bull Riders World Finals.
The following is an edited version of that interview.
CNN: How did you decide on the itinerary for your journey?
Jewel: Ty thought it was really important not to have one.
Ty Murray: It was a team effort. I would kind of pick the route, and Jewel would look ahead, because she likes to stay at nice, quaint little places that have great restaurants.
Each day or each night, she would kind of research the next day and where would be a good place to stay.
When we got to places we liked, we would stay four or five days, like Telluride and Crested Butte [in Colorado].
Jewel: We knew we wanted to go up through the Rockies and up into Montana, and we knew we wanted to see Yellowstone, but beyond that, we didn't really have a specific route or plan. That was really a luxury.
We spent a ton of time in Colorado because we ended up really liking it.
CNN: You wrote in a blog that you have reconnected with the joy of traveling. How so?
Jewel: My job became travel, which I always really loved, but it really does become quite a grind. You do a world tour that takes two years -- I've been doing that since I was 18 -- and then you get famous, and it really changes everything. For somebody who is a voyeur like I am -- I'm a writer, and I really like to watch people more than I like to be watched -- I started to really miss that, and the helmet and riding my motorcycle really gives back an anonymity that is really enjoyable.
It also gives back the joy of the small town and getting to look at small towns and little restaurants and local places. Whereas on a tour, you're just on a tour bus, and honestly, you don't see the city much anymore the way it works.
Ty was in the same position. He rodeoed since he was so young, a very similar lifestyle to what mine was. You're just on the road all the time, and you're in hotels all the time. You wouldn't think that either of us would want to travel on our vacation, but the motorcycle really changes that, because it brings back a real sense of adventure.
Murray: It's really similar to being on a horse, but instead of going 15 miles in a day, you go 300 or 400 and ... you experience everything. When the temperature changes one degree, you know. When the smells change, you know.
CNN: Where did you stay on your trip?
Jewel: It varied. Sometimes it was just what was available in whatever town we ended up in. Sometimes it was just really low-budget little places.
[At the other end of the spectrum] we spent quite a few days in the Broadmoor in Colorado Springs, which is a really, really gorgeous old hotel from the early 1900s.
Other times, it was just funky little cabins.
CNN: Any more favorite places?
Jewel: Telluride was beautiful. I think it's great when a city is able to maintain their original concept. It's a little miner's town, and it still takes place all on a single main street with a really old-town feel with original buildings. They have a really strict building code so everything sort of stays period-looking. But they have world-class food. I had some of the best sushi I've ever had anywhere in the world there.
They actually had a spa there that was one of the best spas I've ever been to in the world. I would go back there anytime.
We loved Crested Butte. My cousin has a little restaurant there called Teocalli Tamale, a really great Mexican restaurant.
That's such a beautiful place. Just really, really breathtaking. Colorado is just gorgeous.
CNN: Any other favorite or memorable meals along the way?
Jewel: Kip's Grill in Creede [Colorado] was unbelievable. It's Mexican, but it's some of the best Mexican I've ever had in any state. Very, very fresh.
I ate a lot of good food on the trip. I'm a real foodie, so food is a big, important part of my day.
CNN: Did anyone recognize you during your trip?
Jewel: Yes, some days people recognized us, and other days we could get around pretty good without [being recognized].
CNN: Was this your first major motorcycle road trip?
Jewel: We had done smaller ones. We did 3,000 miles over Christmas, [all] in Texas.
CNN: On long trips like that, do you ever miss the comforts of a car?
Jewel: It's funny. I hate traveling if you put me in a car. I hate it. I get really bored. But if I get on a motorcycle, I'm completely engaged, and I really am having fun, and it's an adventure.
CNN: Ty, you call it "active meditation." Why?
Murray: In a car, you get in, and you turn on the radio, and you got the air set, and you just kind of zone out, and it's boring, and it just feels like it takes forever. When you're riding a bike, the danger of it, you have to stay so aware and so alert and always be paying attention -- you have to be very present and in the moment. You don't zone out on a bike.
CNN: On this trip, what were your most memorable experiences?
Jewel: For me, it was seeing parts of the country I had always wanted to see, like a lot of the national parks that I hadn't been able to visit even though I had traveled all across the country. The Tetons were amazing. We went to Jackson Hole [Wyoming], really had a great time.
We took the northeast exit out of Yellowstone, and there was just a giant valley with herds of buffalo and elk, and giant rivers. We have an amazing country. It's such a large and diverse country, and getting to see it was one of my favorite things.
FOLLOW THIS TOPIC