STORY HIGHLIGHTS
Celebrate Southern literature with these three literary road trip itineraries
Oxford, Mississippi, is a charming town that was once home to William Faulkner
Tennessee Williams began writing "A Streetcar Named Desire" in New Orleans
Atlanta, Georgia, was the home of Margaret Mitchell, author of "Gone with the Wind"
(CNN) -- Great Southern authors: Many of them were restless souls who drank too much, understood the dark underbelly of humanity and lived in Southern cities where they produced some of the most enduring literature the world has ever known.
If ever there was a time to pay homage to the greats, it's now. "To Kill a Mockingbird" turned 50 this year, Tennessee Williams would have been 100 years old next year and the 70th anniversary of the premiere of "Gone with the Wind" was celebrated in December.
So here are three long-weekend literary road trips that celebrate Southern authors in the cities that fueled their imaginations. Visit their former haunts and enjoy all the charm, beauty and decadence the South has to offer.
Foote to Faulkner
Memphis, Tennessee, is famous for Beale Street, blues, barbeque, Sun Studios, the Lorraine Motel and Graceland. It also was home to one of America's most famous Civil War historians, Shelby Foote.
After appearing on Ken Burns' PBS documentary "The Civil War" in 1990, Foote achieved fame that made "The Civil War: A Narrative," a massive three-volume history of the war, a great success.
Today you can visit the Elmwood Cemetery, which is on the National Register of Historic Places, to see Foote's grave.
The cemetery in itself is worth seeing. Built in 1852, its Gothic architecture accentuates the beauty of the ancient elm trees and magnolias, statues and monuments. It is an official bird sanctuary and arboretum.
"To understand the world, you must first understand a place like Mississippi." --William Faulkner
About an hour's drive south of Memphis is Oxford, Mississippi, a charming town that is home to Ole Miss but just as well-known for its famed former resident: William Faulkner, Nobel and Pulitzer Prize winning author and one of America's most influential writers.
Rowan Oak, the stately white home with the famously tree-lined path, is the place Faulkner, his wife, Estelle, and daughter Jill called home for more than 30 years. Today it is a museum and national historic landmark.
It's here that Faulkner wrote some of his masterpieces, including "Absalom, Absalom!" and "Light in August." The well-preserved home offers a rare glimpse into Faulkner's writing life, including notes he scribbled on the wall for a screenplay.
Faulkner and many of his family members are buried in the Oxford cemetery just off the main square. Among them are Estelle, his stepson, parents, siblings and a mysterious E.T., the identity of whom has not been made public.
Make sure to stop at Square Books on Oxford's square. It carries a vast collection of Faulkner works, including some of his screenplays.
Streetcars, vampires and a Mockingbird
"Don't you just love those long rainy afternoons in New Orleans when an hour isn't just an hour, but a little piece of eternity dropped into your hands, and who knows what to do with it?" --Tennessee Williams
The second trip begins in New Orleans, Louisiana, a city known for its fluffy, sugar-coated beignets, voodoo, gumbo, great music and streets that overflow with debauchery. It's no wonder that literary greats flocked to it.
This is the city where Tennessee Williams, living in the French Quarter, began writing "A Streetcar Named Desire." It's also where Faulkner penned his first novel, "Soldiers' Pay," one year after Truman Capote and 15 years before Anne Rice were both born in a New Orleans hospital. So many "literary lions" stayed at the Monteleone Hotel that it is now a national literary landmark.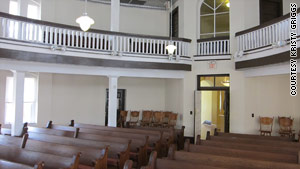 Monroe County Courthouse in Monroeville, Alabama, was central in Harper Lee's "To Kill a Mockingbird."
Take a tour founded by one of the leading Southern literature historians in the nation, Dr. Kenneth Holditch. Walk around the French Quarter and see where the authors lived and played. You also can see the locations that inspired their work, like where the real streetcar named Desire ran and Lafayette Cemetery, which Anne Rice saw as Lestat's vampire playground. Or attend the 25th annual Tennessee Williams Literary Festival in March 2011 as it celebrates the author's 100th birthday.
Next drive three to four hours northeast of New Orleans and you'll find yourself in Monroeville, Alabama, the place where Harper Lee and Truman Capote played together as children and became lifelong friends.
The town is likely nearly as sleepy now as it was then, so you can easily find the Monroe County Courthouse, which was central to Lee's "To Kill a Mockingbird."
Born and raised in Monroeville, Lee befriended Capote after he was sent to live with his favorite Aunt "Sook." Together their adventures became fodder for "Mockingbird," now one of the most beloved books of all time.
Sure it was Lee's only novel, but as town historian George Thomas Jones says, "I once asked her why she never wrote another book and she said, 'Because I didn't have to.' "
Visit the Monroe County Heritage Museum inside the courthouse to see the famous oval-shaped courtroom (the only one of its shape in the United States), which was replicated in Hollywood for the movie.
The tour includes Lee and Capote exhibits packed with letters, awards, childhood facts and mementos that demonstrate their extraordinary lives and friendship. There's even a large mural in the city square depicting a scene from "To Kill a Mockingbird" and restaurants named Radley's Fountain Grill and the Mockingbird Grill.
From classic to macabre
"Whenever I'm asked why Southern writers particularly have a penchant for writing about freaks, I say it is because we are still able to recognize one." -- Flannery O'Connor
One of the largest cities in the Southeast, Atlanta, Georgia, is home to Coca-Cola, Turner Broadcasting and the Carter Center. It is the birthplace of the Rev. Martin Luther King Jr. and 110 years ago, it is where Margaret Mitchell, author of "Gone with the Wind," was born.
After surviving several fires, the small apartment complex where she lived and wrote the novel became a museum in the city's Midtown neighborhood. Visitors can tour the apartment and view a documentary about how "Gone with the Wind" captured the minds of Americans and led to one of the most successful movies of all time.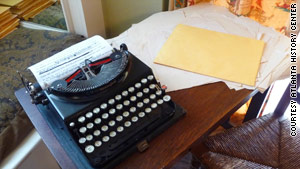 "Gone with the Wind" author Margaret Mitchell's workspace has been recreated at the Margaret Mitchell House in Atlanta.
A few blocks up the road is the intersection where Mitchell, on the way to a movie with her husband, was hit by a drunk, off-duty taxi driver -- an accident that took her life at age 48. Visit her grave at Oakland Cemetery near downtown.
An hour's drive south of Atlanta is Eatonton, the birthplace of Pulitzer Prize winning author Alice Walker, whose book "The Color Purple" became an award winning film and popular Broadway musical.
Nearly 100 years before Walker was a little girl soaking up material for her work, another Southern writer put the small Georgia town on the map: Joel Chandler Harris. His Uncle Remus stories inspired the Disney movie "Song of the South," but drew some criticism for their depictions of rural black Southerners.
Today you can take an Alice Walker driving tour coordinated by the city's chamber of commerce to see where she was born and baptized as well as the cemetery where her family is buried and the family-owned Grant plantation.
In honor of Harris, there is a small Uncle Remus museum inside a former slave cabin.
Drive half an hour south and just outside Milledgeville you'll find Andalusia, the picturesque farm where Flannery O'Connor lived with her mother for more than a decade before she died at age 39.
O'Connor's flair for the macabre, despite the fact that she was a devout Catholic, and her childhood ability to make a chicken walk backward, mark her as one of the South's most intriguing writers.
Andalusia is a 544-acre estate with rolling hills, ponds, wetlands and a large farm complex. It was here that she wrote her last book (While she only wrote two novels, she also wrote 32 short stories.) and the farm was the inspiration for her later work.
Less than three hours' drive south of Milledgeville is Savannah. Internationally known for its Southern Gothic architecture, 22 historic squares, hanging Spanish moss and Southern charm, it is visited annually by more than a million people. It also is the birthplace of O'Connor and the inspiration for John Berendt's 1990s best seller, "Midnight in the Garden of Good and Evil."
From 1925 to 1938, O'Connor lived on 207 Charlton Street. The modest single-family home is across the street from St. John the Baptist Church, where she was baptized. In 1989 the property was restored and turned into a museum with a book collection, toys, family pictures of O'Connor and a tiny desk that was especially made for her as a child.
When New York journalist Berendt visited Savannah, he turned a local murder case into the best-selling "Midnight." Some of Savannah's most colorful characters grace his pages, including a drag queen named Lady Chablis.
The restored Mercer Williams House, where the shooting took place, was recently opened to tourists and is now a major attraction. For a cherry on top of your Southern literature sundae, catch Lady Chablis performing at Club One.
FOLLOW THIS TOPIC