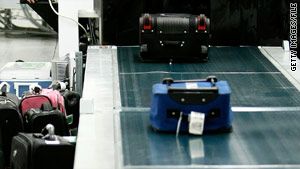 Some travelers are letting shipping companies do the lugging.
STORY HIGHLIGHTS
Shipping firms say more Americans opting to leave lugging to someone else
UPS official cites anecdotal evidence of uptick in luggage shipments at UPS Stores
Door-to-door delivery company sees big shipment increase since 2008
(CNN) -- Luggage fees have some exasperated airline passengers wondering whether shipping bags would be cheaper than paying for them to fly on the same flight.
Unless you have overweight or oversized luggage you're planning to ship days in advance, the answer is usually no. Still, some shipping companies report that more Americans are opting for the convenience of leaving the lugging to someone else.
Neither UPS nor FedEx track luggage shipments separately, but UPS spokeswoman Susan Rosenberg said there's been anecdotal evidence of an uptick in luggage shipments at UPS Stores, particularly in resort locations where travelers are toting things such as ski and golf gear and in cold-weather climates where residents migrate to warmer places in the winter.
"We know there's been an increase, and probably that increase began much more so in the summer of 2008 when airlines started charging more baggage fees," Rosenberg said.
Luggage shipments have increased "pretty dramatically" since UPS Store manager Alyssa Kehrig started six years ago. At the store she runs in the Hilton San Diego Bayfront hotel in California, guests frequently come in to weigh their luggage and end up shipping a portion of their things home to avoid steep airline fees for overweight bags, she said.
Overweight and oversized bags are among the few cases where shipping using a ground service is often cheaper than checking luggage, said Jami Counter, a spokesman for SeatGuru, which offers an online luggage shipping primer.
The large airlines charge from $50 to $125 each way for bags that weigh more than 50 pounds. Bags that weigh more than 70 pounds cost $100 or more on many airlines.
A 74-pound package shipped from New York to Los Angeles via UPS Ground would be in transit for four days and cost less than $90 one way. Faster UPS services rocket up in price in this scenario, ranging from $220 to $450 one way.
Jim Collins, an engineer from Michigan, had positive experiences when he shipped teaching materials for out-of-town training classes ahead of his arrival.
"UPS was always great, and the hotels had no problem holding on to my stuff. I guess the problem for most people would be planning ahead enough to allow for transit time," Collins said.
Though shipping is usually more expensive than checking luggage with the airlines, the convenience is worthwhile to some travelers.
"It does provide you a certain peace of mind in both that you can track the shipment, and it also eliminates a significant hassle in the airport," Counter said.
Most major American airlines charge $25 for the first checked bag and $35 for the second each way for bags weighing less than 50 pounds.
Sending a package that weighs 43 pounds from New York to Chicago, Illinois, via UPS 2nd Day Air would cost more than $100 one way, according to the UPS Web site. The same package shipped via ground would cost about $33 and be in transit for two days.
Some shipping methods may cost more, but they cater to a clientele that wants to skip boxing shipments themselves and get personalized door-to-door service.
Luggage Forward, a Boston, Massachusetts-based delivery company, shipped 268 percent more bags in the first quarter of this year than it did during the same period in 2008, according to spokesman Zeke Adkins.
Shipping a medium-size bag, with a maximum weight of 50 pounds, runs $119 one way for standard three-day shipping from New York to Los Angeles, California, using Luggage Forward. Two-day service is $199, and overnight service is $249. On the return trip, the company also offers an $89 economy option for delivery in four to seven business days.
Luxury leisure travelers made up the vast majority of Luggage Forward's clients when it started in 2004. Now, some lower price points have attracted more families and seniors who are willing to pay for the convenience.
"It's certainly still a higher-end client, but it's not like it once was when we started when it was all sort of first-class travelers," Adkins said.
One U.S. carrier, Spirit Airlines, has announced it will begin charging passengers for carry-on luggage stowed in overhead bins.
If other American airlines follow suit, shipping luggage may start looking better and better to air travelers.