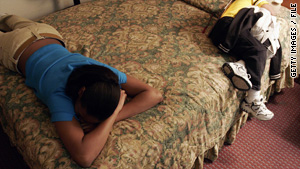 Unpleasant hotel rooms send some travelers packing.
STORY HIGHLIGHTS
California establishment tops list of what TripAdvisor.com calls the country's dirtiest hotels
Experts: They survive because of low rates, locations that don't require repeat business
It's up to each hotel to decide how it handles many cleanliness matters
The large majority of hotels do a good job, hospitality management professor says
(CNN) -- By the time Debbiie White spotted some uninvited guests of the insect kind in her hotel room, she had already had enough.
Earlier, the Sunnyvale, California, resident had found a dirty wash rag in the bathroom and a takeout container with old food in the microwave.
The room was filthy and the sheets creeped her out, White said, so she, her husband and their 10-year old niece slept on their own blankets.
But it was the bugs that pushed her over the edge.
"When we saw the cockroaches and I killed two of them, that was it. We were gone," White, 51, said of her stay at the Heritage Marina Hotel in San Francisco, California, over the New Year's holiday.
The travel review Web site TripAdvisor.com last week released its fifth annual list of what it calls the country's top 10 dirtiest hotels, with the Heritage Marina grabbing the unenviable top spot.
The hotel -- whose Web site bills it as "one of San Francisco's best values" -- has 320 reviews on TripAdvisor.com, with half rating it as "terrible." Eighty percent of TripAdvisor travelers who reviewed it did not recommend it.
The hotel's general manager said the rankings were based on "subjective, irate, anonymous postings" that did not reflect the true condition of the hotel nor the opinions of the thousands of guests who have stayed there. Any maintenance issues for the hotel from 2009 have been addressed, said Dan Brannan in a written statement, and a detailed renovation will continue through 2010.
TripAdvisor's list is based on reviews posted on the Web site by travelers, who are asked to rate a hotel's cleanliness on a scale of one to five whenever they evaluate a property. TripAdvisor then takes data submitted from January to December and sorts it using the cleanliness category to come up with the rankings for the year.
When we saw the cockroaches and I killed two of them, that was it. We were gone.
--Debbiie White, hotel guest
The Web site makes sure the list is based on a wide array of reviews, said Amelie Hurst, a TripAdvisor spokeswoman, but she declined to specify the minimum amount required for a hotel to be considered in the rankings, calling it internal company information.
"Regardless of a hotel's room rate or location, all guests have the right to expect good levels of cleanliness," Hurst said.
"It continues to amaze me that some properties in the USA fall short, given that as a country, we're world-renowned for offering great customer service."
Why they stay afloat
It is indeed hard to believe that in the age of extensive online ratings and reviews, dirty hotels still exist and manage to stay in business.
Sometimes they're in a convenient location, like an interstate exit, which brings in lots of customers and allows the hotel to thrive without repeat business.
Still others offer what some travelers care about the most: Rock bottom prices.
"People are looking for the cheapest room rate, so if a hotel offers an inexpensive rate then customers are willing to overlook almost anything," said Chris Elliott, a travel columnist and National Geographic Traveler magazine's reader advocate.
"I don't think anyone gets into the hotel business and says, 'I'm going to run a fleabag motel.' They do it because there's money to be made."
Max Hartshorne said his girlfriend will never let him forget the time he booked a hotel room in Los Angeles, California, based on the low price.
The couple, from South Deerfield, Massachusetts, were on their way to New Zealand and just needed a room for the night. Hartshorne, the editor of the travel Web site GoNomad.com, said he had a bad feeling when the hotel shuttle that was to pick them up from the airport turned out to be a dented, decrepit van. The hotel itself was a dump in a seedy neighborhood, Hartshorne said.
"It was dirty, it was a bummer and it was the classic thing where the woman is telling the man not to do something and the man thinks it's the cheapest," he added. The couple ended up scrambling to find another place to stay.
Few firm rules for hotels
Travelers may be surprised that it's up to each hotel to decide how it handles many cleanliness matters.
Hotels are subject to certain sanitation regulations, but there are no laws governing issues such as how often bed sheets have to be changed, the toilet scrubbed or the rug vacuumed in a hotel room, said Joe McInerney, president and CEO of the American Hotel & Lodging Association. Big brand hotels, however, do set some rules for their franchisees.
"All the major chains have standards and specifications for their properties," McInerney said. "As an industry, we don't set standards ... but we provide a lot of educational materials."
There are 44,000 hotels with 50 rooms or more in the United States and some will not be clean, he said. The TripAdvisor list makes him cringe because it reflects badly on the industry, but his organization has no "hammer" to punish the offenders, McInerney said.
The state of hotel cleanliness has gotten a lot of attention in recent years, especially after high-profile media investigations that used black lights in various hotel rooms to reveal traces of urine and semen on items like bedspreads.
Many hotels have responded to those concerns by moving away from bedspreads to duvets, which they can better launder, said Daniel Mount, associate professor of hospitality management at Pennsylvania State University. Some hotels have even tried to reassure guests by declaring themselves "black-light clean."
"It's creepy if you imagine the possibilities, but if you experience the realities, the reality is that the large majority of hotels do a good job," Mount said.
Still, he recently had his own bad experience at a hotel. While pulling back the duvet on his bed, he found a 2-inch stain on the sheet. There may not be standards covering such issues, but a properly trained staff should have pulled the sheet from service, Mount said.
Check it out before you check in
Spotting and avoiding dirty hotels takes a little research and action. Don't be blinded by a hotel's low room rate, experts said, and be sure to read the property's reviews on several Web sites, like TripAdvisor, Travelocity and Yelp, to get an idea of what you can expect.
"It is a much more sophisticated marketplace out there for consumers," Mount said. "You've got to read the reviews. It's a great tool now, where 10 years ago you had nothing. You'd show up and it's like, 'Oh my God, the place is a dump.' "
Organizations like the AAA have their own hotel rating systems, which can be helpful. Elliott also advised checking the word of mouth on a hotel, asking friends who have stayed there about their opinion, for example.
If you can't research ahead of time and stop to stay at an unknown hotel, be sure to check out your room first before committing to stay for the night, McInerney said.