Man allegedly responsible for a third of spam e-mail pleads not guilty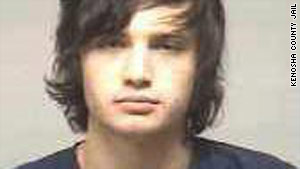 Oleg Nikolaenko pleads not guilty Friday to charges related to federal anti-spam legislation.
STORY HIGHLIGHTS
Oleg Nikolaenko was arrested last month for violations of anti-spam policies
Prosecutors says he's responsible for one-third of the e-mail spam you get
His lawyer says Nikolaenko is only accused of a "low-level felony crime"
(CNN) -- A Russian man the FBI believes has been responsible for one-third of the spam you get in your inbox pleaded not guilty Friday at his arraignment in a Milwaukee, Wisconsin, federal court.
According to court documents and FBI affidavits, experts looking into the "Mega-D" spam automated botnet -- which is a prime source for selling counterfeit goods -- identified Oleg Nikolaenko, 23, as the plan's mastermind.
"'Mega-D" was likely the largest botnet in the world, accounting for 32 percent of all spam," the court documents said. "Security researchers estimated that the botnet was capable of sending ten billion spam e-mail messages a day."
On Friday, Nikolaenko pleaded not guilty to charges related to federal anti-spam legislation. He was denied bail because he was considered a flight risk, CNN Milwaukee affiliate WDJT reported.
Court documents show the scope of the counterfeit ring and authorities' attempts to track down Nikolaenko.
A glimpse into how much the operation may have made can be seen in the documents, which allege that Nikolaenko received $459,098.47 between June 4 and December 5, 2007, through his work distributing e-mails peddling everything from advertised erectile dysfunction drugs, other counterfeit prescriptions and "herbal remedies."
Authorities got a break when a they arrested a seller of counterfeit Rolexes, who told them that he paid spammers $2 million to help sell his product.
That man gave federal agents information that led them across several continents, to different e-mail addresses and websites and, eventually, to Nikolaenko, authorities said.
FBI agents and the Federal Trade Commission had been monitoring him since at least 2007, according to court documents. That included two trips that the Russian took to the United States last year. Nikolaenko was finally caught November 4, while in Las Vegas, Nevada, for an auto show.
Christopher Van Wagner, Nikolaenko's lawyer, told WDJT that his client is "merely accused ... of essentially a low-level felony crime."
"You folks in the media have dubbed him the King of Spam, or maybe the prosecutor has," Van Wagner said Friday. "But right now, all he's the king of is the cell in which he's being held."