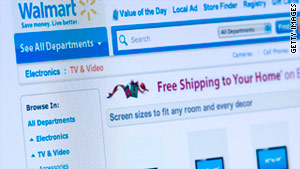 Retailer discounts helped make 'Cyber Monday' the biggest internet shopping day ever, comScore says.
STORY HIGHLIGHTS
Analysts say 'Cyber Monday' was biggest online shopping day in history

More than $1 billion was spent on the internet in the U.S. on Monday, comScore says

Big day is part of an overall 13 percent increase in online spending this November
(CNN) -- Yes, Virginia, there is a Cyber Monday.
Monday lived up to the holiday-season hype, becoming the biggest online shopping day in history, according to Web analytics company comScore.
Just over $1 billion was estimated to have been spent online in the United States on Monday, comScore said, making it the first internet-shopping day to cross that threshold.
That's a 16-percent increase over last year's spending.
"Cyber Monday was a historic day for e-commerce ... ," said comScore chairman Gian Fulgoni. "The online holiday shopping season has clearly gotten off to a very strong start, which is welcome news."
If that number holds up, it would be the first time "Cyber Monday," a shopping day ginned up by an internet shopping site five years ago, actually lived up to its billing.
So far, the Monday after Thanksgiving has never been the biggest internet shopping day of the year, according to comScore. And, typically, it's not even the biggest Monday -- with that honor usually going to a Monday in December.
But as hype over the day continues year-after-year, that might change. Internet retailers are increasingly offering discounts that mirror the "Black Friday" sales of brick-and-mortar stores [even if many of those deals aren't one-day-only affairs].

Holiday etiquette in cash-strapped times

Will you sit and surf or dash for deals?
The conventional wisdom is that holiday shoppers who may have flocked to a big-box store on Friday get back to work, and their work computers, on Monday. comScore says that nearly half of all online shopping, 48.9 percent, happens from work computers.
The big day continues what's been a strong holiday-season online.
More than $13 billion was spent in November through the 29th, a 13-percent increase over the same period last year, comScore says.
It's good news, but not a sure thing to hold up, according to Fulgoni.
"[I]t's important to note that some of the early strength in consumer spending is almost certainly the result of retailers' heavier-than-normal promotional and discounting activity at this early point in the season," he said.
"So, while we anticipate that there will be more billion-dollar spending days ahead as we get deeper into the season, only time will tell if overall consumer online spending remains at the elevated levels we've seen thus far."
Which means that while Cyber Monday broke a record, it could still be eclipsed in the next few weeks, returning it to its status as the internet's most talked-about shopping day, but not it's biggest.
FOLLOW THIS TOPIC