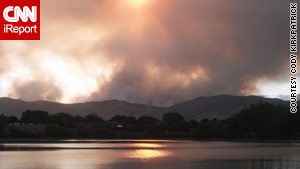 The Boulder, Colorado, wildfire triggered a strong response from iReport, often CNN's first source for disaster images.
STORY HIGHLIGHTS
Government officials are usually wary of information on Twitter and other social media
FEMA chief Craig Fugate uses the data for "situational awareness"
Former firefighter Russ Johnson is helping harness social media's power for first responders
"Digital volunteers" help aggregate the data for people affected by major disasters
Denver, Colorado (CNN) -- ­When word came of a huge explosion in San Bruno, California, FEMA chief Craig Fugate grabbed his cell phone and logged on to Twitter.
"I got out my little Android phone and went on Twitter and pulled up the grid to search for 'explosion' and got tweets coming out of the area," he said.
After a few minutes he says he determined the gas explosion and ensuing fire, though horrible, was a localized event and wouldn't spread to other communities.
"I got better situational awareness [from Twitter] before we got official word," he said. "Four or five years ago I wouldn't have gotten that quality of information."
Fugate, aka @craigatFEMA on Twitter, is at the forefront of a movement to harness the power of social media during disasters.
"It is a way to get a sense for what people are seeing or hearing," he explained. "Then I can see if it's matching up with the response."
Fugate's openness to social media is unusual for a government official, according to Russ Johnson, who is working to make social media data more usable for first responders.
"Public safety officials are still trying to get their heads around social media. They are trying to catch up," Johnson says. "What do you do when the social media knows more than you do?"
Johnson, who spent 32 years as a firefighter, now focuses on harnessing the power of social media for a government contractor called the Environmental Systems Research Institute.

Video: Moments after San Bruno blast

Video: Fire forces 3,000 to flee

Video: Battle to contain wildfire

Video: Wildfire rages in Colorado
To help government officials, ESRI takes info from social media outlets like Twitter, Facebook and Flickr, and inputs the data onto maps for first responders.
See ESRI's map for first responders
"The data is really unstructured -- when you wrap it around a map suddenly you have a micro and a macro view," Johnson said. "All of a sudden social media is a really relevant piece of data that can increase situational awareness."
Sometimes first responders "can't ignore" the data from social media "because [they] may not have anything else."
Fugate agrees that the federal government has been slow to adapt to the new social media reality. At many agencies, he said, employees can't even access websites such as Twitter because the government computer networks hide these sites behind firewalls.
Fugate says he is battling an attitude within government that dismisses information that doesn't come from government sources.
"This phenomenal thing [is] about us not trusting the public," the head of the Federal Emergency Management Agency said. "The first concern a lot of people have in government is, 'Is this a hoax? Are they trying to trick us?'"
Indeed, the reliability of information is the biggest hurdle agencies face when trying to effectively using social media. The sheer number of people using social media during emergencies tends to make the information more reliable, according to Fugate.
"If I have lots of people reporting things it probably has more truth," he said.
Like Johnson, Fugate says that government ultimately must embrace social media, whether they like it or not.
"It doesn't matter what we think. The public is doing it and we need to use it to communicate," Fugate said.
Digital volunteers
When disaster strikes, a new wave of "digital volunteers" isn't waiting for the government to get on board with social media. These web-savvy volunteers spring into action, gathering and sharing data from websites such as Twitter and Facebook.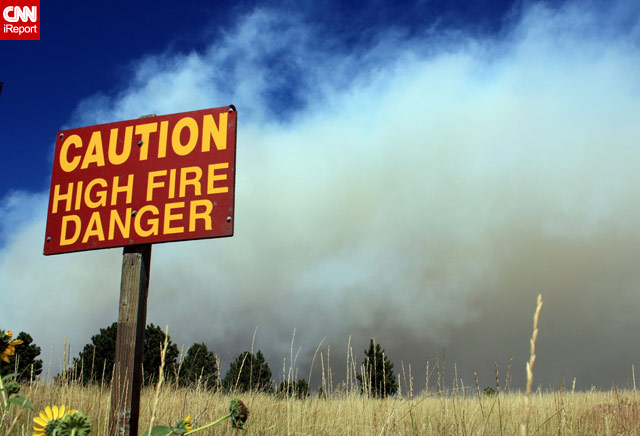 Gallery: iReporters capture Four Mile Canyon fire

Video: Battling the Colorado wildfires

Video: Twitter gets hacked
An unusual array of these "digital volunteers" teamed up to help those affected by the recent wildfires in Boulder, Colorado.
"I felt like an imposter," joked David Wild, a British college professor living in Indiana. "I'm not involved in this but [because of social media] I am involved."
Wild runs a blog called All Hazards. After hearing about the Boulder fire, which began on September 6 and destroyed more than 160 homes, Wild jumped on the Internet from his home in Bloomington, Indiana, 1,000 miles from the blaze.
"I was looking at some of the news sites and Twitter feeds, and some interesting things started to emerge," he said.
He found that people were looking for information about where they could get help. Wild searched for reliable information and posted it to his blog, then blasted it out on Twitter.
"Very quickly I started to see lots of hits on my blog and people saying it was useful and giving me more info to post," he said. "If everyone has access to all the information it will be, hopefully, self-correcting."
Even farther away, Laura Madison had her ears glued to online feeds of Colorado police and fire scanners from her home in Kenora, Ontario.
She gathered information from those feeds as well as Twitter postings and tweeted back the essentials using the #boulderfire hashtag.
"Crowdsourcing, that's what we're taking about," she said. "We got information from wherever we could and tweeted it."
Dozens of people in the Boulder area sent photos and video of the wildfire to CNN iReport along with stories of how the blaze was impacting their lives. iReport, CNN's citizen journalism initiative, is often CNN's first source of images for disasters such as the Boulder fire and San Bruno explosion.
iReporters on the scene minutes after explosion
iReport images of Boulder fire and other recent wildfires
Madison said she looks forwards to helping out from her Canadian outpost in future disasters and thinks more people will join in future efforts.
"An able and ready trained volunteer force around the world -- I see it coming," she said. "You can't stop it."
Bringing it all together
For the digital volunteers to be more effective, they need a way to bring all the information together in a manner that makes sense.
That is the aim of the University of Colorado's Project EPIC, which stands for "Empowering the Public with Information in Crisis."
It's a long name, but the idea is simple: Reformat tweets using disaster-specific codes and then insert them onto a map.
EPIC uses a process they call "tweak the tweets" to add a series of hashtags -- #fire to report active fire, #structure to report a destroyed structure, #offer with an offer of help to Twitter postings.
Digital volunteers anywhere in the world can sort through tweets, add the special hashtags and geographic locators and post them to the map.
Leysia Palen, who runs Project EPIC, says the process is still balky and they look forward to streamlining the process as new technologies emerge.
But she said the concept is sound and disasters are the perfect place to apply new ideas.
"When the social order is disturbed that's when you start to see innovative behaviors," she said. "This basic innovativeness people have, combined with technology is going to shake things up."
Much of the info EPIC provides is for victims and community members in disaster areas. Palen said she recognizes that first responders and aid organizations will always do the most important work in disasters, but she says the new social media can play a vital role.
"This is a complimentary sphere, a new channel of cooperation," she said.
To make it all work together information from the social media universe needs to meld with the reality on the front lines.
That remains a challenge for everyone.
"It is an evolution we haven't seen before," FEMA's Fugate said. "How do you take that information and plug it into the emergency management structure? That's going to take more work."
FOLLOW THIS TOPIC