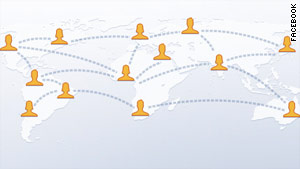 The new Facebook Places feature lets people share their location with friends.
STORY HIGHLIGHTS
Facebook Places is the social-media giant's leap into location-based networking

The app is promoted as a way users can see where their friends are hanging out

Places does not show where users are unless they choose to check in

Privacy settings let users opt out of many, if not all, of Facebook Places' features
(CNN) -- Facebook has rolled out its long-awaited location feature, Facebook Places, an application that lets users "check in" on their mobile phones so friends know where they're hanging out and what they're doing.
It's a function similar to what apps such as Foursquare and Gowalla have been doing for a while. But Facebook's 500 million-user base dwarfs the 2 million-plus on Foursquare, meaning the "check-in" concept is probably new to a lot of folks.
So here are answers to some of the questions and comments we're hearing since the feature went live in some places Wednesday night. (Note: It's still not active in a lot of places. In Atlanta, we tried the application Thursday morning but got a message saying it "will be available in your region soon.")
What does it do?
Facebook Places, like existing location-based apps, uses GPS so people can "check in" on their mobile phones, letting friends know where they are and what they're up to.
It's probably most useful to a young, socially active set.
Say you're at a bar, restaurant, coffeehouse or club. The idea is that if one of your friends sees your check-in and is nearby, they can swing by and hang out with you.
You can also leave comments and tips for friends to see. If you like a particular dish at a restaurant, or had bad service there, you can post that info with your check-in and notify your friends.
The app, using GPS, also will identify other hot spots in your area -- and the comments people have left about those places -- so you could discover new hangouts and social possibilities.
Who can use it?
People who have the Facebook app on their smartphone.
Right now it's available only for the iPhone, but Facebook says versions for the Android system and BlackBerry are coming soon. Currently, iPhone users will see the Places option when they download the latest update to the Facebook app.
There's technically a way to check in using a laptop or desktop computer, but it's hard to imagine many people will go to the trouble unless they're surfing the web in a coffee shop.
If you don't use Facebook on your phone, Places probably won't change your Facebook use in any way -- except that your news feed may start showing when your friends check in.
What about my privacy?
Lots of readers are expressing concerns that the app will take away their privacy by letting others (including, in the scariest scenarios, stalkers or crooks) -- know their location.
Some important facts about that:
• If you don't choose to check in, your location isn't revealed. It seems basic, but there appears to be a lot of confusion about this. Nothing about Facebook Places (and Foursquare and other mobile apps, for that matter) tells people where you are if you don't choose to tell them.
• The default setting for Facebook Places only sends location alerts to your Facebook friends. There are ways to change that (we'll talk about changing your settings later) to tell more, or fewer, people. But as is, no one you haven't approved as a friend can see what you post.
• When you're with a group, Facebook friends can check you in along with themselves to let people know what kind of group is hanging out. But Facebook says they'll only be able to do so if you have checked yourself in at the same place. In other words, nobody can post your "check-in" location without your approval (although as always, they could still mention your whereabouts in a status update).
Important detail: If you're not comfortable with all your friends' friends seeing where you are, you can adjust your settings to prevent that, too. Otherwise, if you both check in somewhere, their friends can see your location.
• Your check-ins likely will appear in the activity stream on the Facebook Places page for your location -- unless you change your settings. (Again, details to come.) So other people who were nearby might be able to see you as well as your friends.
How to change (or get rid of) Places
To change who can see your check-ins:
1. Log in to Facebook
2. Click "Account" in the top right corner.
3. Scroll down to "Privacy Settings"
4. Click "Customize Settings" toward the bottom of the page.
5. Your default for "Places I check in" should be "Friends Only." You can click that box to expand who can see your check-ins or, if you want more privacy, click that box, then scroll down to "Customize," where you can specify which of your friends can, or can't, see what you do with Facebook Places.
Here, you can click "Only Me," meaning nobody else can see you check in. We're not sure what the point of that would be -- but if you want essentially to shut down the possibility of using Places from your account, there it is.
Deciding on "People Here Now":
1. Follow the above steps to "Customize Settings."
2. You'll see a line called "Include me in 'People Here Now' after I check in." That's the one that lets other people at the same spot, not necessarily your friends, see that you're there.
3. The default should have this turned off. If you want to be included in "People Here Now," click the box marked "Enable." If you don't, just leave it alone. If, for some reason, the "Enable" box is checked, just click it to opt out.
If you don't want your friends to check you in to places:
1. Follow the above steps to "Customize Settings."
2. Under the heading "Things Others Share," you'll see the line "Friends can check me in to Places."
3. Click on the box marked "Select One," and you can enable or disable this feature.
FOLLOW THIS TOPIC