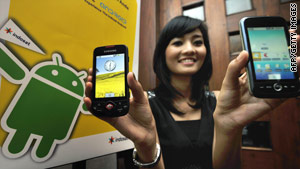 Google announced a product called App Inventor, which aims to make app development simpler.
STORY HIGHLIGHTS
Google announces a program called App Inventor

The program aims to make app development easy enough for kids

Until now, creating a smartphone app required code-writing skills
(CNN) -- It's not uncommon these days for people to know how to build websites and create blogs. That's largely because sites like WordPress, Blogger and Tumblr have simplified the process, so you don't have to be a code wonk to publish.
Now, Google is trying to make smartphone app creation easy, too.
On Monday, the company announced a program called App Inventor, which claims to make app development easy enough for schoolkids.
"App Inventor requires NO programming knowledge," Google says on its new website for the program. "This is because instead of writing code, you visually design the way the app looks and use blocks to specify the app's behavior."
News sites have compared App Inventor to building with Lego blocks.
Google says it tested the program with kids.
"For the past year, we've been testing App Inventor in classrooms around the United States, and we've found that it opens up the world of computer programming to students in new and powerful ways," the company says on its official blog.
The program is an extension of research and product development done by the Massachusetts Institute of Technology.
MIT's Lifelong Kindergarten Group created a building-blocks version of code programming for kids called Scratch, which Google says was one inspiration for its new app creator. The school's Scheller Teacher Education Program also gave Google some code to make the project possible.
Eric Klopfer, an associate professor at MIT and director of that program, said he hopes App Inventor gets young people -- particularly those in middle school and high school -- more interested in how phones and computers operate.
"It's not as easy as using a word processor, which is pretty close to what blogs have gotten to. It's not as easy as that," he said of App Inventor, "but it's a big leap forward."
The new program is an apparent attempt by Google to both democratize app development and increase the number of apps that are available for smartphones that run Google's Android operating system.
The number of Android apps has been growing in recent months, but there are only about half as many apps available for download on the Android Market as there are from Apple's popular App Store, which services the iPhone and iPad.
Fortune: The coming Android app explosion
Some tech bloggers criticized Google on Monday for looking to up the number of Android apps instead of improving their quality. Others questioned whether non-techie developers could create apps that are worth using.
"They have to hope it doesn't backfire and simply flood the Android Market with more junk apps than already exist," writes MG Siegler on the blog TechCrunch.
On the blog Mashable, which is a CNN Tech partner site, Pete Cashmore writes that App Inventor may lead to a number of "cookie cutter" apps that are fairly useless, but it also may have long-term positive effects for Google.
"If App Inventor is so simple that schoolchildren can make apps, some of those same children will soon become coders themselves ... and perhaps choose to develop Android apps rather than iPhone," Cashmore writes.
The blog The Next Web says app quality may suffer, but that won't hurt the overall usefulness of Google's Android Market for apps.
"Will it negatively impact the Android Market? It's not likely," writes Brad McCarty. "Let's face it, even though we're approaching 100,000 applications in the Market, the good ones rise to the top very quickly. There are literally thousands of useless, trash-directed applications, but they tend to get buried in a hurry."
Google is not the first company to try to make app development simple. Nokia tried a similar program this year, according to Engadget, but Google may be the first company that is big enough to popularize the idea.
Google did not immediately respond to a request for comment.
To learn more about the program, go to Google's App Inventor information page. To download the program, you have to fill out a form telling Google why you would like access to it.
Watch a video preview of the program
If you give it a try, let us know what you think of it in the comments below. Is app development really easy enough for anyone -- even young kids -- on this program?
FOLLOW THIS TOPIC