Reports: More problems for iPhone 4 orders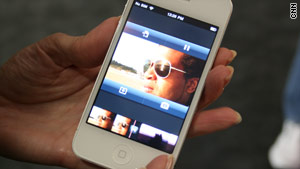 Massive demand has led to some problems with iPhone pre-orders, according to reports.
STORY HIGHLIGHTS
Online reports say some iPhone pre-orders are being canceled

AT&T suspended pre-orders last week after its system was overwhelmed

New iPhone 4 set to be in stores Thursday

AT&T spokesman said most cancellations were for people who accidentally ordered more than once.

(CNN) -- As deliveries of the hotly anticipated iPhone 4 were set to begin, reports surfaced Monday of more problems with the Apple phone's ordering process.
Last week, AT&T, the exclusive wireless provider for the iPhone, suspended pre-orders after its system was overwhelmed.
On Monday, several technology websites reported receiving messages from readers that their iPhone pre-orders had been canceled without any further explanation.
Tech site Gizmodo printed an e-mail from AT&T that a reader reportedly forwarded to them. It read:
"Your iPhone order has been cancelled. Your credit card has not been charged. If you believe you have received this email in error, please return to the AT&T store where you placed your order. Sincerely, AT&T"
An AT&T spokesman said most of the cancellations were for people who accidentally submitted their order more than once or those who are eligible for an upgrade.
"We're reaching out to many of these customers to answer questions, and are also happy for customers to call us with individual account questions," spokesman Seth Bloom said in an e-mail to CNN.
iReport: Are you anticipating the iPhone 4 release?
Another reader forwarded an e-mail, apparently from Apple, saying it was "unable to complete the authorization process" for his phone order.
Representatives from Apple did not immediately respond to messages from CNN.com for comment.
Several internet reports said Monday that people who have ordered the phone have begun receiving shipment notifications.
Last week's suspension of sales came after a response that was 10 times bigger than that for the iPhone 3GS last year. Apple said it sold 600,000 iPhone 4s on Tuesday.
Apple had not set aside enough phones for pre-order, according to AT&T.
FOLLOW THIS TOPIC