Salvation Army gives credit card readers to holiday volunteer fleet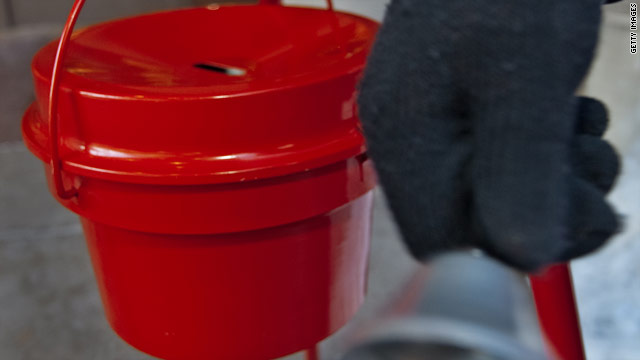 STORY HIGHLIGHTS
The Salvation Army says "cashless kettles" are a secure way to donate
The organization also has an iPhone donation application
Its holiday fundraising campaign officially kicks off on Thanksgiving
(CNN) -- No change? No problem.
Salvation Army volunteers are carrying more than their trademark silver bells as they ask for donations this holiday season.
Now some of them are armed with mobile credit card readers -- designed for holiday shoppers who don't carry cash.
The Salvation Army calls them "cashless kettles" and assures donors that transactions on them are secure.
Hawaii, Georgia, Wisconsin, New Jersey, Kentucky and North Carolina are among the states using the new system, which some branches of the organization started testing in 2008, according to local Salvation Army websites.
The nonprofit says it is trying to increase its donations by expanding its reach into the world of social media and mobile technology. It now has Facebook widgets and an online donation site.
"We are used to having more and more conveniences at our fingertips, often in the form of mobile devices. Not only does this give us access to our email, our contacts, and the internet, but thanks to new smartphones, this convenience can be used to help support causes we love," the organization's North and South Carolinas division said in a statement on its website.
There's even an iPhone donation application.
"Recognizing this, the Salvation Army has developed a 'bell-ringer' application for Apple's iPhone. This simple and free app is a fun way to use your phone to get others in the spirit of giving by ringing the familiar tones of the Salvation Army bell from anywhere," the nonprofit's website said.
The Christmas Campaign officially kicks off Thanksgiving Day and runs through Christmas Eve.
According to the Salvation Army, last year the campaign raised a record $139 million in kettles nationwide -- an all-time record, despite the economic downturn.
The Red Kettle Campaign helps the organization serve more than 4 million people in need during the Christmas season and nearly 30 million individuals year-round, the Salvation Army said in a statement.