STORY HIGHLIGHTS
The Mindflex game's sensors measure the intensity of brain waves to move a foam ball

Fisher Price's iXL 6-in-1 Learning System is equipped with six ways for children to learn

EMAD's electric skateboard has a wireless controller for braking or going forward
(CNN) -- While your 8-year-old might not be coding websites or whizzing through Excel spreadsheets just yet, it's not too soon to get him or her a tech-driven gift this holiday season.
After all, kids today are using technology at younger and younger ages, and some tech toys, such as the iPod Touch, aren't just for adults.
With just nine shopping days left until Christmas, here are some last-minute gift suggestions -- from a tantrum-proof video camera to a flying "quadricopter" you control from your phone -- for that tech-savvy kid (or kid-like adult) in your life.
Mindflex ($64.97--$91.49; Amazon.com, Kmart, Walmart, Meijer.com, Best Buy, Target, Toys "R" Us, Entertainment Earth and other retailers.)
Here's a game that gives your brain a workout -- literally. Mindflex comes equipped with a headset, a game console and four foam balls. Players put on the headset and actually use their brain waves to spin the fan within the game console. The harder you concentrate, the faster the fan spins and the higher the ball levitates.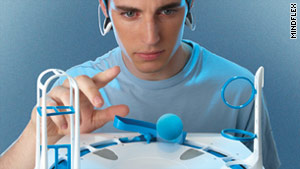 Mindflex players must use brain signals to manipulate balls.
When you're ready for more advanced challenges, Mindflex also comes with obstacles. Use telekinesis to move the ball through hoops and funnels and improve your skill.
The game also offers a variety of mind exercises that can be played solo or with up to four players.
Parrot AR.Drone ($299.99; Brookstone, Amazon.com, Brookstone.com, Parrotshopping.com.)
This quadricopter, about the size of an extra-large pizza, can fly short distances and hover in place almost motionlessly, indoors or outdoors. It generates its own Wi-Fi network and is controlled remotely from your iPod Touch, iPad or iPhone -- or from a Linux PC and a joystick -- although it will soon be coming to other platforms.
The flying device also has two built-in cameras that stream a live video feed to your mobile device's screen.
After downloading the free AR.Drone app or software, users can launch and steer the quadricopter with the touch of their finger on their screens. An autopilot feature is available for easy takeoffs and landings.
The AR.Drone also links up with other AR.Drones via Wi-Fi, allowing players to create games and wage augmented-reality battles with rival quadricopters.
Monster High iCoffin ($24.99 -- $49.48; Toys "R" Us, Mattel.com, Amazon.com, Target.)
Since the success of Monster High dolls -- a line of Halloween-themed dolls geared toward tween girls -- Mattel has developed this handheld electronic device as a way for Monster High fans to keep up with their friends.
The phone-like device is in the shape of a coffin, and kids can push buttons to play games on its tiny screen. Turn the gizmo sideways and pull out the keypad to text other Monster High friends and play even more games.
Fisher Price Kid-Tough Video Camera ($60; Mattel.com, Toys "R" Us, Amazon.com, Walmart, Target.)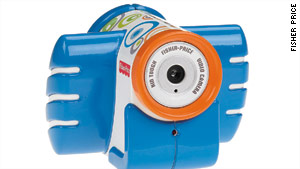 Even rowdy kids may have trouble breaking this Fisher Price video camera.
This durable, battery-powered video camera is perfect for the budding filmmaker and claims to be tantrum-proof.
The camera has an SD card slot, allowing footage to be watched on a computer or television. It records up to 15 minutes of video.
With its kid-friendly buttons, instant-replay feature and compact size -- small enough for tiny hands -- the Kid-Tough video camera is a good combination of high-tech performance and low-tech simplicity.
Paper Jamz Guitar ($19.99 to $29.95; Best Buy, Big Lots, Kmart, Macys, Brookstone, Fingerhut, Amazon.com, Cracker Barrel, Target, Walmart.)
Let your kids unleash their inner rock star with this toy guitar, which won't burn a hole in your checking account. A touch-sensitive cardboard replica of a real guitar, it has no strings but still allows users to play real notes and chords.
Users choose the play mode, then strum the image of the fret board on the guitar to rock out to built-in classic rock songs such as "Born to Be Wild" and "Sweet Home Alabama." Kids can even accessorize with the Paper Jamz Amp and Paper Jamz Drums to create a band.
iXL 6-in-1 Learning System ($80; Mattel.com, Fisherprice.com, Amazon.com, Target, Walmart, Toys "R" Us.)
A tablet for preschoolers? Not quite, but it's pretty darn close. This handheld device is a high-tech way to help children age 3 to 7 learn while keeping them entertained.
The iXL opens like a book and comes equipped with six ways for children to learn: a digital reader, game player, notepad, art studio, MP3 player and a photo viewer, all accessed via a touch screen.
The device requires a PC or Mac, internet connection, CD drive and USB port to load software and manage content.
EMAD's Pavement Pounder electric skateboard ($299.99; Emadskate.com, Amazon.com, Toys "R" Us, Kaboodle.com, Fao.com.)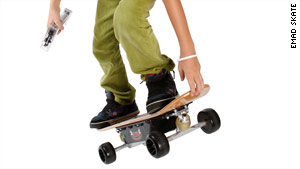 This electric-powered skateboard reaches a top speed of 8 mph.
This electric skateboard combines technology with extreme sports to bring skateboarding to a new level.
The Pavement Pounder, a basic model in the growing electronic skateboard field, reaches a top speed of 8 mph and a riding time of 30 to 45 minutes on one charge.
A wireless controller is provided so skaters can have more control at their fingertips for safe braking or other maneuvers. The board also has a neutral mode for riding without electricity -- or after the battery dies.
LEGO MP3 player ($39.99 - $59.99; Digiblue.com, Amazon.com, Toys "R" Us, Barnes & Noble, Toystoreinc.com.)
This isn't your usual stack of LEGO bricks. These bricks, which come in two styles, also double as an MP3 player for an interesting way to listen to your favorite artists.
Digital Blue and LEGO have partnered to create an MP3 Player for LEGO lovers. The MP3 players come with ear buds, USB cable, eight hours of play time and 2GB of internal memory (enough space to hold up to 1,000 songs).
True to its name, the LEGO MP3 player is even stackable with other LEGO MP3 players, in case you collect more than one.
Zhu Zhu Pets Hamsters ($8.00 - $19.98; Walmart, Toys "R" Us, Amazon.com, eToys, Target.)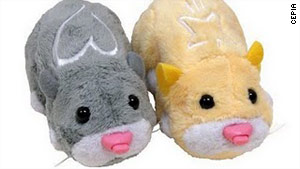 Each Zhu Zhu Pets hamster has its own personality.
Zhu Zhu Pets are battery-operated plush hamster toys that squeak and interact just like the real thing. Each Zhu Zhu Pet has its own personality or nine additional characters you can choose from.
The hamsters have two play modes: nurturing and adventure mode. In the nurturing mode, the critters coo and purr, but in adventure mode, they interact with their environment and respond to different stimuli.
Various accessories, from clothes to furnishings to speedboats, are available to customize your hamster's habitat.
FOLLOW THIS TOPIC