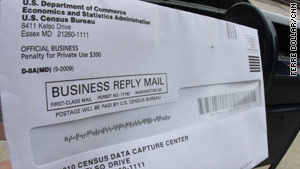 The 2010 Census is designed to collect information about every resident in the United States every 10 years.
STORY HIGHLIGHTS
2010 census forms were sent to residents in mid-March
Census does not require sensitive info such as Social Security number
No government agency, including the Census Bureau, initiates contact via e-mail
(CNN) -- Your best bet at keeping your personal census information safe is through the lick of an envelope, not the click of a mouse.
The U.S. Postal Service began delivery of 2010 U.S. census questionnaires in mid-March, with follow-up visits to start this month. One important note to consider: No federal agency, including the U.S. Census Bureau, will initiate contact with you via the Internet. If you receive an e-mail claiming to be from the census, it's probably a scam.
The Better Business Bureau warned consumers last month of an e-mail claiming to be from the BBB, providing false information about what to expect from the census.
It's important to be mindful of the types of questions you answer on census forms; scammers and con artists use the census as an opportunity to collect sensitive and private information from consumers.
"The biggest threat comes in e-mail that appears to originate from the Census Bureau claiming that the recipient should open an attached file to fill out their census information online," said Nick Newman, a computer crimes specialist with the National White Collar Crime Center.
These kinds of attachments can often contain malware viruses that can damage your computer, rendering it unusable, or harvest e-mail or bank account logins and passwords, leaving you susceptible to identity theft.
Even in mailed forms, there are certain questions the 2010 census will never ask, such as for your full Social Security number, bank account information or PINs.
Newman advises consumers to take a common-sense approach when it comes to protecting their sensitive information, whether it's in e-mail, print or in-person interactions.
"If consumers receive an e-mail that looks suspicious, they can safely ignore it," Newman said.
Census.gov: All about phishing e-mail scams
If you don't send back your questionnaire, a census taker may visit you. If you receive such a visit, be sure to ask to see their identification.
"Census workers carry identification with their name, a Department of Commerce watermark and an expiration date," said Sherry Lowe, a spokesperson for the U.S. Census Bureau. Census takers will ask only the questions that appear on the census form.
Lowe also pointed out that last week's "Census Day" isn't a deadline; it's a reference. "It's truly a snapshot of a country, as of April 1. We have to pick a day so we ask people, 'as of April 1, tell us the composition of your household.' "
If you still have not filled out your census form, it isn't too late to mail it back.
The 2010 census is designed to collect information about every resident in the United States and is mandated by the Constitution to take place every 10 years. This year, the census will help determine where more than $400 million in federal funds will be distributed.