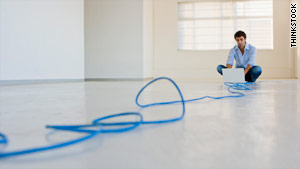 The FCC says that a lack of high-speed Internet access in U.S. homes is a detriment to economic growth.
STORY HIGHLIGHTS
FCC releases much-awaited "broadband plan"

Plan aims to give 90 percent of Americans high-speed access by 2020

FCC says its plan is "revenue-neutral," meaning it won't require new funding

Commission plans to sell off 500 megahertz of spectrum to pay costs

(CNN) -- The U.S. Federal Communications Commission released a national "broadband plan" Tuesday that aims to give 90 percent of Americans access to affordable, high-speed Internet by 2020.
"This is not something that is nice for us to do; it is everyone's right," FCC Commissioner Michael Copps said at a commission meeting Tuesday.
The plan calls for billions of dollars in programs to extend fiber-optic Internet cables into new corners of rural America and to educate people about why they need the Web and how they can learn to use it.
The FCC says that if the U.S. fails to speed up Internet connections and make them accessible to more people, the economy will suffer, and unconnected Americans will be left without the information they need to function in a digital society. Many job applications, for example, no longer exist in paper form.
The much-awaited plan will be "revenue-neutral," the FCC says. The commission plans to sell 500 megahertz of newly available spectrum for broadband use over the next decade, which it says will pay for any new costs.
Most of that spectrum, 300 megahertz worth, will be made available to wireless Internet providers over the next five years, the FCC plan says.

Video: Boosting broadband
Other expenses will be covered by transferring funds currently used for other telecommunications into programs that promote broadband Internet expansion. The plan would move $15.5 billion into a fund that aims to extend high-speed Internet network into rural areas.
A recent FCC survey (PDF) found that about 5 percent of American homes are in places where broadband Internet connections are not available.
The webmaster without the high-speed Web
America's Internet is widely criticized as slow by global standards, and according to the FCC, 35 percent of people in the U.S. do not have access to high-speed Internet in their homes.
The FCC says its plan would give 100 million American households Internet connections that transfer data at a rate of 100 megabits per second. Each community in the U.S. also would get access to at least one "ultra-high-speed" connection, with transfer rates of 1 gigabit per second.
Those speeds are far faster than current connections, which average about 3.9 megabits per second, according to the Internet monitor Akamai.
CNNMoney: FCC solutions may be too weak
Although the Internet was developed in the United States, the U.S. has only the 18th-fastest Web connections in the world, behind countries like South Korea, which leads the world with 14.6 megabit-per-second data transfer rates, Akamai says.
The FCC's plan would have to be approved by Congress to go into effect.
The country's broadband plan was required as part of President Obama's 2009 American Recovery and Reinvestment Act, which allocated $7.2 billion to broadband-related initiatives.
The FCC's plan has been criticized as not doing enough to create competition among broadband providers, which might lower costs of high-speed Internet connections.
"The United States needs to step it up and see what's been going on around the world," James Losey, program associate in the Open Technology Initiative at the New America Foundation, told CNNMoney.com.
"The challenge is, we don't have competition: Most markets are duopolies."
U.S. Internet connections generally are slower and more expensive than those in other developed countries.
Read the proposed National Broadband Plan (PDF)
Speaking at the South by Southwest Interactive conference in Austin, Texas, Derek Turner, the research director for the nonprofit group Free Press, said the broadband plan does not do enough to reduce the cost of high-speed Internet connections, which he said is the biggest barrier to adoption.
Still, he said, he is hopeful that the federal government can address the issue.
"I'm actually very hopeful for some positive outcomes," he said at the conference, "because I've seen stranger things happen in Washington."
FCC Chairman Julius Genachowski has framed the broadband plan as a boost for the economy.
"The National Broadband Plan is a 21st century roadmap to spur economic growth and investment, create jobs, educate our children, protect our citizens, and engage in our democracy," he said in a news release.
"It's an action plan, and action is necessary to meet the challenges of global competitiveness and harness the power of broadband to help address so many vital national issues."
The plan also has the potential to anger broadcasters, which could be forced to give up spectrum that's now used for TV but could be used for mobile Internet access.
"We were pleased by initial indications from FCC members that any spectrum reallocation would be voluntary, and were therefore prepared to move forward in a constructive fashion on that basis," Dennis Wharton, of the National Association of Broadcasters, said in a news release.
"However, we are concerned by reports today that suggest many aspects of the plan may in fact not be as voluntary as originally promised."
CNN's Doug Gross contributed to this report