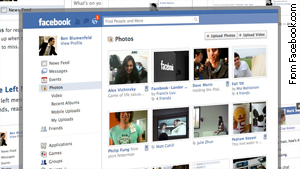 Facebook has announced changes designed to help users find new photos and updates more easily.
STORY HIGHLIGHTS
Facebook unveils several minor changes to its home page on Thursday night

The site appears to emphasize gaming, applications and a new search

Facebook celebrates its sixth birthday, says it has 400 million users

The online community has not lashed back at these Facebook changes

(CNN) -- Facebook has given itself a face-lift for its sixth birthday.
The online social network -- which now boasts a population of 400 million people -- unveiled on Thursday night several surface changes to the look and feel of its home page.
"Facebook began six years ago today as a product that my roommates and I built to help people around us connect easily, share information and understand one another better," founder Mark Zuckerberg wrote in a blog post on Thursday night.
"We hoped Facebook would improve people's lives in important ways. So it's rewarding to see that as Facebook has grown, people around the world are using the service to share information about events big and small and to stay connected to everyone they care about."
Facebook's population grew by more than 200 million people in the last year alone, to a total of 400 million users now, Zuckerberg said in the post.
For comparison, the site's current population would make it the third-largest country in the world, behind only China and India and ahead of the United States, which has about 308 million people.
Many of the changes made to Facebook on Thursday were relatively minor.

Video: Facebook's 6-year history

Video: Facebook's privacy issue
Users can more easily access Facebook applications and games, as well as a list of friends who are currently online. The search function on the site became more prominent. And Facebook's news feed is now divided into categories for "top news" and "most recent" posts from Facebook friends, a slight change from the previous arrangement, which also allowed users to sort posts by what's newest and what's most relevant to them.
Video: Facebook's 6-year history
The site also tries to make it easier for users to find friend requests and new messages, creating a potential all-in-one hub for online communication.
"For example, when you receive a Facebook notification about someone writing on your Wall or tagging you in a photo, you'll see a red bubble appear in the left-hand corner near the search bar," Facebook engineer Jing Chen wrote in a blog post on the site.
"When you click on the icon, you'll see a drop-down menu with your most recent notifications."
Facebook says it's going for a "simplified design."
So far, the online community has not reacted with the same vitriol it has to other Facebook changes.
When the site first introduced the "news feed," which pulls in new information from friends' pages, users blasted the site for eliminating the privacy of their pages. And changes to Facebook's privacy settings typically are met with heated discourse on blogs and on the site.
Video: Facebook's privacy issues
In this case, more than 5,200 people have said they "like" Zuckerberg's recent post, and many users are wishing the site a happy birthday as if it were a friend of theirs.
"What a great venue to reconnect with old friends or make new ones. Thank you Facebook Happy sixth birthday," one user wrote, in response to Zuckerberg's post.
Some bloggers said the site looks and feels similar to before, with a slightly greater emphasis on gaming and applications.
"Many changes are subtle and the look and feel of the site remains the same," Jessica E. Vascellaro wrote on the Wall Street Journal's Digits blog.
VentureBeat's Kim-Mai Cutler says the updated and more-prominent search function on Facebook is perhaps the most significant part of the update.
"When you type in names, it auto-completes for people who are the closest to you by social promixity (sic) -- e.g. the people you share the most mutual friends with," she writes on the site's DigitalBeat blog.
Facebook says the changes will be rolled out worldwide. As of Friday at 9:30 a.m. ET, it appeared that not all pages had been updated.