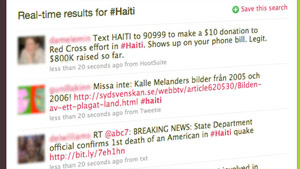 Twitter users have spread the word about the crisis in Haiti and how to help.
STORY HIGHLIGHTS
Text message donations, Twitter and Facebook are powerful combination

Haiti earthquake relief among top topics talked about on Twitter

Technology has made donating process more efficient

With social media and technology, thousands are able to take action toward common goal

Editor's Note: Pete Cashmore is founder and CEO of Mashable, a popular blog about social media. He writes a weekly column about social networking and tech for CNN.com.
London, England (CNN) -- Social media aren't always perceived as an effective way to coordinate fundraising efforts or bring change: In some circles, Facebook, Twitter, YouTube and the rest are seen as the domain of armchair activists.
But are times changing? Will technology prove its worth following the disastrous Haiti earthquake?
All talk and no action?
"Slacktivism" has become the popular pejorative to describe the various Internet petitions, well-intentioned Facebook groups and copious retweets intended to sow the seeds of change or bring help where it's needed. "It's all fed by slacktivism ... the desire people have to do something good without getting out of their chair," Monty Phan wrote in a 2001 Newsday article.
The term has stuck in large part because its claims are true. Even tech optimists like myself are forced to concede that while online fundraising campaigns can rack up thousands of tweets in an afternoon, persuading those same participants to open their wallets remains a challenge.
Hitting a button to blast out a message to your friends is easy, but when faced with a credit card payment form, many Web users shy away.
How can we combat such poor conversion rates online? The Twestival campaign of 2009 did so by taking proceedings into the real world: Twitter was used to spread the word of offline gatherings, at which more than $250,000 was raised to bring clean water to towns in Uganda, Ethiopia and India.
Some online campaigns, meanwhile, have simply accepted this poor conversion rate as fact. They use social media sites as marketing vehicles while corporate sponsors bring the cash. October's "Beat Cancer" fundraiser asked brands to donate 1 cent for every tweet carrying the "#beatcancer" tag: Nearly 700,000 tweets were posted, and the campaign as a whole claims to have raised $70,000 for cancer charities.
Haiti relief: Red Cross paves the way
Haiti may be different: Here, we're seeing well-intentioned Web users open their wallets and give generously. While the scale of the disaster and harrowing images in the media fuel a desire to help in any way we can, it's technology that has made the process efficient and enabled tens of thousands of individuals to take action toward a common goal.
As of Thursday afternoon, the Red Cross had raised more than $4 million in donations via its text message campaign: Text "Haiti" to 90999, and a $10 donation is added to your cell phone bill. The mechanism is so wonderfully simple -- removing credit cards and PayPal accounts from the equation entirely -- that donations have flooded in. Wyclef Jean's Yele Haiti, meanwhile, is leveraging the same technology: Text "YELE" to 501501 to make a $5 donation.
Social media spreads the word
While text messaging provides the payment solution, Twitter and Facebook have spread the word. At midday Wednesday, CNN reported, four of Twitter's top topics were related to Haiti earthquake relief.
Celebrity Twitter users, many with millions of followers on the service, have taken to tweeting the simple message so easily expressed in Twitter's 140 character limit.
"You can text "HAITI" to 90999 to donate $10 to @RedCross relief efforts in #Haiti," writes singer Katy Perry. Shaquille O'Neal, Chelsea Handler and Randy Jackson are among other notable names echoing the Red Cross message.
There's no doubt that text message donations coupled with the word-of-mouth buzz provided by Twitter and Facebook are proving a powerful combination in the Haiti relief efforts, not to mention the vital role of those services in bringing us first-hand reports in real-time.