Zsa Zsa Gabor takes her new hip home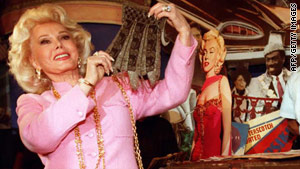 Zsa Zsa Gabor, pictured in 1996, is home in California after an infection delayed her recovery.
STORY HIGHLIGHTS
Gabor broke her hip in a fall from her bed in July
The actress got a new hip 3 weeks ago
An infection kept Gabor from going home sooner
Los Angeles, California (CNN) -- Zsa Zsa Gabor is back in her Bel Air, California, mansion three weeks after getting a new hip to replace the one broken in a fall last month.
The 93-year-old actress fought off an infection this week, allowing her to leave Ronald Reagan UCLA Medical Center Wednesday, her spokesman, John Blanchette, said.
She was rushed there on July 17 after she fell while reaching for the telephone as she watched TV in her bed, her husband, Prince Frederic Von Anhalt said.
"It's been a long ride and I have cherished the time I have been allowed to spend with my mother, whose strength and will to live has astonished us all," said Francesca Hilton, who spent many hours by her mother's hospital bedside since the accident.
Hilton has not been able to regularly visit her mother's home since a legal dispute with the prince.
The stepfather and stepdaughter have had a cold relationship in recent years that included a legal fight over a mortgage on Gabor's Bel Air mansion.
The German prince, 67, married Gabor 24 years ago.
Francesca Hilton, 64, is Gabor's only child, the product of her second marriage to hotel magnate Conrad Hilton.
Gabor has been frail and "pretty much confined to a wheelchair" since a 2002 car accident, Von Anhalt said. The crash occurred when the car in which she was riding with her hairdresser slammed into a light pole on Sunset Boulevard in Los Angeles.
The glamorous Hungarian-born actress, the second of the three celebrated Gabor sisters, is most famous for her many marriages. Among her other husbands was Oscar-winning actor George Sanders.
Her more prominent films include John Huston's 1952 Toulouse-Lautrec biopic, "Moulin Rouge;" "The Story of Three Loves," 1953; "The Girl in the Kremlin," 1957; and Orson Welles' classic "Touch of Evil," 1958.
FOLLOW THIS TOPIC