'Bones' extra sues David Boreanaz for sex harassment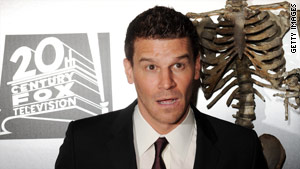 Actor David Boreanaz stars in "Bones" and is also an executive producer.
STORY HIGHLIGHTS
NEW: Boreanaz rep calls the suit "totally fabricated and absurd"
"Struggling actress" claims "Bones" actor sexually harassed her
Woman says Boreanaz offered to "make things happen for her"
Lawsuit: Boreanaz used "star power" to entice women
Los Angeles, California (CNN) -- A woman described as a "struggling actress" filed a sex harassment lawsuit against actor David Boreanaz Thursday, claiming he made unwanted sexual advances while offering her a role on his TV series "Bones."
Kristina Hagan's suit, filed in Los Angeles County Superior Court, said she was working as an extra in an episode of the crime drama in August 2009 when Boreanaz approached her and said he had "the ability to make things happen for her."
A statement from a representative for Boreanaz called the accusations "totally fabricated and absurd."
"There is no validity to this lawsuit," the statement said.
"She is an actress who is working towards her goals, but who like many other actresses has not yet been able to achieve them," Hagan's lawyer, Gloria Allred, said. "For that reason she is extremely vulnerable as many actresses are in Hollywood."
Allred said she also represents another woman who has filed a charge of sexual harassment in employment against Boreanaz.
Boreanaz, 41, stars in the series and is also an executive producer.
"She is informed and believes that he has used his 'star power' and position to entice women who have a desire to act on the show 'Bones' by promising or implying that he could get them work on the show and then using their vulnerability to obtain sexual favors from them," Hagan's suit said.
The lawsuit described several instances in which Hagan alleged Boreanaz tried to grope and kiss her.
"Ms. Hagan did her best to deter his sexual advances, but did so in such a manner that she would not offend him since he had offered to assist her in her acting career," the suit said.
The harassment also involved cell phone text messages from Boreanaz to Hagan, including one with a photo of the actor's genitals attached, the suit said.
"Ms. Hagan was offended by the text messages but nevertheless wanted to maintain a relationship with him because it was very important to her to secure employment as she was a struggling actress," the suit said.
Hagan was never given a role in the show, according to the suit.
The lawsuit claims that Hagan has suffered "emotional and psychological distress, wage losses, and loss of benefits" because of the harassment.
It also names as defendants several production companies involved in the show, including 20th Century Fox Television.
CNN's Brittany Kaplan contributed to this report
FOLLOW THIS TOPIC