Danny DeVito gets 'Troll Foot' in the door
STORY HIGHLIGHTS
Danny DeVito takes pictures of his "Troll Foot," then tweets about them

Foot has been pictured at Empire State Building, being licked by kitten

DeVito does Troll Foot for laughs; he maintains a sense of "abandon"

New York (CNN) -- Danny DeVito isn't shy about showing his feet to the world.
The actor/director has made a hobby of snapping pictures of his "Troll Foot" and tweeting them. Or, for anyone who is not well versed in Twitter: He posts the foot photos online for all to see.
"Troll Foot," or "TF" as it is known, is becoming a catalyst to catalogue DeVito's journeys, and it's clearly an enjoyable endeavor for the funnyman. There are pictures of his "Troll Foot" being licked by a kitten, traveling through Italy, in the Empire State Building's shadow, and -- in one shot -- even draped in a slice of prosciutto.
Does DeVito ever get pedicures? "No, I never get pedicures," he replied, tweeting his latest foot shot taken on Anderson Cooper's desk.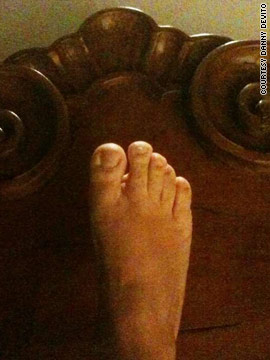 Gallery: Danny Devito's 'troll foot'
Troll Foot, said DeVito, "was born out of an impulse for me to have a secret identity. That impulse lasted a second. Obvious history."
But TF is making history, one small step at a time, because millions of DeVito fans are also enamored by his foot.
No doubt that fan base began a long time ago when DeVito started acting. He may be best known for his memorable portrayal of Louie De Palma, the caged dispatcher on the network television series "Taxi." He's also starred in the films "Romancing the Stone," "Ruthless People" (in which he delivered a particularly hilarious line to a wrong number) and "Batman Returns."
DeVito and his wife, actress Rhea Perlman, can also take credit for "Pulp Fiction" and "Garden State," which came out of their production company Jersey Films.
Along with publicly playing footsie, DeVito has also been playing Frank Reynolds on the FX network program "It's Always Sunny In Philadelphia" since 2006. (The casts of "Sunny" and the Fox show "Family Guy" recently teamed up for a benefit to raise money for Haiti.)
DeVito's proud of "Sunny's" outrageous comedy, and his role in it.
"If you look at the Christmas DVD of 'It's Always Sunny in Philadelphia' ... I'm naked in that show," DeVito proudly shared.
"Where do you get that, that ..." he's asked, haltingly.
"Abandon?" DeVito offered.
It's all about comfort, he said. "You have to be secure with yourself."
Which is why Troll Foot, and the man it belongs to, isn't done leaving an imprint.