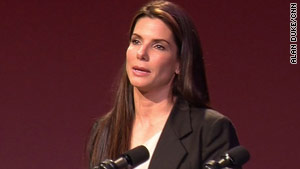 Oscar nominee Sandra Bullock could be the first person to win an Academy Award and Razzie the same year.
STORY HIGHLIGHTS
Sandra Bullock picks up two Razzies for role in "All About Steve"

Bullock is also up for best actress Oscar for "The Blind Side"

"Transformers: Revenge of the Fallen," Jonas Brothers also picked up Razzies

Los Angeles, California (CNN) -- Sandra Bullock, a favorite to win the best actress Oscar on Sunday, took home the worst actress Razzie award Saturday night.
"Thank you for ruining my career with a very bad decision," Bullock said as she took the stage of a small Hollywood theater to accept the Golden Raspberry statue.
Bullock's "dis-honor" was for her performance in box office bomb "All About Steve," which was filmed in 2007 but was released last September. She also picked up a worst screen couple Razzie with "All About Steve" co-star Bradley Cooper.
Her best actress Oscar nomination is for her role in "The Blind Side," a critical success released in November.
Actors rarely attend the Razzies awards show, a "shorter parody" of the Oscars, but Bullock had promised to be there if she won.
"I think that this is an extraordinary award, and I didn't realize that in Hollywood that all you had to do was say you'll show up and then you'd get it," she said. "If I had known that, I would have said I was appearing at the Oscars a long time ago."
Bullock suggested the Razzie voters, made up of nearly 700 movie fans and journalists, made an uninformed decision.
"Something tells me you all didn't really watch the film, because I wouldn't be here if you really, really watched it and understood what I was trying to say," she said.
Bullock brought with her a cart loaded with hundreds of "All About Steve" DVDs for the audience.

Video: Buzz: Sandra's award bookends
"This is the deal I'm going to make you," she said. "Seeing how when I said I would show up, I miraculously won. I will show up next year if you promise to watch the movie -- and I mean really watch it -- and really consider if it was really and truly the worst performance. If you're willing to watch it and then I will come back next year, I will give back the Razzie."
Bullock then pulled out the film's shooting script in an effort to prove her acting was not that bad.
"I'm willing to go through page by page of my dialogue, so we're going to be here for a while," she said. "I will read the line the way I read it in the film, then I want anyone who wants to give me a line reading of how I could have done better."
Bullock's appearance followed a short tradition started by actress Halle Berry, who personally accepted her worst actress Razzie in 2005 for "Catwoman," four years after she won a best actress Oscar for "Monster's Ball."
"She had her Oscar in one hand and her Razzie in the other," Razzie founder John Wilson said.
Berry's speech was a parody of her Academy Award acceptance and "she was quite funny," Wilson said. "She said that her mother had taught her that if you cannot accept valid criticism, you also, by the same token, are not entitled to bask in the glory when you get the good reviews," he said.
The appearance and her sense of humor earned Berry a lot of respect, he said.
Box office smash "Transformers: Revenge of the Fallen" was a big winner, earning three Razzies, including worst picture and worst screenplay. Michael Bay was selected worst director for what the Razzies described as his "overlong, over-loud, underwhelming toy-based sequel."
The three Jonas Brothers, a Disney boy band, were jointly awarded the worst actor Razzie for playing themselves in "Jonas Brothers: The 3-D Concert Experience."
Another musician connected to Disney, Billy Ray Cyrus, was named worst supporting actor for "riding his daughter's coattails and playing her dad" in "Hannah Montana: The Movie."
Sienna Miller earned the worst supporting actress Razzie for her role as the Baroness in "G.I. Joe: The Rise of the Cobra."
The worst remake/sequel Razzie was given to "Land of the Lost," which the Razzies presenter said lost up to $100 million for producers.
The 30th annual Razzie Awards also marked the end of a decade with recognition of the worst of the past 10 years.
John Travolta's "Battlefield Earth" was named worst picture of the decade "by a landslide."
Eddie Murphy was named worst actor of the decade, based on his roles in "Adventures of Pluto Nash," "I Spy," "Imagine That," "Meet Dave," "Norbitt" and "Showtime."
The worst actress of the decade Razzie went to Paris Hilton, star of "The Hottie and the Nottie," "House of Wax" and "Repo."