U.S. officials deny they are urging technical takedown of WikiLeaks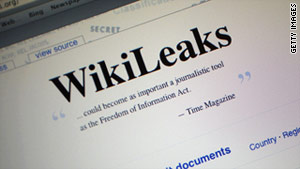 The U.S. government denies causing the technical problems that slowed the WikiLeaks release of secret documents.
STORY HIGHLIGHTS
Spokesmen say they know of no attempt to bring down WikiLeaks
WikiLeaks founder blames "abusive elements of the United States government"
Government is monitoring where documents emerge, spokesman says
Washington (CNN) -- U.S. officials at the Pentagon and State Department denied Friday knowing of any efforts to take down the WikiLeaks website or asking companies to do so.
The site's efforts to publish 250,000 diplomatic cables has been hampered by denial-of-service attacks, ejection from its server host and cancellation of its name by its American domain name provider. Each time WikiLeaks has worked out other arrangements to bring the site back online.
In written answers to readers' questions posted on the website of the British newspaper The Guardian, WikiLeaks' founder Julian Assange alleged "abusive elements of the United States government" were behind the site's technical problems.
A State Department spokesman disputed that the U.S. government was involved.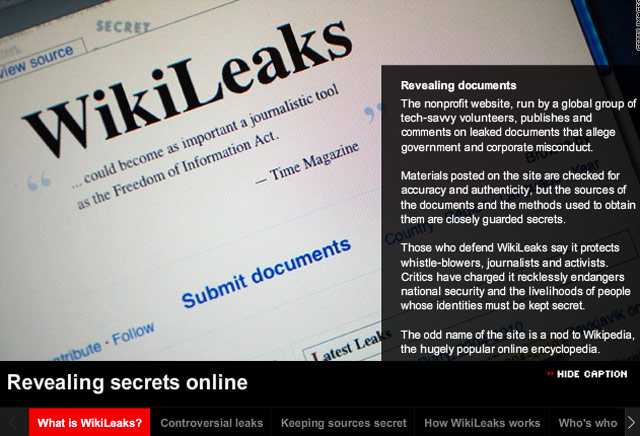 What is WikiLeaks? How it works

WikiLeaks battles to stay online

A look inside the 'Wiki-Cave'

White House responds to WikiLeaks latest
"I am not aware of any conversations by the United States government with either any internet host here or any government over there at this point," said spokesman P.J. Crowley.
A Defense Department official also denied causing the technical problems slowing the WikiLeaks release of secret U.S. government documents.
"I am not aware that the Department of Defense is behind any of the problems that WikiLeaks is experiencing," Col. Dave Lapan, Pentagon spokesman, said Friday. "We are not aware of what is causing the problems that WikiLeaks is experiencing."
Lapan said the military's Cyber Command has both defensive and offensive capabilities but is limited where and how it can operate.
"Cyber Command is to protect DoD networks," Lapan said at an off-camera question session with journalists. "There are other agencies of the U.S. government that get involved in the commercial side. So there are certainly legal and other boundaries that would have to be considered."
The Pentagon's top spokesman, Geoff Morrell, said earlier this week that Secretary of Defense Robert Gates does not want to use the Pentagon's online resources to go after WikiLeaks because the impact of the documents being published is not severe enough to warrant it.
The United States is trying to track where WikiLeaks is publishing from, Crowley said.
"What we are doing is, we are tracking where these documents are emerging from. Just to keep track of what is being released and, as we have been doing for some time, trying to assess impact. So we are monitoring where documents are emerging from," Crowley told reporters Friday.

Part of complete coverage on

What next for WikiLeaks editor and founder Julian Assange, now that he's been released on bail in the UK?

Julian Assange says the sexual misconduct charges against him are little more than an effort to discredit him and his organization.

WikiLeaks editor walks out of London court after being freed on bail nine days after being arrested for questioning about alleged sex crimes in Sweden.

In 2006, Julian Assange was apparently looking for a date. After launching WikiLeaks, he evidently created a profile on OkCupid.com.

A court in London found itself in the world's spotlight, as a small army of celebrities turned up to offer support -- and bail money -- to Julian Assange.

The founders of Openleaks.org say they are former WikiLeaks members unhappy with the way the organization is being run under Julian Assange.

Hackers who support WikiLeaks want others to replicate the attacks they say took down the websites of MasterCard and Visa.

Does Julian Assange's threat to release "Doomsday Files" from Wikileaks carry validity?


Most popular stories right now