STORY HIGHLIGHTS
Nancy Pelosi will stop flying on military planes in January
Young Republican takes on Republican National Committee chairman Michael Steele
National Journal's The Hotline out with its "10 Worst Campaign Ads of 2010"
Washington (CNN) -- Politics is serious business -- but not all of the time. From the halls of Congress to the campaign trail to the international stage, there's always something that gets a laugh or a second glance. Here are some of the things you might have missed:
Goodbye Air Force planes
When the new Congress convenes in January, Rep. Nancy Pelosi will find herself back to flying commercial, AOL's Patricia Murphy writes. As speaker of the house, Pelosi traveled on Air Force planes, a practice incoming House Speaker John Boehner has vowed to end.
While the new House minority leader will be flying commercial back to her San Francisco, California, district, don't expect her to face the same security screenings as you do: Like Boehner, she will skip security screening and go right to the gate.
And it's unlikely she'll be flying coach because of her armed security detail and political entourage.
Paging Dr. Freud
Canada's industry minister, speaking before a crowd in Ottawa on Monday, blurted out that, "We need more Canadian sex stories," Reuters reports.
After some laughter, Tony Clement corrected himself saying: "We need more Canadian SUCCESS stories ... like RIM and its world-famous -- and now ubiquitous -- BlackBerry."
From the "Pool"
The New York Times' Helene Cooper has a hilarious pool report from President Obama's visit to a school in Indiana:
"Second unannounced stop...Sycamore Elementary, where around 300 deliriously excited and screaming kids lined up outside. Did pool mention screaming? Think Michael Jackson in Tokyo type screaming. 'Omigod he touched me! He touched me!' Yelled one little girl in pink. 'He's right up there!' Yelled one boy."
Tarnished Steele?
Talking Points Memo reports that Thomas Shultz, a 22-year-old student at Brigham Young University, is fed up with Republican National Committee chairman Michael Steele and isn't going to take it anymore.
And Shultz has a plan: creating a grassroots campaign in the form of a new website, ReplaceMichaelSteele.com.
"As Republicans, we have lost all confidence in Michael Steele and are committed to stopping his re-election as chairman of the Republican National Committee," he writes on the site. "We need an effective leader who can guide the party and fix the tarnished reputation of the RNC. For these reasons, we urge all 168 voting members of the RNC to vote against Michael Steele in January."
Move over Letterman
National Journal's The Hotline is out with its must-see top "10 Worst Campaign Ads of 2010."
"So from children pawing Rep. Alan Grayson's (D-Florida) face, to the infamous 'Hicky' ad to a hot dog eating contest, here are our picks as the worst ads of the cycle," the Hotline editors write.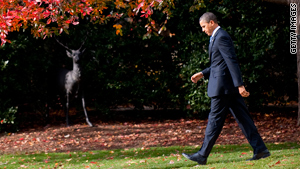 Deer crossing
Getty Images: President Obama leaves the Oval Office on Tuesday, walking past what appears to be a deer lawn ornament.
Headline of the day
Mediaite: "Rush Limbaugh: 'Keep Your Hands Off My Teabag, Mr. President'"
Notable quotable
"She can Twitter and Facebook away and then the press goes and reports on her tweets. It is so monopolized at this point that for me it steeps dangerously into the realm of some strange science-fiction movie from the '60s" -- Meghan McCain's Daily Beast column on Sarah Palin.
Livin' it up at the 'W'
From FishbowlDC: "Before turkeys head to the White House to meet the president, they will live in the lap of luxury at the city's famed W Hotel. They will allegedly enjoy the view from P.O.V, the hotel's rooftop bar and lounge that overlooks the White House. ... Turkeys will enjoy 'W Munchie Boxes' filled with acorns, berries, corn and 'other bon vivant treats' that turkeys apparently love."
Late-night laughs
Conan O'Brien: "Over the weekend, Secretary of State Hillary Clinton said she would not like to go through the pat downs herself. After hearing this, Bill Clinton said 'I think we all know where Hillary stands on being touched.' "
Jimmy Kimmel: "Bristol Palin, who isn't any good at all [on "Dancing With The Stars"], but whose mother has an army of Eskimo robots voting for her 24 hours a day."
Jimmy Fallon: "This weekend a TSA worker gave me a pat down and found another TSA worker's hand already down my pants."
Jay Leno: "The White House was briefly evacuated today after a small plane crossed over into restricted air space. Somebody at the White House yelled, 'everybody get out!' and President Obama said 'it's 2012 already?'"
FOLLOW THIS TOPIC