Bedbug forum draws crowd to Capitol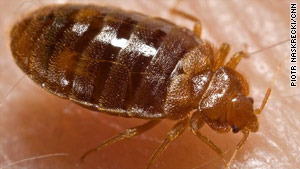 Bedbug calls have increased by 81 percent since 2000, according to the National Pest Management Association.
STORY HIGHLIGHTS
Bedbug infestation issue gets hearing on Capitol Hill
"They are virtually unstoppable," bedbug expert tells congressional forum
Statistics show dramatic increase in bedbug calls to pest management companies
Two congressmen have introducted a bill to fund inspections and research
Washington (CNN) -- Lawmakers, government officials and industry leaders filled a room at the U.S. Capitol on Thursday, not to talk about tax cuts or election results, but bedbugs, something many in the audience felt was just as important.
"They are virtually unstoppable," Michael Potter, a bedbug expert from the University of Kentucky, told an auditorium full of people concerned about the resurgent tiny bloodsucker.
It was called the Congressional Bedbug Forum, hosted by Reps. G.K. Butterfield, D-North Carolina, and Don Young, R-Alaska.
"This is probably the only bipartisan bug I know of. They bite anyone and everyone, anywhere," Young said jokingly.
But bedbugs are no joke to the many who have been bitten by one.
According to a study released over the summer, 67 percent of nearly 1,000 pest management companies surveyed have treated bedbug infestations in hotels or motels. Overall, bedbug calls have increased by 81 percent since 2000, according to the National Pest Management Association, which conducted the 2010 Comprehensive Global Bed Bug Study with the University of Kentucky.
Infestations tend to occur more frequently in urban and suburban areas with larger populations, according to the study, but the tiny pests aren't particular about their accommodations. Bedbugs may take up residence anywhere from houses and laundry facilities to budget hotels and four- and five-star resorts.
This increase in the bloodsucking pests led Young and Butterfield to introduce a bill they've dubbed the "Don't let the Bedbugs Bite Act," which would provide government funding for hotel inspections and research in hopes of getting the problem under control.
Researchers identify increased travel as a key reason for the spike in infestations, and with the Thanksgiving holiday just around the corner, millions of people will be traveling not knowing of their newly found companions, "they are insidious hitch-hikers ... bedbugs in a backpack, bedbugs on the bottom of a shoe," Potter said as he showed slide of the bugs to illustrate his point.
Experts recommend washing your clothes and vacuuming your suitcases as soon as you return from a trip.
Though the insects aren't known to transmit disease to humans, bites may itch and cause an allergic reaction in some people. Still, some researchers, including Potter, worry that it's only a matter of time before the bugs cause more serious health problems.
FOLLOW THIS TOPIC