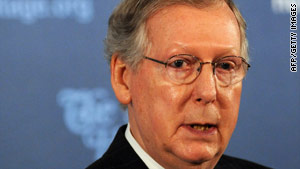 Sen. Mitch McConnell, a longtime defender of earmarks, says he intends to vote for the ban.
STORY HIGHLIGHTS
Senate Majority Leader Harry Reid calls an earmark ban a step backward
Senate Minority Leader Mitch McConnell says he'll back an earmark ban
Earmarks are a symbol of "out-of-control spending," he says
Obama agrees, but says they are "only part of the problem"
Washington (CNN) -- The GOP caucus in the Senate agreed Tuesday night to ban earmarks, a policy House Republicans already have in place and are expected to keep in the new Congress.
The idea of prohibiting members from designating funding for specific projects in their states or districts is popular with reform-minded deficit hawks, but it has traditionally been opposed by some congressional veterans trying to steer funds to constituencies back home.
Senate Minority Leader Mitch McConnell, R-Kentucky, a longtime defender of earmarks, announced Monday that he would vote for the ban.
"I'm not wild about turning over more spending authority to the executive branch, but I have come to share the view of most Americans that our nation is at a crossroads," McConnell said on the Senate floor. The "only way we will be able to turn the corner and save our future is if elected leaders like me make the kinds of difficult decisions voters are clearly asking us to make."
But McConnell also expressed his own personal conflict on the issue.

McConnell backs banning earmarks

Paul says 'no' to earmarks
"Make no mistake, I know the good that has come from the projects I have helped support throughout my state. I don't apologize for them," McConnell said. "But there is simply no doubt that the abuse of this practice has caused Americans to view it as a symbol of the wasted and the out-of-control spending that every Republican in Washington is determined to fight."
President Barack Obama responded with a statement welcoming McConnell's "decision to join me and members of both parties who support cracking down on wasteful earmark spending, which we can't afford during these tough economic times."
But the president added, "We can't stop with earmarks as they represent only part of the problem."
As Republicans voted in their caucus, Democratic Sen. Claire McCaskill of Missouri said she wants the full Senate to vote on a binding moratorium that would include Democrats, too.
"The arguments against this, every single one of them, I just don't think pass the smell test," she said about senators who oppose a ban.
But Senate Majority Leader Harry Reid, D-Nevada, later indicated disagreement with McCaskill. Reid defended earmarks Tuesday, telling Capitol Hill reporters he has "an obligation to the people of Nevada ... not to some bureaucrat with green eyeshades."
"I think (an earmark ban is) a tremendous step backward," Reid said. "It just gives more power to the executive. ... I am not in favor of delegating my constitutional responsibility to the White House."
Nevertheless, McCaskill's push puts pressure on Senate Democrats, many of whom agree with Reid, to get behind a ban, which has taken on increased political significance in light of Tea Party gains in the midterm elections.
McCaskill is working with Republican Sen. Tom Coburn of Oklahoma on an earmark-ban amendment they might add to a food safety bill that's expected to be on the floor later this week. She is working with Democratic leaders to schedule a vote.
The ban would come in the form of a change in Senate rules, an aide to Coburn explained. Senators would be allowed to raise points of order against bills with earmarks, which would be binding.
"If these things (earmarks) are so good, will someone tell me how they're decided," a spirited McCaskill asked reporters. "Little cards getting handed around in caucus. There is not an open process. Who decides who gets the most money and on what basis is that decided?"
McConnell, who unexpectedly lent his support to the ban, said in a speech this month to the Heritage Foundation that "you could eliminate every congressional earmark and you would save no money."
That's because earmarks don't represent extra spending. They represent spending that lawmakers have already approved for federal agencies. And earmarks typically account for less than 1 percent of the budget.
For the earmark ban to reduce spending, "you have to lower the spending authorizations by the same amount," said Maya MacGuineas, fiscal policy director at the New America Foundation.
It's typically up to federal agencies to decide how their money gets allocated to projects in states, cities and counties, and those decisions are made through an application-and-review process, except when earmarks are involved.
Definitions of earmarks vary widely, and agencies catalog them differently. But typically an earmark is defined as a slice of agency money that a lawmaker or the president requests be set aside for a specific project.
So earmarks are not subject to the same review process, and they are often slipped into unrelated spending bills at the last minute without most people's knowledge.
The notion that earmarks are wasteful bridges to nowhere is misleading.
Residents of a state or city may not view federal dollars earmarked to help them improve their transit system as a waste.
The problem is that the earmark system is based on "political muscle rather than merit," said Steve Ellis, vice president of Taxpayers for Common Sense, a nonpartisan spending watchdog group.
The earmark issue is one of several the lame-duck session of the Democratic Congress is expected to tackle.
The session convened Monday, with members preparing to make decisions on a host of contentious issues that could have major political ramifications for Obama and the incoming Republican House majority.
At the top of the agenda: whether to extend the Bush tax cuts for families making more than $250,000 a year. Republicans contend that failure to extend the cuts for everyone would be a mistake in a weak economy. Obama considers such a move a roughly $700 billion budget-busting mistake, but he recently suggested he's willing to compromise.
If Congress fails to act, all the cuts will expire at the end of the year.
In addition to the tax cuts, the lame-duck Congress also has to consider expiring cuts in the estate tax and decide what to do about a bill that is keeping the government running but is set to expire December 3.
Other items on the agenda include:
-- A possible repeal of the military's "don't ask, don't tell" policy barring gays and lesbians from serving openly in the armed forces.
-- Ratification of the nuclear arms reduction treaty with Russia.
-- A child nutrition bill backed by first lady Michelle Obama.
-- The Dream Act, which would create a path to citizenship for young illegal immigrants if they attend college or serve in the military.
CNN's Alan Silverleib, Dana Bash, Ted Barrett, Deirdre Walsh and Paul Steinhauser contributed to this report
FOLLOW THIS TOPIC