MSNBC's Olbermann returns to work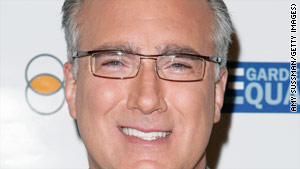 Keith Olbermann's show, "Countdown," is one of the highest-rated shows on MSNBC.
STORY HIGHLIGHTS
Keith Olbermann donates to three Democrats seeking federal office
The contributions are a violation of NBC policy
Olbermann's show, "Countdown," is a staple of MSNBC's programming
Read Keith Olbermann's statement to "Countdown" viewers.
(CNN) -- MSNBC prime-time host Keith Olbermann was back on the air Tuesday night after missing a couple of nights of work for violating the ethics policy of the cable network.
Olbermann was suspended Friday after Politico reported that he had donated to three Democrats seeking federal office.
Olbermann gave $2,400 -- the maximum individual amount allowed -- to each of the campaigns of Kentucky Senate candidate Jack Conway, and Arizona Reps. Raul Grijalva and Gabrielle Giffords.
Conway lost his bid, while Grijalva and Giffords eked out wins.
"After several days of deliberation and discussion, I have determined that suspending Keith through and including Monday night's program is an appropriate punishment for his violation of our policy," Phil Griffin, president of MSNBC said in a weekend statement. "We look forward to having him back on the air Tuesday night."
The contributions violated an NBC policy that requires employees of the news organization to obtain permission ahead of any political donations or activities that could be deemed as a conflict of interest.

Olbermann sidelined: The media reaction
In what was apparently his first public comment since his suspension was announced, Olbermann wrote Sunday on his Twitter page: "Greetings From Exile! A quick, overwhelmed, stunned THANK YOU for support that feels like a global hug & obviously left me tweetless XO."
His comment was posted prior to Griffin's statement.
Olbermann's show, "Countdown," has been a staple of MSNBC's prime-time programming, and has some of the highest ratings on the network.
Olbermann, as well as MSNBC executives, was a vocal critic of the $1 million donation by Fox News' parent News Corp. to the Republican Governor's Association earlier this year, saying at the time, "We now have another million reasons Fox News is the Republican news channel."
In a subsequent show, Olbermann also pressed House Majority Whip James Clyburn if there was a "legislative response" to a network that "starts to shill for partisan causes."
A News Corp. spokesman defended the donation when it was first reported in August.
"News Corporation believes in the power of free markets, and the RGA's pro-business agenda supports our priorities at this most critical time for our economy," the spokesman said.
FOLLOW THIS TOPIC