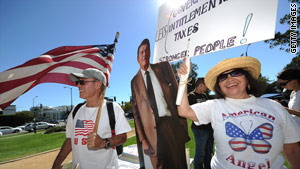 The Tea Party movement is expected to be a powerful player again in the 2012 elections.
STORY HIGHLIGHTS
Some lawmakers are already quietly discussing whether to run for re-election in two years
Thirty-three Senate seats are up for grabs in 2012
Political climate will likely be less friendly in 2012 to Democrats than in 2006
Some GOP senators will likely be attacked by Tea Party movement
(CNN) -- Three days after Democrats took a whipping in the House in the midterm elections, jockeying has already begun in the next battle for the Senate, with Democrats -- and even some Republicans -- already feeling the heat.
Some lawmakers are already quietly discussing whether to run for re-election in two years. Thirty-three Senate seats are up for grabs in 2012, with 23 of those belonging to Democrats and the two independents who caucus with them.
It's doubtful that the political climate will be as friendly in 2012 to Democrats as it was in 2006, when the party won back control of both the House and the Senate. Among those Democratic senators who could face challenging re-elections: Sherrod Brown of Ohio, Jim Webb of Virginia, Ben Nelson of Nebraska, Claire McCaskill of Missouri, Jon Tester of Montana, Kent Conrad of North Dakota, Bill Nelson of Florida, and Sen.-elect Joe Manchin of West Virginia.
"There is no question that Democrats start the next cycle on the defensive. They're defending more seats in some tough, red, territory," said Nathan Gonzales, political editor at the nonpartisan Rothenberg Political Report. "But at least Democrats have the advantage of time. We're still a long way from the next elections and it's impossible to know where the economy will be in two years."
Independent Sen. Joe Lieberman of Connecticut, who is part of the Democrats' coalition in the chamber, is also up for re-election. The big question is whether he'll face one or two opponents.
But it's not just Democrats who will be facing difficult re-elections.
While Sen. David Vitter of Louisiana survived a sex scandal in this year's election, there's no guarantee Sen. John Ensign of Nevada, also tainted by a sex scandal, will be as successful when he's up for re-election in 2012. And Sen. Scott Brown of Massachusetts, who pulled an upset earlier this in year in the battle to succeed the late Sen. Ted Kennedy, will be in the Democrats' sights next election.
But it's not just Democrats that Republicans have to fear. The Tea Party movement successfully targeted incumbent GOP Sens. Bob Bennett of Utah and Lisa Murkowski of Alaska in this year's primaries. While Murkowski may survive, thanks to a general election bid as a write-in candidate, the writing is on the wall for Republican lawmakers who have in the past been willing to compromise with Democrats and who may not be fiscally conservative enough for Tea Party activists.
Republican senators up for re-election who could come under attack by the Tea Party movement include, Orrin Hatch of Utah, Olympia Snowe of Maine, Richard Lugar of Indiana, Bob Corker of Tennessee, and even Brown, who received assistance from Tea Party activists in his election victory at the beginning of the year.
On Wednesday, Red State's Erick Erickson, a CNN contributor, added Brown to his list of "Potential Tea Party Targets for 2012." Tea Party supporters have issues with some of Brown's votes since he was sworn in. Among national Tea Party groups, Tea Party Express took the lead this year in targeting what they call "Republicans in name only," or RINOs.
"Hopefully the 2010 election results will cause more senators to see the light about excessive growth of government and deficit spending. So we will give them a chance to improve before we make them feel the heat in their re-election campaigns," said Tea Party Express spokesman Levi Russell. "After the results this week, my guess is many senators will suddenly be more willing to adhere to conservative ideals."
An influential conservative senator who bucked his party leadership when it came to primary battles for open Senate seats this year said he won't be targeting fellow Republicans in the chamber in 2012.
"I have no intentions, at this point, of supporting primary challengers to any of my colleagues," Sen. Jim DeMint of South Carolina told CNN's John King on Wednesday.
"I think you may see primary challenges if our colleagues don't do what we've promised as Republicans. And that's to support constitutional limited government. I didn't recruit any primary challengers this time. ... But the people, I believe, will help us make those decisions."
FOLLOW THIS TOPIC