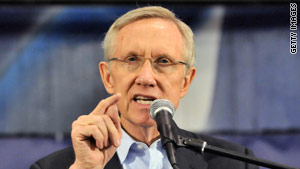 Senate-watchers are pondering what will happen if Majority Leader Harry Reid loses his seat in Tuesday's election.
STORY HIGHLIGHTS
Senate experts say GOP gains won't improve prospects of bipartisan cooperation
Lame-duck session after election could set the tone for efforts to reduce national debt
Opinions split on how much difference new Tea Party-backed senators will make
Another question: Who becomes majority leader if Harry Reid loses his seat?
Editor's note: Ted Barrett has covered Congress for CNN for 11 years.
Washington (CNN) -- Senate Democrats learned this year how difficult it was to pass bills over a determined GOP minority. Now they are bracing for possible legislative gridlock as Republicans are poised to pick up several seats in Tuesday's election.
Any expectations that a more evenly divided Senate might actually lead to cooperation and compromise could be unrealistic. The animosity and distrust between the two parties is already thick, and likely to get worse as the 2012 presidential campaign gets under way.
President Obama regularly talks about bringing the sides together -- doing so might allow him to hash out deals this year on energy, education, trade and the debt -- but Republicans are highly skeptical he will make compromises. "He will go into campaign mode and try to make us look evil," a senior GOP leadership aide predicted, echoing the broad sentiment of Republicans on the Hill.
Democrats are equally doubtful that Republicans will want to work with them. For starters, they think newly elected Tea Party-backed senators, who have promised to curb Washington's influence, will press Republican leaders not to cut deals.
"Many Republicans appear to be opposed to the very idea of coming here to legislate," said a top Senate Democratic leadership aide.

Video: Tea Party remains optimistic

Video: Michael Steele: Big day for GOP

Video: Van Hollen confident for Dems

Video: Midterm elections a day away
Democrats are also wary of a recent comment by Senate Republican Leader Mitch McConnell, who told the National Journal, "The single most important thing we want to achieve is for President Obama to be a one-term president."
Former Sen. John Sununu of New Hampshire, a Republican, told CNN it will be up to Obama to set the tone early.
"What is the president's signal the day after the election?" Sununu asked. "If he's saying the same kinds of things [he is] now -- you know, 'We're going to punish our enemies and help our friends' -- if that's still his message on November 3, then he binds the ability" of Senate Democrats and Republicans to work together.
The first test of a new relationship will come in mid-November when Congress convenes a post-election lame-duck session to try to clear unfinished legislation before the newly elected Congress convenes in January. Among other issues, lawmakers must decide whether and how to extend Bush-era tax cuts.
"If the president comes out of the box, in the lame duck, when they're trying to deal with the tax issues and says, 'No way, no how, we're not doing tax cuts for the rich and I'm not changing my tune,' then that puts the prospective new Democratic leadership in a box because they really aren't in a position to say, 'Oh no, Mr. President, you're wrong,'" Sununu said.
The tone set in the lame-duck session may also set the stage for whether lawmakers can find ways together to hack away at the massive debt, a top priority for both parties. The long-awaited results of a bipartisan debt commission are due in early December. Recommendations are expected to include controversial reductions in benefits from Social Security, Medicare and Medicaid, the key entitlement programs that drive the nation's debt.
"The White House is still deciding on how to approach Republicans," the Democratic leadership aide said. "Everyone will be in a period of assessment after the election to figure out next steps. I simply don't know what will happen."
Tea Party impact
While the Tea Party sparked energy and enthusiasm this election with its anti-establishment message, it's an open question whether new Tea Party-backed senators will truly be able shake up the tradition-bound Senate. Some say they will. "People like Rand Paul [the Republican Senate candidate from Kentucky] are coming here to tear the place down to rebuild it in their image," a senior Democratic leadership aide said. "Establishment Republicans will be roadkill."
"You're going to have several noncareer politicians entering as new senators," said Ron Bonjean, a former top aide to Republican leaders in both the House and Senate. "It will be a turbulent few months as they get to know the institution and how it works. They're going to want to shake it up quite a bit."
"They were elected as outsiders and they will probably act like outsiders in a club atmosphere," he said.
A Senate Republican leadership aide said Tea Party senators might stir things up, but that would be fine.
"Tea Party senators will keep us thinking about the priorities the voters are asking us to focus on -- debt, taxes, spending. That's a good thing. On the actual functioning of the Senate, they may be for shutting things down, but I don't think most Americans would be upset" if they do, the aide said.
Sununu has a different take. When asked what the impact of Tea Party senators will be, he replied, "Absolutely nothing. This is not only a story that's overblown, but it's 180 degrees from the truth."
Despite all the attention paid to Tea Party-backed candidates like Sharron Angle in Nevada and Joe Miller in Alaska, most of the possible new GOP senators are firmly ensconced in the Republican establishment, he said.
Sununu pointed to Dan Coates of Indiana, Rob Portman of Ohio, Roy Blunt of Missouri, John Boozman of Arkansas, John Hoeven of North Dakota, and Mark Kirk of Illinois as examples of that. "These guys go around with capital Es [for "establishment"] on their sweaters," Sununu joked. "This is like the most establishment insider class of senators that you've had, I bet, in 35 years. So, old Sharron Angle's over there in the corner of the room. So what?"
What will really count for these new senators is how well they work with their colleagues, he noted. He pointed to Republican Sens. Jim DeMint of South Carolina and Tom Coburn of Oklahoma, who are both very conservative and well-liked by the Tea Party movement, but who approach their jobs very differently.
Coburn is "deeply respected" by his Republican colleagues because he builds consensus, and communicates well. "It's been just the opposite for Jim," Sununu said.
"That's been my message to Ken Buck and others as they've campaigned: Focus on winning your campaigns, but if and when you do succeed, you want to look carefully at a couple of different models for how to take a conservative message to the Republican caucus in the House or Senate, and I think Tom Coburn is a great model to follow," Sununu said.
With or without Reid?
One major uncertainty facing Democrats is the question of whether Majority Leader Harry Reid of Nevada will survive his surprisingly tough re-election battle against Sharron Angle.
If Reid loses, his top two deputies --- Sen. Dick Durbin of Illinois and Sen. Chuck Schumer of New York -- are expected to vie to replace him. Whoever wins will no doubt bring a different tone from Reid's to negotiations with House and Senate Republicans. Republican aides relish the idea of Reid losing. They think he's a strident partisan, and he has thorny relationships with many GOP senators.
Both Durbin and Schumer are considered by their peers on both sides of the aisle to be smart, strategic, articulate and possibly more open to compromise than Reid. Schumer has boundless energy and hungers for the spotlight. Durbin is more low-key, but determined. Ironically, Durbin and Schumer share a townhouse on Capitol Hill. Neither has a clear advantage in the race, according to Democratic aides and senators, who are reluctant to talk on the record about the issue because they hope Reid wins. If it comes to it, the leadership election will take place November 16 in the Capitol.
FOLLOW THIS TOPIC