Virginia voter symbolizes Democrats' dilemma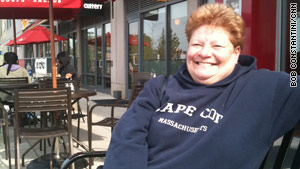 Fran Klein, a semiretired teacher, says she plans to vote for a Republican for Congress to "checkmate the Democrats."
STORY HIGHLIGHTS
Democratic incumbent faces GOP contender in Virginia's 11th Congressional District

Fran Klein, a dyed-in-the-wool Democrat, voted for Barack Obama in 2008

Klein says she'll "hold my nose, and vote Republican, only for this race"
IndependentVoting.org activist: Independents growing, and they "don't like political parties!"
Merrifield, Virginia (CNN) -- The roads leading to Fran Klein's gym are filled with signs staked into the ground by thin metal wire -- easy to remove. It's impossible not to know where the 11th Congressional District begins and ends in this corner of Northern Virginia.
Democratic U.S. Rep. Gerry Connolly is facing a serious challenge from Republican Keith Fimian. Washington TV and radio stations have been swamped with their ads, as this corner of the district is just 10 miles away from the Capitol.
A 60-year-old semiretired teacher, Klein speaks as a dyed-in-the-wool Democrat. But her decision to "hold my nose, and vote Republican, only for this race" provides a glimpse of why Democrats around the country are facing the prospect of losing control of the House of Representatives.
Sitting on a bench outside the gym, Klein talks happily of supporting Barack Obama in his somewhat surprising 2008 win in Virginia; two years earlier, she notes she was thrilled when Democrats took control of the House and Senate.
What's changed, this time around? "The economy," Klein starts, though she says she and her husband are financially secure.
"I have grave concerns about the bills that have been passed and how we're going to finance them, and if my children ... or my grandchildren are going to be forced to pay for them."
Klein turns quickly to how she backs "Obama's ideas." And she even mentions one of the signature achievements that Democrats on the trail are almost universally reluctant to mention: health care reform.
"But we don't have the money to finance it," she adds. "I just can't fathom ... having all these programs when you can't pay for them."
Ask Klein if she can "empathize" with Tea Party activists who have crusaded against massive deficits, and she says she considers them "too extreme and too radical" for her liking.
Will she stay a Democrat?
"I don't support any of [the Republicans'] positions, except on the economy," Klein responds. She says she finds many of the GOP stances "offensive to me," singling out abortion. "I believe if the Democrats win ... they will continue spending."
She says she's going to vote for Fimian because she wants Republicans to win control of the House to "checkmate the Democrats" and their ways.
Political tea leaves may point to Republicans taking the House. But they shouldn't get comfortable, according to Jackie Salit of IndependentVoting.org. The group urges Americans, especially young voters to disdain both of the major parties.
With 40 percent of voters nationwide now "independent," Salit rejoices in the toppling of Democratic and Republican domination in elections past. She calls it "the anti-establishment trajectory" that in 2010 will probably lead independents to "take control of Congress away from the Democrats."
"It does not follow from that that independents have embraced the Republican Party any more than it would be fair to say that independents had embraced the Democratic Party after electing Barack Obama."
Their numbers appear to be growing, she says, and they "don't like political parties!"
FOLLOW THIS TOPIC


Part of complete coverage on

Which states helped to swing the House balance of power? See detailed results for ballot measures and races for House, Senate and governor.

See if polls matched up with election results. CNN's Polling Center offers comprehensive election data from national and state pollsters.

Now that the voting is over, who are this year's winners and losers? How will the new House and Senate change key issues that affect millions?

A snapshot of the nation's political pulse. See how participants measured up to our mobile iReport election challenge.

Get in-depth information about the issues that are most important to Americans and join the debate.

Keep up with the latest headlines in the aftermath of the 2010 midterm elections from the Best Political Team.


Most popular stories right now