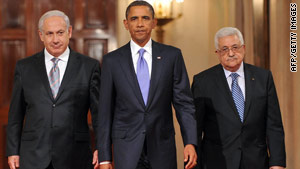 Some worry President Obama is losing Israeli Prime Minister Ben Netanyahu and Palestinian President Mahmoud Abbas.
STORY HIGHLIGHTS
Diplomats are calling Obama administration's handling of Mideast "amateur hour"
Failure to guide ideas from podium to policy is perceived as a U.S. retreat from region
America's inability to play a big Mideast role "pretty demoralizing," a diplomat says
Since becoming State Department producer in 2000, Elise Labott has covered four secretaries of state and reported from more than 50 countries. Before joining CNN, she covered the United Nations. Follow her on Twitter at @eliselabottcnn
Washington (CNN) -- With talks between Israel and the Palestinians in limbo, those in the region are wondering whether the U.S. has lost the necessary muscle to have influence on players across the Middle East.
For the past month, Mideast followers have painfully watched as the U.S. tried to secure an extension of the settlement freeze from Israeli Prime Minister Benjamin Netanyahu, which would keep Palestinian President Mahmoud Abbas at the table and save the recently jump-started peace talks from completely breaking down.
While disappointed, nobody was surprised that Netanyahu didn't extend the freeze, even after President Obama expended serious political capital by calling for the freeze in his speech last month to the United Nations General Assembly.
We've seen this happen several times over the past year. The Obama administration demands a settlement freeze. Netanyahu says no. And the U.S. is forced to plead with Abbas to negotiate anyway, giving in on the position the U.S. laid out in the first place.

Video: When past peace talks failed
Now the U.S. is willing to give all kinds of goodies to Israel for a two-month moratorium on settlements in the hopes that will give the parties time to negotiate a deal on borders before they are back in the same exact place asking for another freeze, including security guarantees, military hardware and support at the United Nations.
It almost reminds you of the Charlie Brown cartoon in which Lucy always pulls away the football when Charlie Brown goes to kick it. Yet he keeps stepping up, hoping this time will be different.
More than one Middle Eastern diplomat has called it "amateur hour."
"This administration is the most friendly to the Palestinians ever but the execution is appalling," one senior Palestinian official said. "They have fallen into every trap the Israelis have set for them. And they have fallen into every trap we have set for them." Ironically, but not surprisingly, this official didn't want to cause tensions in the relationship with the Obama administration by speaking on the record.
Beyond getting a settlement freeze and getting the parties in a room with George Mitchell and his magic bag of negotiating tricks, diplomats worry there is no coherent plan for moving the region to a comprehensive peace deal between Israel and its neighbors.
Rather they say it's the same cautious, incremental approach that has failed for the past 19 years since the U.S. promised in Madrid, Spain, to be the broker of Mideast peace.
Given the international goodwill Obama had upon taking office for simply not being President Bush, his appointment of Mitchell as his Mideast peace envoy during his administration's first week and the transformational agenda he offered for a "new era" in U.S. relations with the Arab and Muslim world in his Cairo, Egypt, speech, it is surprising to see the U.S. in the position it now finds itself in.
But although it came into office hoping to seduce the region rather than fight it, the Obama administration has not delivered on the tantalizing promises it made since taking office, not only to show progress on solving the Israeli-Palestinian conflict, but to encourage democratic reform. These dashed expectations Obama has created in the region are not just disappointing, they are damaging U.S. credibility in the region and have diplomats and Middle East experts scratching their heads about just what Obama's vision for the region is.
"This administration came with good intentions, it came with renewed willingness to deal with the region, and not from a big brother sort of perspective, but through partnership," said Marwan Muasher, a former Jordanian foreign minister now at the Carnegie Endowment. "But President Obama has not translated his Cairo speech and all these good intentions into a coherent program and that is why his credibility among the Arab public has declined."
Part of the problem, diplomats say, is that Obama has yet to form close bonds with any Arab leader. Many diplomats in Washington and abroad lament that between the administration's plethora of special envoys and the various camps within both the White House and the State Department, it's hard to know exactly who is making policy or what the policy is.
"Let's be honest, nobody agreed with the Bush policies," a senor Arab diplomat told me. "But he sat across from you and looked you in the eye and told you what he was going do, and why. And then he did it. In our region we want to sit with you, get to know who you are. No leader wants to hear about U.S. policy from a podium."
To many in the Middle East, this failure to guide Obama's ideas from podium to policy is perceived as a U.S. retreat from the region, which has opened up a qualitative and destructive shift in the region, most evident with respect to Lebanon.
The Obama administration has stepped up its engagement with Syria in the belief of the centrality of Damascus in dealing with the Middle East peace process, Iraq and Iran. Yet Syria, emboldened by Saudi Arabia, has interpreted the lack of U.S. pressure it faced during the Bush administration as a green light to once again meddle in Lebanon.
As a result, Syria is turning up the pressure on the government of Saad Hariri to quash the U.N. tribunal into his father's murder before it indicts members of Hezbollah.
Even as Washington was delivering tough warnings to President Bashar al-Assad that the U.S. would hold Syria responsible for destabilization of Lebanon, the Syrian leader hosted Iranian President Mahmoud Ahmadenijad, where he blasted the U.S. peace process and pledged his "eternal stance of Syria to be on the side of Iran."
In a visit that is raising tensions in the region, Ahmadenijad will land in Lebanon next week, where he will undoubtedly thumb his nose at the U.S. fecklessness in stopping his and Assad's plan to aid Hezbollah in trying to topple the Hariri government, which runs the risk of either civil war or Israeli military intervention.
At best Washington has gotten precious little for its cozying up to Syria. At worst, this complete lack of fear of the U.S. leaves Lebanon as the battleground in a proxy war.
In Iraq, the U.S. has deflected repeated requests from leaders to engage a high-level, sustained mediation process to help the Iraqis form a government. Iran, meanwhile, has a delegation on the ground working around the clock to help form a government that tilts toward Tehran's Shiia interests.
"Everything the U.S. has established depends on the formation of a workable government," Iraqi foreign Minister Hoshar Zebari tells me. "The Iraqis have not succeeded and we need help from our friends. And this help is in short supply."
America's inability to play a meaningful role in shaping these troubling events has many diplomats in the Mideast questioning whether the indispensable power in the region is really so indispensable anymore. As one senior Arab diplomat put it, "it's pretty demoralizing."
With the departure of National Security Advisor James Jones last week, the hope is that the Obama administration will get its house in order and articulate a vision for the region.
If it doesn't, there are several other countries who will, starting with Iran. Turkey and even Qatar are both becoming more assertive in filling the leadership vacuum, which could fundamentally alter the balance of power in the Middle East.
FOLLOW THIS TOPIC