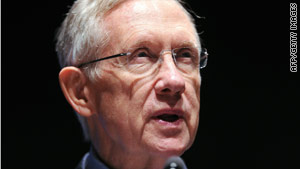 Senate Majority Leader Harry Reid and other Democratic leaders have expressed desire to extend the tax cuts.
STORY HIGHLIGHTS
NEW: Reid's spokesman says no vote on tax cuts before the November elections
NEW: Democratic senator says critics would mischaracterize the issue
GOP and some Democrats warn of economic fallout if all the tax cuts aren't extended
White House accuses Republicans of stalling the bill
Washington (CNN) -- Senate Democrats will not vote on extending Bush-era tax cuts for families making less than $250,000 a year before the upcoming congressional elections, the spokesman for Majority Leader Harry Reid confirmed Thursday.
"We will come back in November [after the elections] and stay in session as long as it takes to get this done," said a statement from Reid's spokesman, Jim Manley.
The announcement followed reports by CNN, citing senior Democratic sources, that Senate Democrats would hold off for now on forcing a vote on the measure pushed by President Obama.
"The reality is, we will not pass what needs to be passed to change this either in the Senate or the House before the election," said Sen. Dick Durbin of Illinois, the second-ranking Democrat in the Senate.
Obama and other Democratic leaders have repeatedly expressed their desire to extend the 2001 and 2003 Bush tax cuts -- currently slated to expire at the end of the year -- only for families earning less than $250,000 and individuals earning less than $200,000.
Republicans have stood firm on supporting extensions of the tax breaks for all taxpayers, including the wealthiest Americans.
Obama has argued that the nation can't afford the extra $700 billion tab to extend tax breaks for those in the top income bracket. Republicans -- backed by 31 moderate to conservative House Democrats, as well as several Democratic senators -- have argued that a failure to extend the lower rates for everyone could damage the economic recovery.
Obama wanted a vote on his proposed extension of some of the tax cuts before lawmakers returned to the campaign trail for the November 2 elections, in part to reinforce Democratic support for pocketbook issues.
Democratic strategists have been divided over whether it's politically beneficial to push for a vote on the tax cuts now, citing their candidates from conservative states in tough re-election battles who would have to defend the resulting increase in the tax rate on wealthy Americans to previous levels.
"I believe a vote on taxes right before the election is a mistake," said Sen. Dianne Feinstein, D-California, adding that critics "will find a way to mischaracterize it."
She noted that extending only some of the tax cuts is "not really a tax increase" because the tax rate on those earning more than $250,000 a year will be "simply returning to where it was."
"But that won't come across in an election debate," Feinstein said.
A senior Democratic source said, "People feel like the stakes of this debate are already defined, and we're winning. A vote may make it murky."
Amy Brundage, a White House spokeswoman, blamed Republican intransigence for putting off the vote.
"The president would sign a bill tomorrow that would extend the tax cuts for the middle class to avoid saddling them with a crippling tax hike, but unfortunately Republicans in Congress have made it clear they would rather stall and obstruct instead of giving working families the assistance they need," Brundage said. "The American people will be reminded of that every day."
The apparent defeat for the White House came on the same day that Congress finally gave the president a long-awaited victory on a $42 billion small-business aid bill. Obama is set to sign that measure into law Monday.
CNN's Jen Liberto, Alan Silverleib, Dan Lothian, Tom Cohen and Ted Barrett contributed to this report.
FOLLOW THIS TOPIC