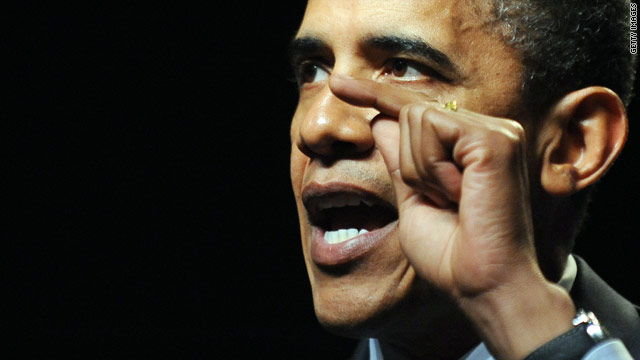 STORY HIGHLIGHTS
NEW: Obama gets an earful on CNBC, defends policies
Democrats face a wave of "special interest" spending, the president says
If Democrats hustle, "The future will beat the past," Obama vows
Obama stumped for Sestak in Philadelphia, then headlined a party fund-raiser
Philadelphia, Pennsylvania (CNN) -- President Barack Obama urged Democrats to harness their "people power" for November's midterm elections Monday against what he called an onslaught of cash from "special interests" allied with Republicans.
"We can defeat those millions of dollars if we've got people power on our side," Obama told guests at a fund-raiser for Pennsylvania congressman Joe Sestak, the state's Democratic Senate nominee. Obama said Democrats need to counter spending by Republicans and conservative activist groups by knocking on doors, spreading the word with neighbors, making calls on Sestak's behalf -- and yes, writing checks.
"If we do that, then hope will beat fear every time, and the future will beat the past," he said. "That's what this election is about."
Obama's visit comes a week after Vice President Joe Biden headlined a fund-raiser for Sestak, a retired admiral and two-term congressman who unseated veteran Sen. Arlen Specter in May's Democratic primary. The White House backed Specter, a longtime Republican who switched parties in 2009, in the primary, but is now helping Sestak in what polls indicate is an uphill race against former Rep. Pat Toomey, the GOP Senate nominee.
Much of the president's Philadelphia speech echoed his weekend radio and internet address, in which he blasted Republicans for supporting a "power grab" by financial interests that are backing GOP candidates in this year's congressional races.
And he again cricitized the Supreme Court decision that relaxed campaign spending limits on corporations, which he said has allowed those interests to "spend as much as they want without limit."
Republicans have filibustered a Democratic-backed bill to restore some of those limits. Senate Minority Leader Mitch McConnell, R-Kentucky, has defended the Supreme Court ruling as a victory for freedom of speech and called the proposed legislation "a transparent effort to rig the fall elections."
Obama is also slated to headline a Tuesday fund-raiser for the Democratic National Committee, which has committed to spending $50 million to help its candidates in November.
Obama's trip to Philadelphia came as his party faces what polls suggest are grim prospects in November. And it followed an hour-long appearance on the business news channel CNBC, in which people who said they supported him expressed deep concerns.
"Quite frankly, I'm exhausted," one woman said. "I'm exhausted of defending you, defending your administration, defending the mantle of change that I voted for and deeply disappointed with where we are right now."
And one man warned Obama, "I need you to help us understand how you can regain the political center, because you're losing the war of sound bites, you're losing the media cycles."
Though unemployment remains near 10 percent, the president defended his economic policies, including his administration's bailout of automakers General Motors and Chrysler, and his economic stimulus bill. He said those policies helped prevent a steep recession from becoming a depression, but acknowledged that many Americans are still struggling.
"The challenge is, is that the hole was so deep that a lot of people out there are still hurting -- and probably some folks here in the audience are still having a tough time," he said. "And so the question then becomes what can we now put in place to make sure that the trend lines continue in a positive direction, as opposed to going back in the negative direction."
Obama pushed back against an old law-school classmate, Anthony Scaramucci, now a hedge fund manager, who complained that Wall Street executives feel "like a pinata" after the past two years.
"I had been amused over the last couple years, this sense of somehow me beating up on Wall Street," he said. "I think most folks on Main Street feel like they got beat up on."
Obama added, to applause from the audience, "There's a big chunk of the country that thinks that I have been too soft on Wall Street. That's probably the majority, not the minority."
And he said the Tea Party movement, which has energized conservatives opposed to his policies, was part of a "noble tradition" of skepticism about government in American politics. But he said the movement needs "to identify specifically what would you do."
"It's not enough just to say, 'Get control of spending.' I think it's important for you to say, 'I'm willing to cut veterans' benefits,' or 'I'm willing to cut Medicare or Social Security benefits,' or 'I'm willing to see these taxes go up.' What you can't do -- which is what I've been hearing a lot from the other side -- is say we're going to control government spending, we're going to propose $4 trillion of additional tax cuts, and that magically somehow things are going to work," he said.