STORY HIGHLIGHTS
Some politicians, ex-cops want marijuana legal, while some growers, dealers do not
Oaksterdam University, Area 101 among the businesses already capitalizing on marijuana
Dispensary owner says money is "going underground" in medical marijuana industry
Drug czar opposes legalization because "if it's legally available, use will increase"
Oakland, California (CNN) -- Dan Rush stood in front of Oaksterdam University, a cannabis college two blocks from City Hall, enthusiastically describing his mission to unionize marijuana workers.
"Bringing dignity" to an oft-misunderstood and -maligned industry is a priority for the United Food and Commercial Workers, one that complements the union's aim to create jobs, said Rush, special operations director for Local No. 5.
When he first raised the issue, his colleagues thought he was high.
"They told me to stop smoking crack initially," he said.
After seeing that California's push to legalize marijuana could be the next gold rush, however, his colleagues saw things his way: "We would be asleep at the wheel if we weren't working on this emerging industry that's going to create more single-worker jobs than the end of prohibition did."
As Californians consider a November ballot initiative to tax and regulate marijuana for recreational use, Rush is one of the unlikely characters peppering the political landscape.
California is hardly homogenous, but marijuana legalization makes politics downright confusing in a state where the sides are sometimes flipped. Here, some ex-cops, state assemblymen and billionaire businessmen favor legalization, while there are pot growers and dealers who want to keep it outlawed.
Experts say predicting the ballot's outcome is impossible because special interests for both sides will storm the state ahead of the vote, hoping to pull fence-straddlers into their camps.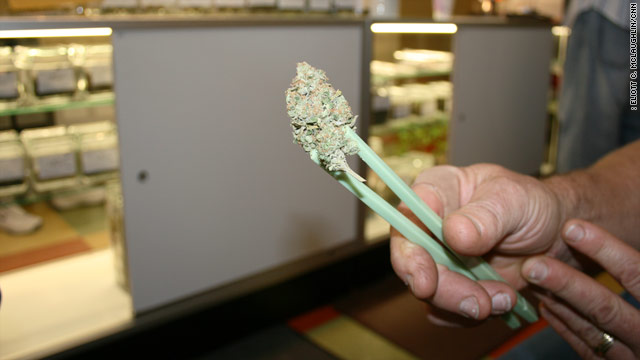 Gallery: The booming business of buds
On Monday former DEA Administrator Peter Bensinger, representing all nine former DEA heads, said they were "gravely concerned" by the upcoming vote. They asked the Obama Administration to sue California, as it had sued Arizona over the immigration issue, because the proposition directly contradicts the federal Controlled Substances Act. The event where Bensinger spoke was not sponsored by the DEA, and current Administrator Michele Leonhart did not take part.
Read why the former DEA chiefs frown on legalization
With seven weeks until the vote, there's only one thing certain: If marijuana is to thrive as an industry, it must shed its anti-establishment roots and become part of the mainstream.
Brick-and-mortar monuments to the movement abound, and not just medical dispensaries and grow shops. In addition to Oaksterdam, where more than 7,000 graduates have taken classes on law, horticulture and "cannabusiness," there are plans to turn Los Angeles' aging Hotel Normandie into pads for pot tourists. Just north of Laytonville, in the ganja-flush Emerald Triangle, lies Area 101, a rural 165-acre roadside retreat where visitors "can get down and get high with the spirit of the land."
Entire towns packed with hemp stores, head shops and feed-and-seeds, cater to growers in the Emerald Triangle. At a bar in Redway, growers sat on the porch of a local bar smoking "Blue Dream" marijuana, complaining about spider mites and the summer rains.
Yet there lies one glaring obstacle to prospects for turning California into a marijuana Mecca.
"We have a federal Controlled Substances Act. Marijuana is on that list," said Gil Kerlikowske, director of the Office of National Drug Control Policy.
Kerlikowske has heard the arguments in favor of legalization: that it would free up cells in overcrowded jails; that marijuana is safer than cigarettes and alcohol; that the California Board of Equalization sees $1.4 billion in potential tax revenue.
Such arguments ignore that a Partnership for a Drug-Free America report shows marijuana use was up 19 percent among high-schoolers after a decade of decline, he said. The youngsters also claimed to be using more alcohol and Ecstasy.
"History shows that if it's legally available, use will increase," Kerlikowske said.
Asked what he would do if California legalized marijuana, he directed questions to the Justice Department, which said Monday it was premature to say what steps it might take if the ballot passes. It will continue focusing on "significant traffickers of illegal drugs, including marijuana, in all states," a statement said.
A former Seattle, Washington, police chief, who spent 37 years in law enforcement before becoming President Obama's drug czar, Kerlikowske is not swayed by grass-is-greener arguments. He calls revenue projections "weak at best" and said it's spurious to downplay the costs.
California will vote on the Regulate, Control and Tax Cannabis Act of 2010 in November. Among the referendum's provisions, it:

• Allows people 21 and older to possess up to an ounce of marijuana for personal use.
• Allows for the cultivation, in plots no larger than 25 square feet, and transportation of marijuana for personal use.
• Enables local governments to tax the estimated $15 billion in marijuana transactions each year.
• Allows local governments to maintain prohibitions on marijuana, much like a dry county would alcohol.
• Permits the Legislature to develop a statewide regulatory system for commercial cannabis.
• Bans public consumption, possession on school grounds, smoking in front of minors and providing marijuana to those younger than 21.
• Maintains prohibitions against driving under the influence of drugs.

Source: Tax Cannabis 2010
Federal and state taxes on booze, Kerlikowske said, add up to about $14.5 billion a year, a far cry from the "$185 billion in alcohol-related social costs."
See how some California businesses are already profiting
A higher tax wouldn't help, he said, as Canada and Sweden respectively repealed exorbitant cigarette taxes in 1994 and 1998 because the tariffs had caused a black market to thrive. The same could happen with marijuana, he said.
Allen St. Pierre, executive director of the National Organization for the Reform of Marijuana Laws and a proponent of many of the arguments Kerlikowske dismisses, said cigarettes provide an interesting counterpoint.
Tobacco use among youngsters has steadily dropped since the 1990s, and the NORML chief said it's remarkable it happened without widespread incarcerations, a War on Tobacco or outright prohibition.
"And we didn't take that beautiful Constitution and bend it into a pretzel," he said.
Where St. Pierre's and Kerlikowske's sentiments are black and white, California blurs the normally bright lines between advocates and detractors.
Kristi, 68, a grandmother and former counselor who has been growing marijuana in Humboldt County since the 1970s, might seem like an obvious proponent of legalization. Police confiscated her crop in 1984, and she is among countless Emerald Triangle farmers who live in fear the federal government could sweep them up.
She and her partner of 30 years will be voting no in November.
The couple make about $1,300 a month in Social Security and double their income with marijuana sales. Prices for a pound of marijuana dropped precipitously after California legalized medical marijuana in 1996, and the two fear prices will plummet again if the state approves recreational use.
They're not totally against legalization -- they'd simply like a year or two to figure out their finances. Kristi's partner, 66, concedes they're being selfish.
"I never thought I would depend on it. I feel that way now," she said. "I'm kind of greedy right now. I'm not quite ready to let go. I haven't got a plan to get me through. ... It's weird to find myself saying it. Morally, I know it's the right thing. I might pass judgment on people who put themselves first financially, but here I am doing it."
George Jones of Santa Rosa said a lot of "shady s**t" surrounds the medical marijuana movement.
A former East Oakland gangbanger who built illegal grow rooms and hunted rival drug dealers before serving four years in San Quentin State Prison for rape, Jones knows shady.
To Jones, marijuana was about making money and getting high until his wife, Jennifer, got cervical cancer. Jones' father had died of colon cancer, his uncle of brain cancer, so he was receptive when a friend suggested a better way to ease Jennifer's pain than pumping the powerful painkiller Dilaudid into her system.
Jones noticed a difference after she began smoking cannabis and eating cream-based marijuana soups.
"Every time she'd smoke, she'd eat. She'd take a little bit of soup, then she wouldn't need that push of the button," Jones said.

RX pot growth halted after violence
This thing's a wobbler. This thing is going to win or lose by 2 percent in November.
--Allen St. Pierre, NORML executive director
Jennifer, 29, died in January, but not before showing her husband marijuana was more than a means of funding gang activity. Jones, who has worked as a "budtender" at two Santa Rosa dispensaries, said he has concerns about legalization because so many people already disregard the laws on medical marijuana.
Mark Gustely, owner of Starbuds in Santa Rosa, has similar concerns. The 52-year-old former nuclear plant inspector began smoking marijuana to cope with the pain he suffered after a bicycle wreck put him in a coma with severe brain and spinal injuries. A few minutes after sitting down with CNN, he said he had smoked a "pea-sized piece of Hindu Kush" to prepare for the interview.
"I wouldn't have been able to have a conversation or read a menu [without the marijuana]," he said.
Though a staunch advocate of medical marijuana, Gustely isn't a fan of the current California law or the wording on the November ballot.
Read how a convention bureau is considering pot tourism
He sees the need for more controls and regulations to protect growers and dispensaries. He'd also like to see a scholarship fund to educate medical students on marijuana, more vigorous efforts to collect taxes and a database that tracks marijuana transactions.
Of the 750 vendors he's interviewed to supply marijuana to Starbuds, he's found only six who promise to pay their taxes and allow inspections of their crops, Gustely said. November's ballot sets up an even messier framework that makes it easier for "greedy" growers and dealers to skirt the law and their taxes, he said.
"The government's hurting for money and they're skating? Half of the money is going underground," he said. "It's a mess. These people don't know how to write laws, how to include controls."
While Californians like Gustely see legalization's downsides, others are seeing green.
Assemblyman Tom Ammiano paints pot as a panacea that could ease the burdens on the state's police, prisons and budget. Several cities, including Oakland, San Francisco and West Hollywood, have made private adult use their lowest police priority, and a simple Google search reveals scores of state, city and county officials -- including police and judges -- who are not bashful about saying it's time to end pot prohibition.
Polls over the last year show more Californians favor legalization than oppose it and that California has a substantially higher tolerance for legalization than the rest of the country.
Don't expect that to translate into the referendum's passage, said NORML's St. Pierre.
Those for and against the measure will pump millions of dollars into PR campaigns in coming weeks, which could have a substantial effect on public opinion. St. Pierre estimated proponents will need up to $12 million to pass the measure.
"This thing's a wobbler," St. Pierre said. "This thing is going to win or lose by 2 percent in November."
FOLLOW THIS TOPIC