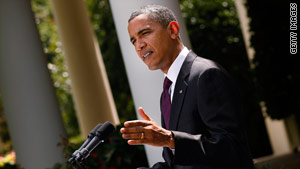 President Obama is turning his focus to the economy and Iraq this week.
STORY HIGHLIGHTS
NEW: President plans to meet with veterans from Iraq at Walter Reed Army Medical Center
President Obama holds meeting with his economic team
President is set to deliver prime-time address Tuesday on Iraq
Later this week, Obama turns his attention to the Mideast peace process
Special coverage of President Obama's speech starts at 7 p.m. ET Tuesday, live on CNN and CNN.com, followed by Obama's address at 8.
(CNN) -- President Obama's vacation may have provided a much needed recharge as he jumps back into thorny issues this week.
Coming off a 10-day trip to Martha's Vineyard, Obama turns his attention to the economy and Iraq.
The economy is the No. 1 issue for voters, polls show, and as the midterm elections near, it's becoming increasingly clear that what the administration dubbed the "summer of recovery" has not yet met the public's expectations.
In an effort to take control of the narrative, Obama addressed the media after an economic meeting, criticizing Senate Republicans for blocking legislation intended to help small businesses and reiterating his administration's focus on pushing the economy forward.
"Small business employers and the communities that rely on them -- they don't have time for political games," Obama told reporters at the White House. "Holding this bill hostage is directly detrimental to our economic growth."
CNNMoney: Small business jobs bill stuck in Senate
If there ever was a week where the public was reminded the economy is still in turmoil, it was while Obama was on vacation.

Video: Obama on pledge to end Iraq war

Video: Will U.S. be in Iraq beyond 2011?
A report released last week showed that existing homes sales in July plunged to their lowest level in 15 years. House Minority Leader John Boehner, R-Ohio, called for the resignation of Treasury Secretary Tim Geithner, economic adviser Larry Summers and the rest of Obama's economic team.
Boehner calls for Obama to fire Geithner
New home sales also took a beating -- dropping to their lowest point since the Commerce Department started tracking them in 1963. The rest of the week held no better news. On Thursday, the four-week moving average of jobless claims rose to a nine-month high and on Friday, a report showed that the gross domestic product grew just 1.6 percent.
"We anticipated that the recovery was slowing. The economy is still growing, but it's not growing as fast as it needs to," Obama said Sunday on "NBC Nightly News."
"There are a whole host of measures we could take, no single element of which is a magic bullet, but cumulatively, can start continuing to build momentum for the recovery," he said.
In a glimmer of good news for the administration, USA Today reported Monday that a study by two prominent economists backs up the White House's claim that the stimulus program created nearly 3 million jobs, avoiding "what could have been called Great Depression 2.0."
Later Monday, Obama shifts his focus to Iraq. He'll meet with veterans wounded in Iraq at the Walter Reed Army Medical Center. On Tuesday, he'll visit with troops at Fort Bliss, Texas, before delivering a prime-time address coinciding with the end of the U.S. combat mission in Iraq.
His speech, which will be carried live on CNN and CNN.com at 8 p.m. ET, also will touch on Afghanistan and the broader war against terrorism, the White House said.
The total number of U.S. troops in Iraq has fallen below 50,000 -- the lowest level since the American-led invasion in 2003. The remaining U.S. troops will train, assist and advise the Iraqis. All American troops are scheduled to pull out at the end of 2011, though the Iraqi government could request that some stay.
The speech is Obama's second Oval Office address. In June, Obama updated the nation about the Gulf of Mexico oil disaster from the Oval Office.
The president used his weekend radio address to tout the fulfillment of his campaign promise to end the war.
Vice President Joe Biden has arrived in Iraq to participate Wednesday in what the White House called a "change of command and change of mission ceremony" and to meet with Iraqi officials.
Boehner, the House minority leader, also will talk about Iraq in a speech Tuesday at the American Legion convention in Milwaukee, Wisconsin.
The GOP lawmaker will discuss the progress made by U.S. troops and tout the "surge" strategy that was opposed by Obama and Biden when they were senators, House Speaker Nancy Pelosi and Senate Majority Leader Harry Reid, an aide to Boehner said.
The aide said the speech was "set in stone" long before the White House announced plans for Obama's Iraq address.
Boehner also released an op-ed and a Web video Friday that recounts public statements from Obama, Biden, Pelosi and Reid questioning the surge.
The 10-term Republican from southwestern Ohio would become House speaker if the GOP wins back control of the chamber in the November midterm elections.
The day after his speech, Obama turns his attention to the Mideast peace process. The president plans to meet separately with Israeli Prime Minister Benjamin Netanyahu and Palestinian Authority President Mahmoud Abbas before the two sit down together Thursday with Secretary of State Hillary Clinton. The president has an ambitious goal: a peace deal within a year.
CNN's Deirdre Walsh contributed to this report.
FOLLOW THIS TOPIC